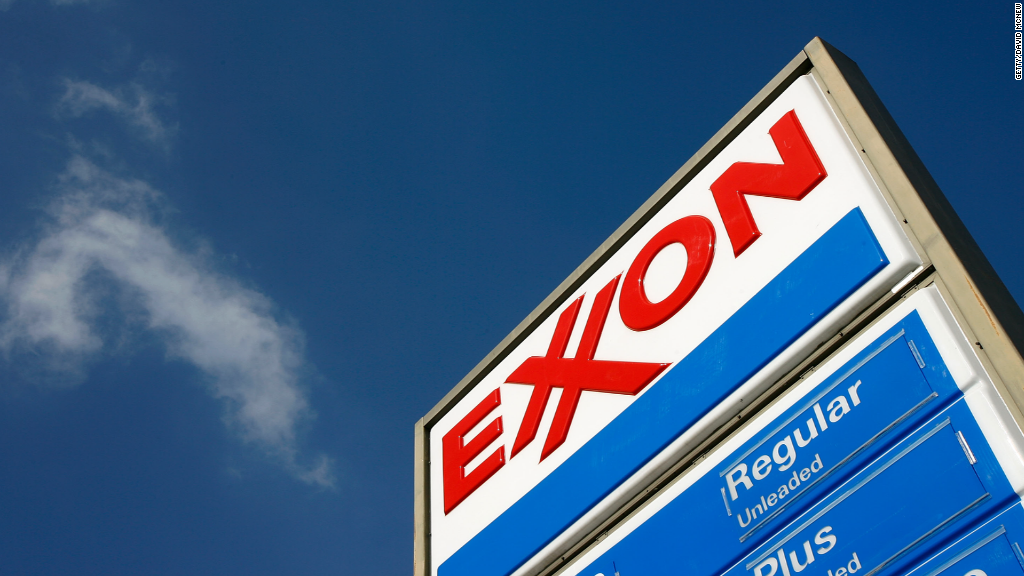 Crude may have stopped crashing, but Big Oil is still slumping.
ExxonMobil's U.S. production business lost $477 million in the third quarter, the seventh straight quarter in the red, the company said on Friday. Exxon, which has been under pressure from authorities over its accounting tactics, also warned it may need to write down the value of some of its less profitable oil and gas assets.
The American oil behemoth generated an overall third-quarter profit, but earnings were down 38% from the year before. Revenue also shrank more than Wall Street had feared.
Related: ExxonMobil may be in irreversible decline
Exxon (XOM) blamed a "challenging" environment, especially oil prices that are still too low for many expensive projects to make any financial sense. The last time Exxon's U.S. output arm made any money was the fourth quarter of 2014, a period that started with crude sitting above $90 a barrel.
Oil prices eventually crashed to $26 a barrel in mid-February, but they have since rebounded to around $50.
Shares of Exxon slid 2% following the results.
Wall Street may be concerned about Exxon's writedown warning. The company said it might lower the value of about 4.6 billion barrels of oil and gas, mostly assets in the Kearl oil sand operation in Canada that need higher prices to be profitable.
The timing of the warning will raise eyebrows. Just last month, the New York Attorney General and the SEC launched separate investigations into whether Exxon violated accounting rules by failing to lower the value of its oil and gas supplies amid declining prices. Many other energy companies have taken such writedowns.
Exxon has said it is "confident our financial reporting meets all legal and accounting requirements."
The cheap oil environment has left Exxon under financial pressure. The oil giant has been forced to borrow money to cover massive drilling costs and its generous dividend payouts. Exxon's long-term debt has more than quadrupled to $46 billion and the company recently scrapped shareholder-friendly stock buybacks.
Chevron, America's second-largest oil company, returned to making money after three-straight quarters in the red. Chevron (CVX) posted a profit of $1.3 billion on Friday, exceeding forecasts from analysts.