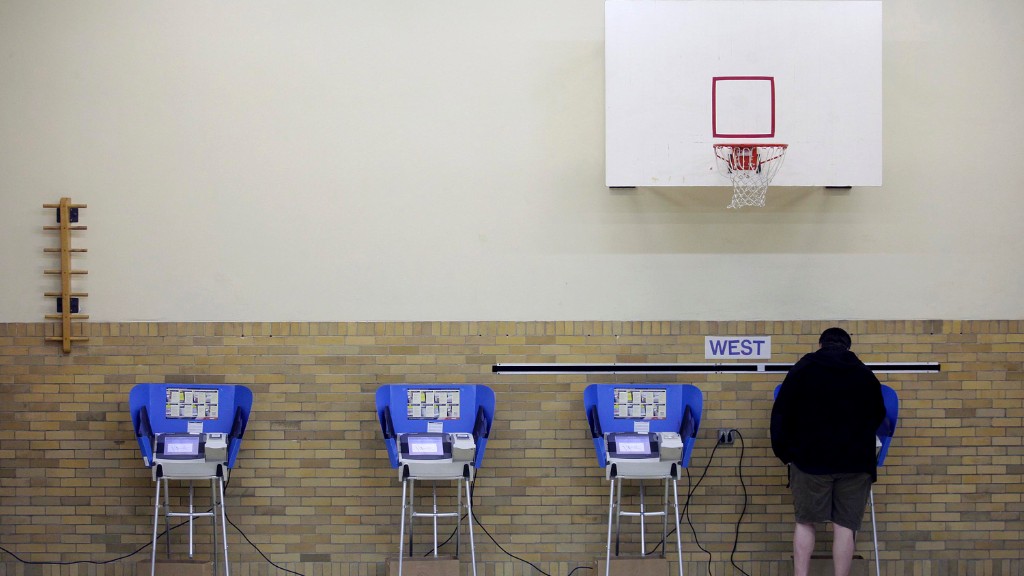 Imagine going to the polls on election day and your polling location has been shut down or your right to vote challenged or worse, you're taunted by people at the polling site because you're a person of color.
These are just some of the concerns that civil rights groups around the country have as early voting begins. Groups representing Latino, Black, Asian, Arab and Muslim-American voters are preparing for what they expect will be a confusing and contentious presidential election.
"We are on the precipice of the most chaotic election for people of color in 50 years," said Wade Henderson, president of the Leadership Conference on Civil and Human Rights on Wednesday. "We are doing everything we can to prevent discrimination, intimidation and violence at the polls."
Henderson and other civil rights groups say they are growing particularly worried as Donald Trump ratchets up claims that the election is "rigged" and calls for his supporters to monitor the polls.
On Wednesday, a group named the Oath Keepers called on "retired police officers, our military intelligence veterans, and our Special Warfare veterans" to "apply their considerable training in investigation, intelligence gathering, and field-craft to help stop voter fraud."
In response to the Oath Keepers' release, Kristen Clarke, president and executive director of the Lawyers' Committee for Civil Rights Under Law, issued a statement: "There is no place in our democracy for this form of vigilantism and extremism," particularly since "their efforts seem directed against minority communities." The organization is urging voters to call 866-OUR-VOTE if they encounter intimidation tactics at the polls.
Related: Decoding the 'dog whistle' politics of Trump and Clinton
Rev. Dr. William Barber, the president of the North Carolina NAACP, said his offices have been "inundated with complaints" since early voting began in the state. In a conference call Thursday, Barber noted reports of hecklers photographing black voters during events and one instance where KKK-inspired graffiti was written on a street in front of a black church where a "souls to the polls" event was being held.
"It is, in fact, voter suppression that is the legal threat in this election," Barber said.
The NAACP noted that more than 100 voters in Beaufort County, North Carolina, had their voter registration challenged after local residents raised questions to the local election bureau about whether they could legally vote in the county. Of that group, nearly 60% of the residents whose voting rights were being challenged were African-American, the NAACP said.
One of them was 100-year-old Grace Hardison, who has been registered to vote for 30 years. Hardison's nephew called the local board of elections to confirm her residency and the case was withdrawn, said Kellie Hopkins, director of elections for Beaufort County. The other cases are being reviewed.
"This is citizen versus citizen," Hopkins said, citing a state law that allows registered voters to challenge the voting rights of other people in the county. "They are within the law."
How we got here
Clarke and others say they are keeping a close eye on states where critical protections provided by the 1965 Voting Rights Act were removed following the Supreme Court's "Shelby County v. Holder" decision in 2013.
Before the court's ruling, certain states and municipalities with a history of racial discrimination and intimidation at the polls were required to get approval from the federal government before making any changes to their voting laws or regulations. (Among others, the states included Arizona, Louisiana, Mississippi, South Carolina, Texas and parts of New York, North Carolina and Michigan.) Since then, states like North Carolina and Texas have tried implementing new voter registration requirements, such as requiring multiple forms of identification, and cutting back on early voting and same-day registration.
Related: For affluent blacks, wealth doesn't stop racial profiling
"Shelby hurt," said Justin Levitt, a deputy assistant attorney general who oversees voting efforts at the Department of Justice. "We used to be able to stop discriminatory laws and practices in the jurisdictions with the most troubling histories before they took effect."
Instead, the DOJ must wait to respond once discriminatory practices have been put in place by the states, which is what they did in North Carolina and Texas.
And while the laws in those states have, for the most part, been knocked down by lower courts, activists are still concerned about voters or poll workers who may be misinformed of the changes. Levitt said the DOJ was expected to send "hundreds of people" out as poll monitors in about 25 states, but that will be fewer than the 780 monitors and observers the department deployed in 2012 prior to the Shelby ruling.
"The vast majority of local election officials have a very strong interest in making sure the process of elections runs smoothly," said Levitt. "And just in case, we are also watching."
Help at the polls
Civil rights groups are using a combination of mobile apps, hotlines staffed by pro bono attorneys and trained volunteers to help monitor the polls and protect voters' rights.
"Our fear is that you are going to have people that are going to go into districts that are predominantly of color, immigrant communities and harass them, asking where is their proof of citizenship," said Samer Khalaf, president of the American-Arab Anti-Discrimination Committee. The group plans to send observers to polls in areas where there are large Arab populations, including Dearborn, Michigan, Paterson, New Jersey and Astoria, New York.
Maya Berry, the executive director of the Arab American Institute urged voters needing assistance in either English or Arabic to call the Yalla Vote hotline at 844-418-1682.
Related: America is outraged by Trump. People of color say 'It's about time.'
Joanna E. Cuevas Ingram, associate counsel at the LatinoJustice Puerto Rican Legal Defense & Education Fund in New York said the organization is concerned about "threats to people's access to the ballot itself and to their physical safety."
She highlighted a new LatinoJustice app called "Cada Voto Cuenta" ("Every Vote Counts") that will allow voters in New York, Pennsylvania, North Carolina, Georgia and Florida to report any problems at the polls. LatinoJustice is also recruiting attorneys who will answer calls and monitor the polls.
Erin Hustings, a senior policy analyst for the National Association of Latino Elected and Appointed Officials Educational Fund, said she was concerned about intimidation of voters in less metropolitan communities that have growing Latino populations like Finney County, Kansas. "Many Latinos will be voting for the first time this fall," Hustings said, citing the increase in young voters, naturalized citizens and Puerto Ricans migrating to the mainland U.S. According to the Pew Research Center, 27.3 million Latinos will be eligible to vote in this election compared to 23.3 million in 2012.
She recommends the hotline 888-VE-Y-VOTA, which is sponsored by groups including NALEO, Univision and the National Council of La Raza, and will have representatives who speak both Spanish and English.