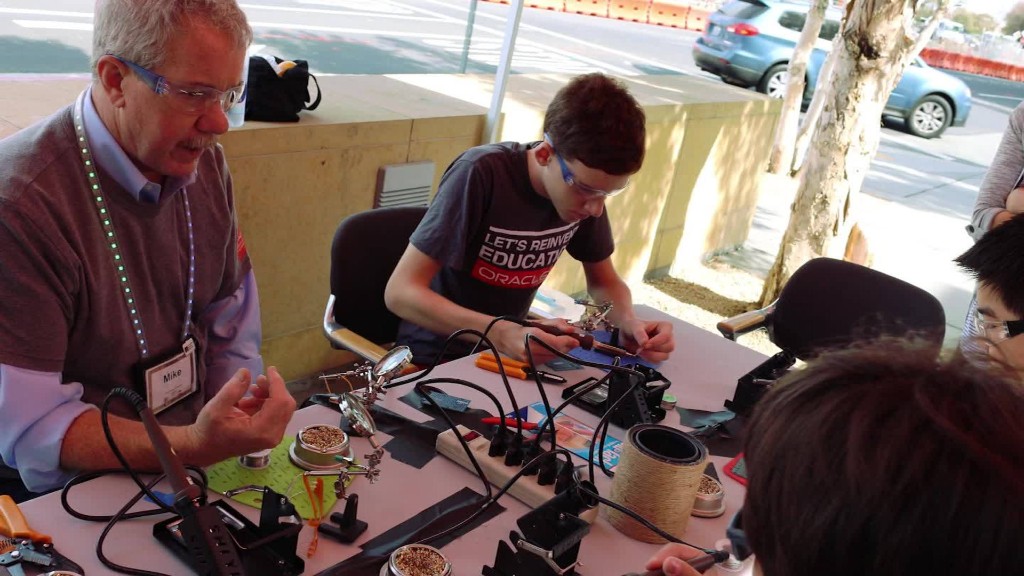 Bay Area high school students will soon be able to attend school on a tech campus, with a curriculum that turns traditional education on its head.
Design Tech High School's (d.tech) official home is still just a skeleton nestled up to Oracle's headquarters in Redwood City, California, but come next year, it will open its doors to students. It will be the first U.S. high school on a technology company's campus.
Oracle (ORCL) is funding the construction of d.tech, and has been involved with the school since its inception.
Founded in 2014, the public high school takes a unique approach to education -- letting students learn and create projects at their own pace. Teachings are centered on "design thinking," which finds solutions through empathy, experimentation and evidence-based problem solving, similar to what's taught at Stanford's Hasso Plattner Institute of Design (d.school).
Related: The most innovative schools in America
d.tech is the brainchild of Ken Montgomery, a longtime California educator who received his doctorate at Stanford where he worked with the d.school. In 1999, he helped 15 students create the speech and debate curriculum at San Diego's Rancho Bernardo High School, which went on to become the best in Southern California.
Montgomery said he was motivated to turn the teaching concepts from Rancho Bernardo -- letting kids design and create programs themselves -- into a school when he saw his old student Ryan Panchadsaram on the cover of TIME Magazine. Panchadsaram is the former deputy CTO of the U.S. and member of the Healthcare.gov rescue team.
He followed up with his former speech and debate students: Two worked at the White House. One was a popular DJ. Another was a Rhodes Scholar.
"It was a traditional public high school, it wasn't like a private school, so why are we having these outcomes?" Montgomery said. "When I was asking them, they all said it was the act of creation. That they came in as ninth graders and worked on [the speech and debate program] for four years, and built it."
It gave students confidence and taught skills like leadership and creativity.
"That's how the world works. You don't just passively receive it, you actively design it," he said.
With that in mind, Montgomery built d.tech.
Design thinking in the real world
Students learn at their own pace at d.tech, and the school builds curriculum around real-world problems like climate change or tech accessibility.
Four times throughout the year, d.tech students participate in 10-day extracurricular programs, ranging from 3D printing and robotics to dance and photography. Industry professionals come in to give hands-on experience at two-hour workshops.
Related: Shipping containers turned into mobile tech labs
CNNMoney attended one of the programs at Oracle, where students made automated technology and 3D-printed projects, and learned soldering safety from Mike Lance, one of the most dedicated d.tech volunteers. He wore handmade light-up suspenders.
In 2014, the Oracle Education Foundation (OEF) hosted an education design challenge to create new programs, and d.tech's founding team was a part of the workshop. The OEF piloted its program with the high school, and now hosts regular activities with Oracle volunteers.
Since the high school isn't built yet, programs are hosted in Oracle conference rooms.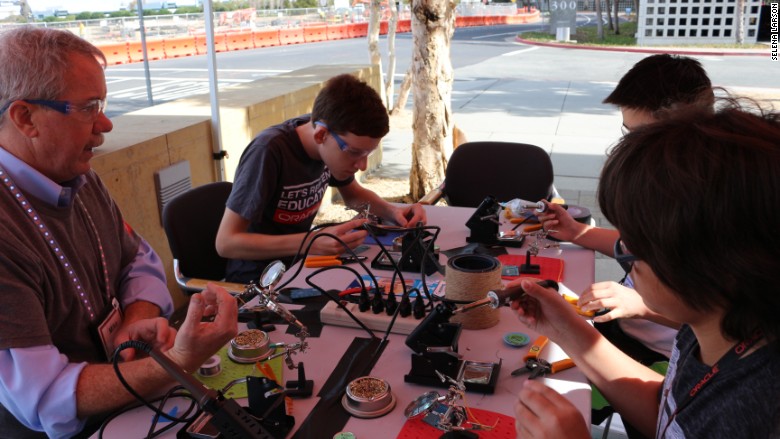 This month, students worked on automation projects that may be implemented on their campus once it's built -- one group worked on a prototype for a touchscreen kiosk with information about local flora and fauna.
"We just see such enormous potential in what d.tech is doing," said Colleen Cassity, the executive director of the OEF. "The thing they lacked was the stability of a permanent home and the infrastructure to really support the continuing evolution of this model."
d.tech is currently housed in a temporary facility, and it hasn't reached full capacity yet. It's added one grade per year since launch. Next year, the freshman through senior student body will number 550.
Demand is sky-high for spots at the school, and d.tech admits students through a lottery. Last year, over 550 students applied for 140 spots. Applications aren't open yet for next year, but slots for information sessions filled up in under four minutes.
What it means for students
At d.tech, students are told the somewhat platitudinous mantra that they can make things that genuinely change the world. But for these students, it's true.
Students take design lab over the course of four years, and can attend the high school's incubator program where projects like theater-based amusement parks and online cupcake shops are born.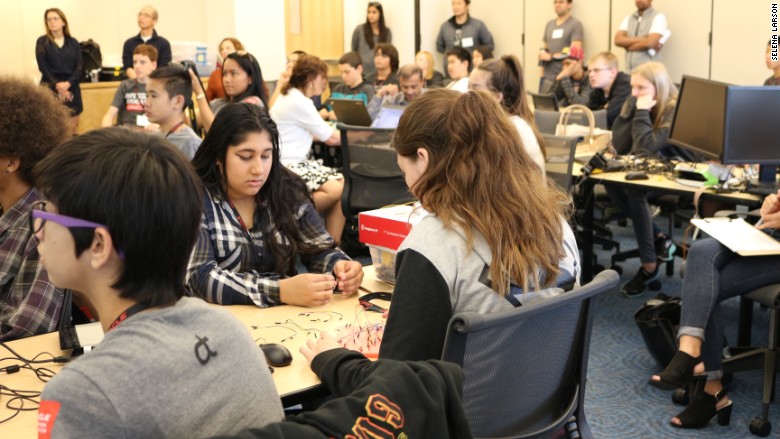 Jadene, a junior at d.tech, is working on a bicycle transportation system to combat global warming. One of her classmates will be visiting the White House to talk with President Obama about introducing young people to coding.
"When I first began school at d.tech, I did not believe I could change the world, I thought it's impossible that I could have that power," Jadene said. "But going through the years and seeing all these amazing things my classmates are doing, it inspires you and changes your mindset."
Related: Former high school rebel, now head of U.S. education system
d.tech isn't the first high school to embrace this philosophy. At the private Nueva School for gifted students in Northern California, it starts in preschool.
Since 2007, students have used design thinking to solve problems and work on social good initiatives. Each grade is assigned a new project every year, everything from recycling in kindergarten, to a seventh grade project designing board games for children in the hospital.
The curriculum is supported by the school's Innovation Lab (I-Lab), a makerspace where students can work on projects with the help of engineers and computer scientists.
Related: Why Priscilla Chan wants to start her own school
Kim Saxe, director of the Innovation Lab at the Nueva School, says getting kids used to design thinking early makes them more fearless, out-of-the-box thinkers.
"They see the world as changeable," Saxe said. "As something that's constructed by humans so humans can affect it positively. Design thinking is an optimistic approach."
It's possible to implement at any school -- students could work on solving problems at recess, in local parks, or interviewing people in their communities.
"Having knowledge isn't enough, you have to do something with it," Montgomery said. "It's not just saying, 'Learn this now because you'll use it sometime in your life.' You're doing something real right now."