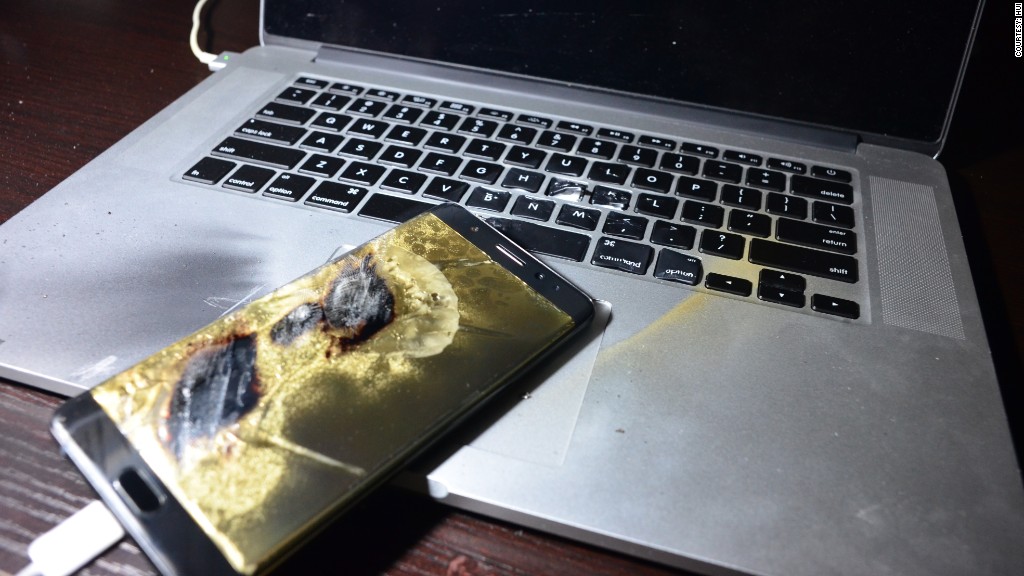 The fire-prone Galaxy Note 7 has done heavy damage to Samsung's reputation and profits. Its next victim could be the environment.
Greenpeace is blasting Samsung for failing to detail how it will dispose of the millions of Note 7 smartphones it's recalling around the world. If the South Korean tech company chooses to dump them, it would create the equivalent of about 28 shipping containers of toxic waste, according to the environmental advocacy group.
And that doesn't even include the battery chargers.
Related: Note 7 crisis wipes out almost all of Samsung's mobile profits
Samsung decided last month to permanently halt sales and production of the Note 7, one of its flagship smartphones, after persistent reports of the devices bursting into flames.
The world's largest smartphone maker has said it sold more than 3 million Note 7 devices worldwide. Greenpeace cites reports suggesting another 1.3 million were produced but not sold. That amount of phones would contain 20 metric tons of cobalt, one metric ton of tungsten, about 100 kilos of gold and more than 1,000 kilos of silver, according to a report Tuesday from Greenpeace and a German research institute.
Samsung said Tuesday it was reviewing Greenpeace's assertions, but it didn't comment on them.
Related: Is your cell phone powered by child labor?
Greenpeace is urging Samsung to recycle as much of the doomed smartphone parts as possible. Its report highlights the heavy human and environmental costs associated with mining and producing the precious metals and other materials contained in the phones.
The Note 7 fiasco is an opportunity, Greenpeace says, for Samsung and the smartphone industry to change what the group calls an unsustainable economic model.
"They were in a hurry to produce this phone because they wanted to launch it before the iPhone 7, that's the problem," said Maria Elena De Matteo, a spokeswoman for Greenpeace East Asia. "This model of fast consumption -- this is a clear example that it's not working."