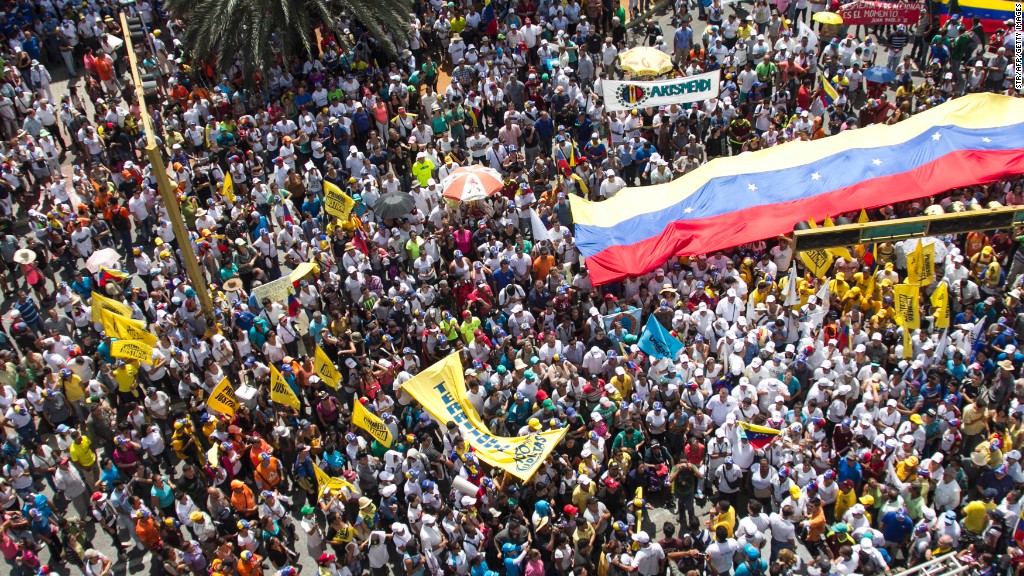 Venezuela owes more money than it has in the bank.
Including a big bond payment due on Wednesday, Venezuela owes about $11 billion in bond payments between now and the end of next year. Besides that, it also owes billions more to China, foreign oil companies and many others.
And it's losing money fast. As of Monday, Venezuela only had $10.9 billion at its central bank, mostly held in gold bars, along with some assets held at the International Monetary Fund and some cash. At the beginning of last year, Venezuela had $24 billion in the bank.
"They're running on fumes," says Russ Dallen, managing partner of Caracas Capital Markets in Miami. Venezuela is "living on borrowed time. It's starving its people to pay Wall Street, and even that strategy looks like it's going to run out of time."
The country's dwindling reserves are a reflection of its deep economic crisis, which has left millions of Venezuelans without basic food and medicine while crime skyrockets and political turmoil plagues the nation.
Related: Venezuela hikes minimum wage 40%
The IMF forecasts inflation in Venezuela to skyrocket 500% this year and 1,660% next year. It's caused food prices to rise so high that people can't afford whatever food is available in markets and stores.
Venezuela is expected to avoid a default on Wednesday and pay $1.2 billion to bondholders. It recently caught a big break when some of its bondholders, who accepted a "swap" and agreed to push back payments to a later date. The state-run oil giant, PDVSA, had warned it might default if investors didn't accept the swap.
Venezuela does in fact have a strong record of making payments -- at the expense of its people. It has prioritized paying bondholders over paying for food to feed its people. Food imports to Venezuela were down about 50% in the first half of 2016 compared to the same time a year ago.
Sign up for CNNMoney's morning market newsletter: Before The Bell
Experts say PDVSA and the government only kicked the can down the road -- chances of default are still high for next year. As are the chances that the crisis will worsen.
"Everyone is suffering from this crisis," says Siobhan Morden, head of Latin America fixed income strategy at Nomura Holdings. "It looks like there's an inflection point for this to get much worse."