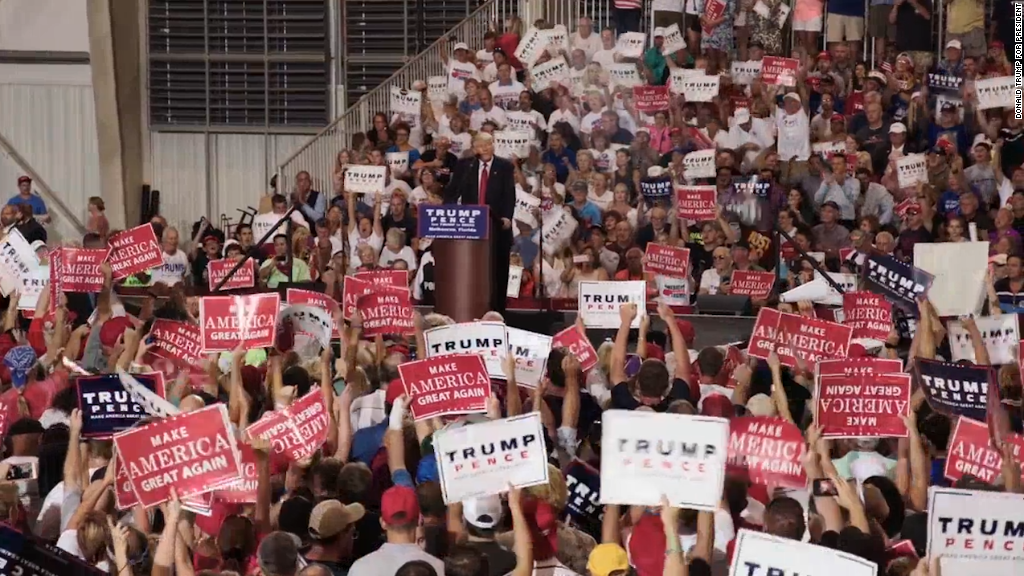 Donald Trump is trying something unconventional in the final stretch: a two-minute-long TV ad.
The campaign says it is spending $4 million to buy time for the ad in nine battleground states and on nationally televised shows.
TV ads are usually 30 seconds long, so Trump is trying to stand out by buying longer blocks of time and placing the ads during Saturday college football games, Sunday NFL games, and tentpole shows like "The Voice."
The idea is that the uncommonly long ads will stand out from the noise.
A Clinton campaign spokesman said Clinton also has a two-minute ad in the works. It is scheduled to also air on Monday night on "The Voice." It will also be seen on CBS, which has the new sitcom "Kevin Can Wait."
The election eve ad time was reserved by Clinton's campaign on Thursday.
Trump's ad is titled "Donald Trump's Argument For America."
Like many of Clinton's campaign ads, this one features Trump in his own words. But this one is meant to elect Trump instead of defeat him.
Related: Here are the ads Clinton and Trump bought in Game 7
It features the highlights of his controversial October 13 speech in Florida. Condensed into two minutes, the speech is Trump's rallying cry against "the political establishment that is trying to stop us."
It ends with a pledge to "take back this country for you, and we will make America great again."
Trump senior communications adviser Jason Miller said the ad is "Mr. Trump's positive closing message to American voters."
"It comes at a time when Secretary Clinton has abandoned any positive message of her own," Miller told CNNMoney Friday afternoon. "We believe voters are looking to go in a new direction and Mr. Trump is ready to lead this change."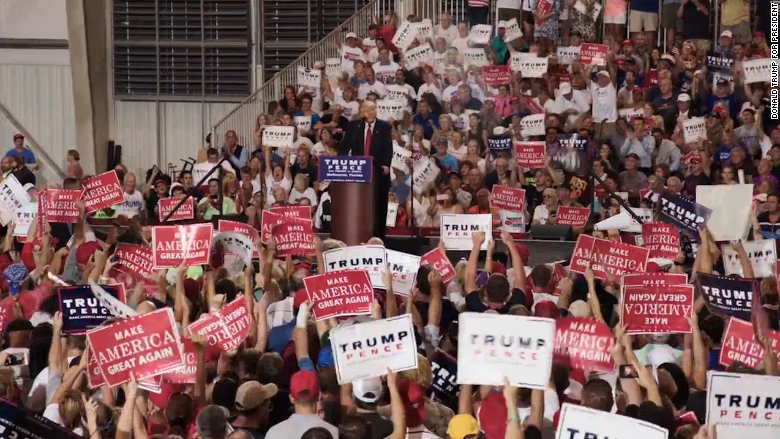 What sounds positive to Trump aides might seem bleak to some viewers. The message is mostly about what Trump says he is not: part of a corrupt "political establishment."
The word "establishment" is used several times in two minutes.
Trump condemns "global special interests" and the "global power structure that is responsible for the economic decisions that have robbed our working class."
Toward the end, Trump says "the only force strong enough to save our country is us."
The $4 million spending figure could not be independently confirmed. But the Trump campaign is clearly trying to catch up to Clinton after being badly outspent on TV advertising throughout the election season.
According to Kantar Media/CMAG data, the Trump campaign has spent $91 million on TV ads during the general election, while the Clinton campaign has spent $245 million.
Related: Trump and Clinton sharing a strategy: avoiding news interviews
This week, the spending gap between the two is still vast, but not quite as extreme. According to Kantar, the Trump campaign and the RNC have bought $21 million in TV airtime while the Clinton campaign and DNC have bought $39 million.
Miller said the "positive closing message" ad would air in Florida, Pennsylvania, Nevada, Ohio, Michigan, Colorado, Iowa, North Carolina, and New Mexico during news, prime time shows and sportscasts.
It will also air on NASCAR broadcasts, NBC's "The Voice," and across cable news.
So far, neither campaign is doing what the Obama campaign did in 2008 — buying a 30 minute chunk of time for an infomercial one week before election day.