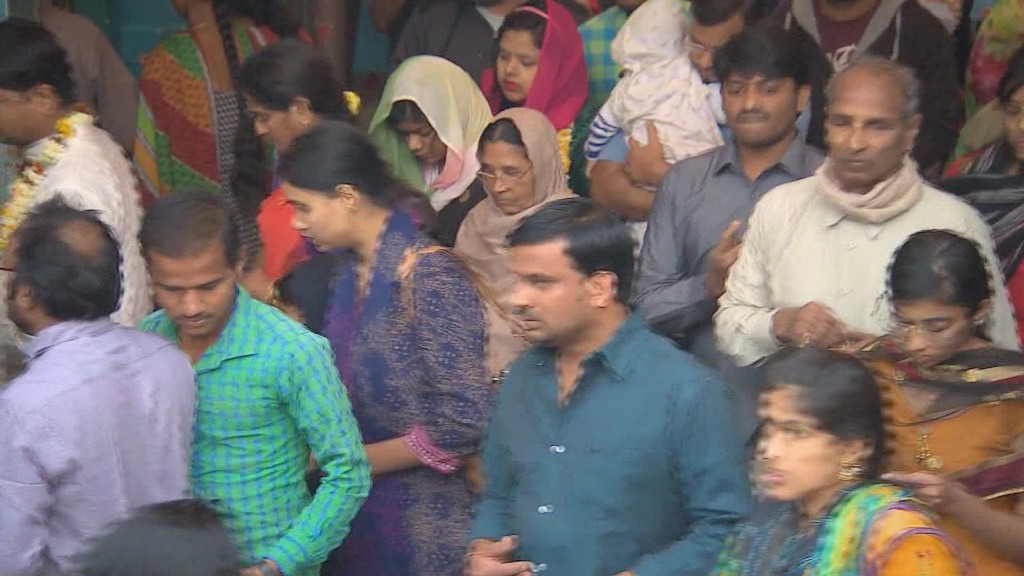 U.K. Prime Minister Theresa May is heading for India in the hope of drumming up new business for Brexit Britain.
She arrives in New Delhi on Sunday on her first official visit outside Europe.
India is a logical first choice for British officials eager to find new markets when the U.K. leaves the European Union: trade between the two countries last year was over $16 billion, and the U.K. has accounted for 9% of total foreign investment into India over the past 15 years.
And there could be plenty more to come, especially as the South Asian nation opens up further and cements its place as the world's fastest-growing economy.
Related: U.K. begins hunt for new business after dumping EU
"Britain will need very strong trading ties with some of the large markets, and I believe India, along with China, [is] probably the most sought after market," said Mihir Kapadia, CEO of London-based firm Sun Global Investments.
Finance and technology are two areas where the countries will likely be looking to deepen their cooperation, Kapadia added. Indian Prime Minister Narendra Modi needs investors to help boost local manufacturing.
"India is looking for a huge amount of investments, especially in the infrastructure sector," Kapadia said.
India has a lot at stake too -- 1.5 million Indians live in Britain, and Indian companies (like the Tata Group, which owns Jaguar Land Rover and Tetley Tea) employ over 100,000 people in the U.K.
Keeping that link alive will figure high up the Indian government's agenda in its talks with May. Visa rule changes that make it harder for foreign students to work in the U.K. after graduation resulted in a 50% drop in Indian applications to British universities over the past year.
And May's government has just issued new visa restrictions that make it even harder for companies to transfer foreign workers to the U.K.
"Indian students and people-to-people relations are important pillars of India-U.K. ties," Vikas Swarup, spokesperson for India's foreign ministry, said Thursday. "We expect mobility issues to be raised during the visit."
Related: Brexit is becoming a big fat mess
The main thrust of the visit, however, will be setting up a framework for future bilateral trade.
Any free trade agreement between the two countries will have to wait until the U.K. formally leaves the EU. That is still at least two years away, and potentially much longer after Thursday's court ruling that May will need parliamentary approval for Brexit.
"There will be so many areas where new partners will be needed" once Brexit happens, said Kapadia. "India, of course, will be right on the top of that priority list."