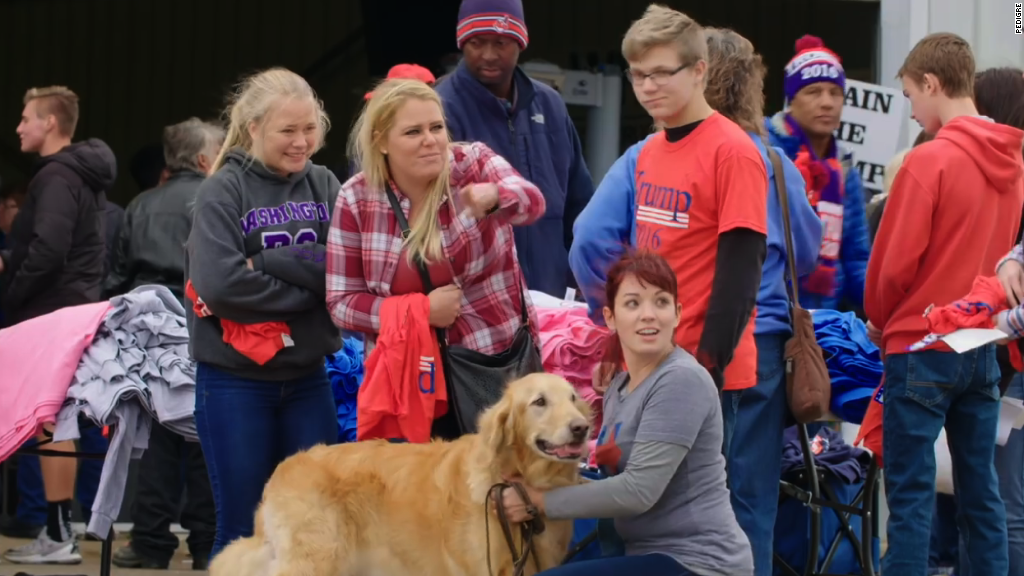 While the nation waits with bated breath for election results tonight, news organizations will look to exit polls to get an early read on who might win.
But exit polls, which are always imperfect indicators, could be especially problematic in 2016 thanks to Donald Trump supporters.
Sources at several networks said they'll be extremely cautious in assessing exit polls this year, because the response from Trump supporters might be extremely unpredictable.
Republicans have always been less likely to talk to exit pollsters than Democrats. That's forced news organizations to weight the exit polls accordingly. If statistics suggest that, say, 10% of Republicans in a precinct didn't talk to pollsters, the media organizations will adjust for that.
But some Trump supporters distrust and loathe the media so much that they may be even more reluctant to talk to pollsters than most GOP voters, which could result in an abnormally low response rate among Republicans.
Related: No, Newsweek's Clinton cover is not proof the election is rigged
"Views about the media can affect response rates," said Costas Panagopoulos, a political science professor at Fordham University who has written about the challenges surrounding exit polls. "It's something we have to grapple with."
Sources at various networks said their decision desks would be on the look out for lower response rates among Republicans.
Yet, on the other hand, other network sources speculate that the Republican response rate could be higher than usual because Trump's supporters have been so much more vocal than supporters of other GOP nominees such as Mitt Romney and John McCain.
"We're definitely prepared to adjust how we weigh the exit polls if Republicans are more responsive," said one broadcast network source.
Related: 'Lost' dog brings Trump, Clinton supporters together in new ad
There is yet another concern some networks have: that Trump supporters could try to mislead exit pollsters in order to dupe the media.
"Some people also deliberately mislead," Panagopoulos said. Evidence of voters misleading exit pollsters is harder to come by, he added, "but entirely conceivable in the current political climate."
Either way, the mission for decision desks is clear: Be careful.
The exit polls are collected by Edison Research and provided to what's known as the Network Election Pool, which is made up of ABC, CBS, NBC, CNN and Fox News.
The exit poll results are released by news organizations at 5 pm ET and only reveals what motivated certain voters to make their choice. They do not include projection of any winners until all the polls close in any one state.
Related: John Oliver now regrets urging Donald Trump to run
This year, however, Slate and a Silicon Valley startup called VoteCastr are planning to publish real-time vote projections in swing states before the polls close by using demographic and turnout data. BuzzFeed will also be using more than 200 volunteers nationwide to gather data directly from state and local election officials.
Some political experts are concerned that any move to forecast results before the polls close could influence potential voters who might feel less inclined to vote if they believe the die has already been cast. Political analyst Mark Plotkin called VoteCastr's effort "downright scary and disruptive."