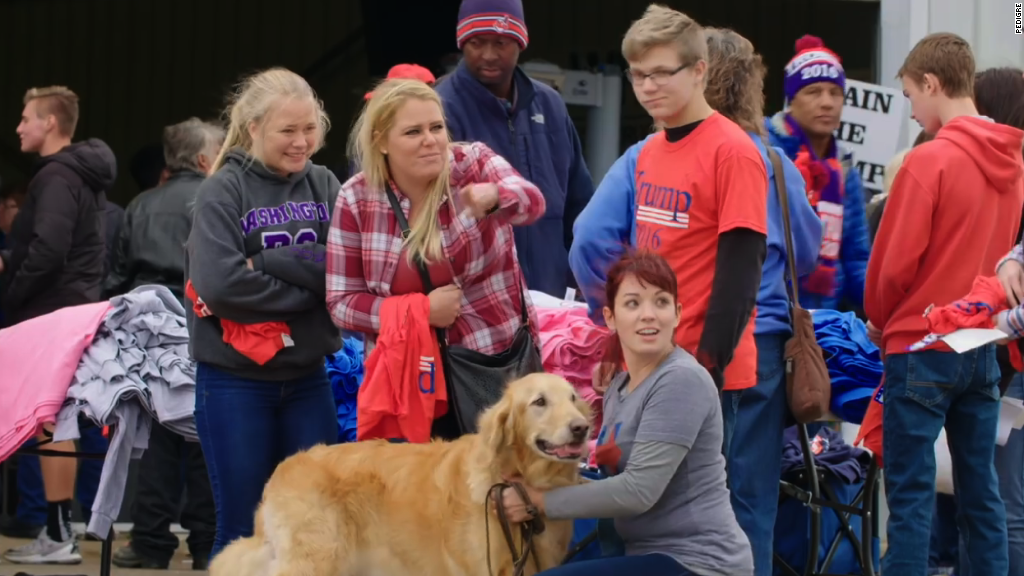 Leave it to man's best friend to bridge a bitter political divide.
Dog lovers on each end of the political spectrum stop growling at each other in a new ad when confronted by the plight of a lost dog.
The three-minute ad, released this month by the pet food company Pedigree, opens with footage of the contentious election, as "Hillary for prison" and "Stop Trump" ads flash on screen.
"This election has brought out the worst in us," the ad says. "We sought to remind people what brings out the good."
Related: Trump and Clinton prep long final ads
The spot segues into a social experiment featuring a woman shown taking a "lost" golden retriever to Hillary Clinton and Donald Trump rallies. For each event, she wears a shirt promoting the opposing nominee.
As the woman asks rally attendees to help her find the dog's owner, the Clinton and Trump initially give her a frosty reception.
Political differences are eventually cast aside as both Trump and Clinton supporters bond with the woman over their love of dogs.
"I love that apparently when it comes to dogs, there's no political party," says one woman.
"We do agree that we love dogs, and dogs love us," says a man dressed in a Trump shirt.
Craig Neely, the vice president of marketing for Mars Petcare, which owns Pedigree, told CNNMoney the ad was created, filmed and released within the last two weeks.
"As the election approached, it became evident to us that our country is very much divided," Neely said. "Our intent with this film wasn't to be political. We really hoped that we could simply play a small role in reminding people that we are more alike than we are different."
Neely said the ad follows others in the company's Feed the Good campaign, which features stories about how dogs "bring out the good" in people.
The television spot will air on CNN and Fox on Monday during daytime coverage and on election day during the afternoon and late prime time. It also was viewed nearly 4 million times on YouTube, Facebook and Twitter by Monday afternoon.