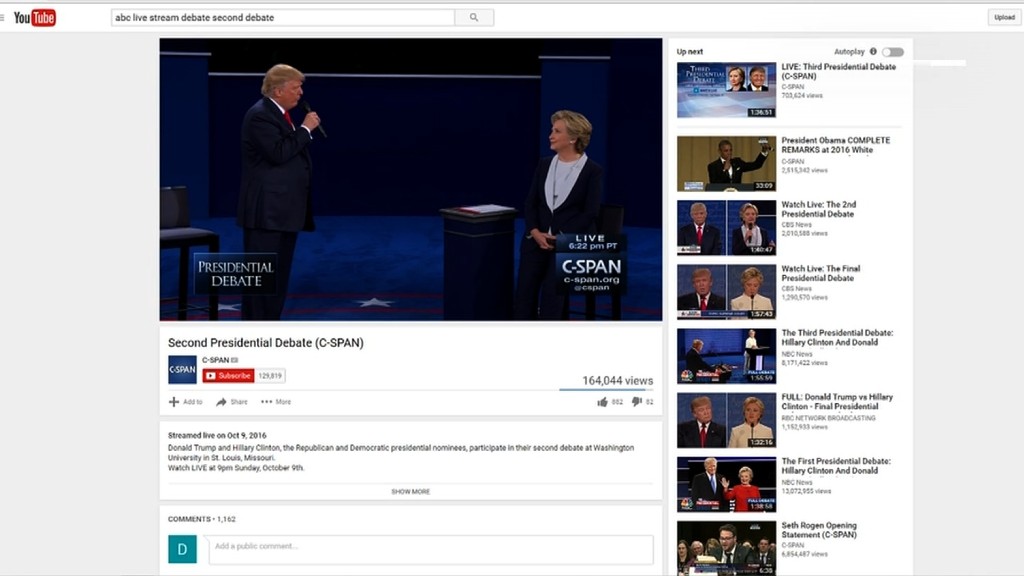 On Tuesday, millions of Americans will cast their votes to elect the 45th president of the United States.
And while you can't vote online -- or via text message -- there are a host of tech companies that have developed tools to make the process easier -- from finding the nearest poll to making informed decisions.
Google: A voting-related doodle on Google's (GOOGL) homepage serves as a constant reminder to vote every time you use the search giant. Clicking on the doodle directs you to a "where do I vote" search page to find the closest polling location.
Twitter: Sending a direct message on Twitter (TWTR) to the handle @Gov will also surface polling locations. People can chat with the @Gov bot to find out more about individual candidates, ballot measures, or find a different polling location.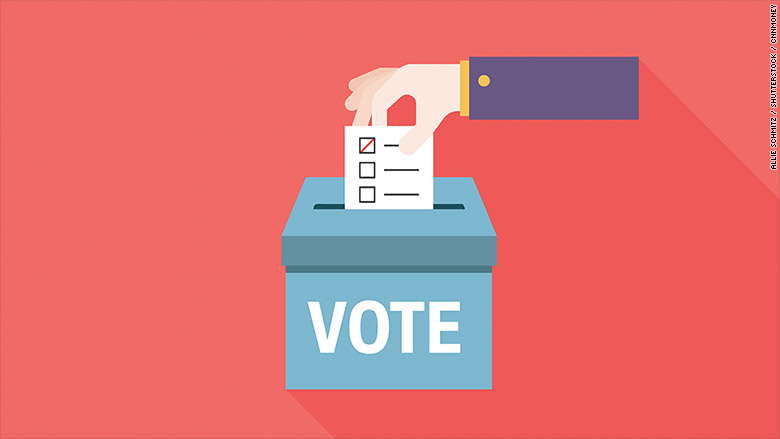 Facebook: Don't have Twitter? No problem. Facebook also has a tool to help people find the nearest polling spot. Go to the "Elections 2016" tab on the left column. Enter the address where you're registered to vote and Facebook (FB) will connect to a third party site to map the closest location. Facebook also has a host of different tools on its Elections page, including voting ID requirements, ballot previews, and of course, an option to share that you voted and encourage friends to do the same.
Related: These companies will be closed on Election Day
HelloVote: Those who registered to vote using chatbot HelloVote will receive reminder text messages. The bot will also surface polling location info, transit and driving directions, state ID requirements, weather notifications, social sharing (including an "I voted" selfie feature). People can also give feedback on their polling experience.
And, Hillary Clinton's campaign has set up a hotline to answer voter questions themselves in real time. People can tweet or DM @HFA on Twitter, or text "Question" to 472-46, and her team will reply. CNNMoney reached out to Donald Trump's campaign to see if it has developed any similar tool and will update when it responds.
Uber: The ride-sharing company is teaming with Google to tell riders their polling location, and easily request a ride there. In Pennsylvania, voters can use the promo code "VOTEPA" to get a $15 credit on a ride to the polls, and $15 on a ride home, courtesy of My Ride to Vote. Voters in North Carolina and Florida can text "Go Vote" to 73179 to get a free Uber ride, thanks to Rock the Vote and Voto Latino.
Lyft: As America gears up to elect its 45th president, Lyft is giving a 45% discount on one ride on Election Day in the following markets: Atlanta; Baltimore; Boston; Charlotte; Chicago; Dallas; Denver; Detroit; Miami; Minneapolis-St. Paul; Nashville; New Orleans; the New York City; all of New Jersey; Philadelphia; Phoenix; Portland, Oregon; Raleigh; San Diego and Washington D.C.
For a totally free Lyft ride, voters in Pennsylvania, Ohio, North Carolina, Florida, Texas and California should text "Go Vote" to 73179.
Zipcar: For last-minute voters, Zipcar is making 7,000 vehicles around the country free for its members from 6 p.m. to 10 p.m.
There are also tools to make sure that once you get to the polls, voters stay hungry and hydrated. Pizza to the Polls is a platform for donating pizzas to volunteers and voters in areas with long voting lines. "Send us reports of long lines and we'll send in the delicious reinforcements," the site reads. And Foursquare's "Vote, then Eat" tool maps out bars, restaurants and coffee shops that are nearest to your polling location.
Matt McFarland contributed to this report.