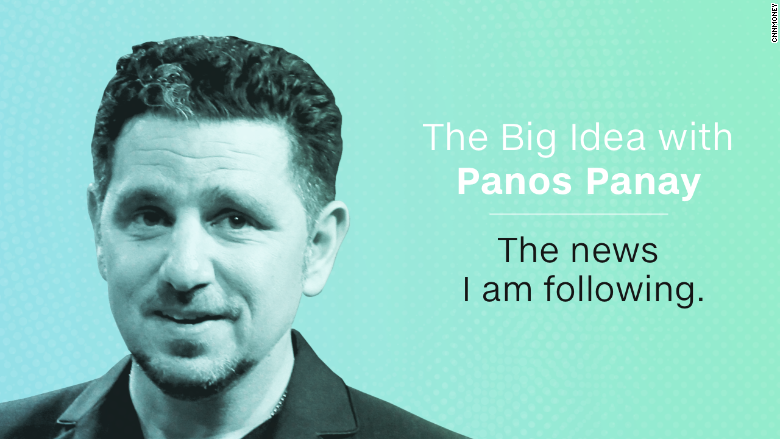 This week, the guest curator for "The Big Idea" on the CNN MoneyStream app is Panos Panay.
Occupation: Corporate Vice President of Microsoft Devices
Best-known for: He designed the Surface, Microsoft's super successful, trendsetting 2-in-1 tablet.
Officially, Panay is Microsoft's hardware chief, overseeing the Surface line of PCs, Xbox, HoloLens and accessories. But he's better known as the design genius that helped Microsoft's gadgets become the envy of the tech world.
Under Panay's leadership, Surface has thrived. Its hybrid PC-tablet design has generated many copycats -- even Apple has started to mimic some of Panay's designs.
In October, Panos and his team unveiled the next iteration of the Surface brand, including Surface Studio and Surface Dial, aimed at "transforming the way people create, work, and learn."
Panay likens the Surface tablets to his own children -- a fact that he acknowledges irks his son and three daughters. Just like he wants everyone to love his children as much as he does, Panay says he wants every customer to get the same satisfaction out of Surface.
Here's a sample of what Panos Panay is reading this week (to see more, add "The Big Idea" stream on the CNN MoneyStream app)
-Reign Men: The storm, the speech and the inside story of the Cubs' Game 7 Triumph (Sports Illustrated)
-Food emperor David Chang bets big, using Silicon Valley money (New York Times)
-Innovative new shaftlign putter could be the cure for your yips (Golf.com)
-Pepsi's chief design officer:5 must-reads for design and business leaders (Fast Company)
-Microsoft's awesome ergonomic keyboard finally works over Bluetooth (The Verge)
-Not just a financial hub: A creative boom emerges in Hong Kong (CNNMoney)
-How Apple lost last week to Microsoft (Washington Post)
-Our Spin (Silicon Benders)
-Tesla Announces Its New Solar Roof (Popular Mechanics)
-Girls Dig Into Engineering at Caterpillar (AP)
-VR Will Be A $38 Billion Industry By 2026 (Fast Company)
-3 keys to bringing out the best in extraordinarily creative people (Forbes)
-Post-election therapy: View swing states from space (New York Times)
-Why every business should use 'Irregular thinking' to find breakthrough ideas (Fast Company)
"The Big Idea" lets you peek into the minds of leading people in business.
Every day, you will see multiple stories appear in your stream that are hand-picked by the guest curator of the week. "The Big Idea" was curated last week by VaynerMedia CEO Gary Vaynerchuk.
Reading this article on your Apple device, click here to download CNN MoneyStream. Or if you are on Android, download it here.