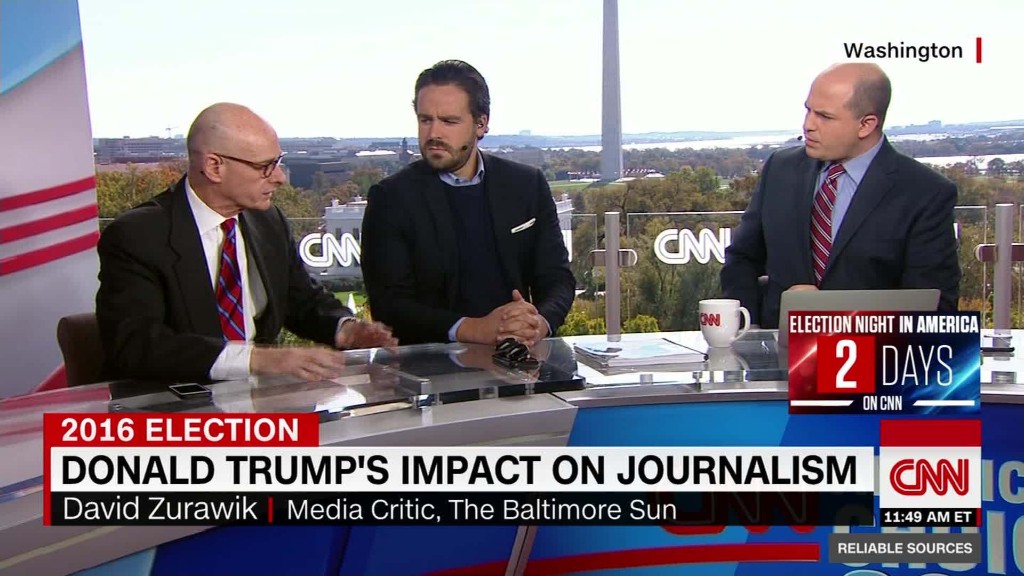 Most newspapers ran pictures of Donald Trump and Hillary Clinton on their Election Day front pages. Not the New York Post, which summed up the election with picture of a woman holding her nose.
"Vote for the one you dislike least," read the headline on the New York tabloid's cover.
The Daily News, the Post's crosstown rival and a longtime critic of Trump, was far less neutral. Its cover was an illustration depicting Trump crossing his fingers behind his back as he raises his left hand as if to take the oath of office.
"Stop the Don Con," the headline read. "News to voters: Today, send an unqualified liar home & steady Clinton to the White House."
Of course, online headlines will change many times during Election Day. But print editions are a throwback to when editors would craft a headline that could ride out the entire day -- and maybe attract readers to pick up a copy at the newsstand.
Other papers used their front pages to portray the breakneck final hours of the campaign.
Related: History and hyperbole - What young reporters witnessed covering Trump
"Clashing final pitches in swing-state blitz," read The New York Times headline across the top of its front page.
"Clinton, Trump battle to the end," read The Wall Street Journal.
"Nonstop to the finish," said The Boston Globe.
Related: Chicago fans deliver big win -- for local newspapers
Other papers highlighted the end of a long, bitter campaign.
"Decision Day is finally here," read USA Today.
"Exhausting race's end in sight," read The Miami Herald.
And the nervousness by voters on both sides was captured by The Washington Post: "After final pitches, moment of truth for anxious nation."