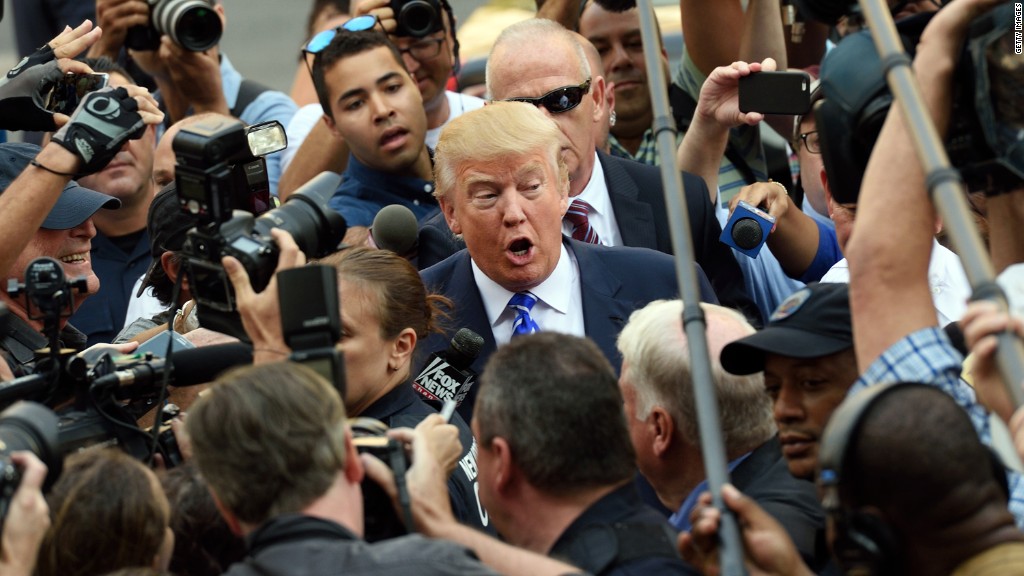 Donald Trump ended his campaign the same way he began: By lambasting the journalists who cover him.
In his final day on the trail, he urged Americans to cast a vote against the "crooked media." He said the "dishonest media has no idea what's going on." And he wrongly claimed that the "corrupt media never shows the crowds" at his rallies.
By now, we're used to it. Trump's attacks are almost like background noise. But it is important to take stock of what he did and why he did it.
Trump exploited the public's existing distrust of media and sought to strip news outlets like CNN and The New York Times of all legitimacy. He targeted journalists like Fox's Megyn Kelly and NBC's Katy Tur. He even withheld press credentials from newsrooms like The Washington Post. Toward the end of the campaign, he claimed the "corporate media" was part of a massive conspiracy to block him from the White House.
Hillary Clinton is no friend of the media. But Trump is different. Trump engaged in the most extreme anti-media talk we have ever heard from a modern presidential candidate.
This is his right, enshrined by the First Amendment, the same amendment that gives journalists to right to cover him without censorship.
Related: How Donald Trump changed political journalism
But there were moments during the race when Trump flirted with the idea that freedom of the press was too broadly defined and should be reined in.
"I'm going to open up our libel laws," he said, "so when they write purposely negative and horrible and false articles, we can sue them and win lots of money."
Trump and his aides repeatedly threatened to file suit against news organizations like The New York Times. He did not follow through, however.
He also criticized CNN on a regular basis while granting interviews to CNN even more regularly, up until the summertime.
Sometimes his anti-media rants were simple reactions to news stories he didn't like. Attacking the media doubled as a way to change the subject.
But when you step back and take all of his comments together, his nonstop rage against the media machine is startling.
History and hyperbole: What the Trump press corps learned
To be fair, the relationship was mutually beneficial at times. Media outlets also gained higher ratings and revenues this year thanks to Trump, and Trump gained something he has always craved: attention.
But it was also a deeply twisted relationship. Only days into his underestimated bid for president, he told voters that "you can't believe the press."
As journalists stopped treating Trump like a joke and started treating him like a serious candidate, he ramped up the insults.
Among the words he has used to describe reporters: "terrible," "horrible," "unbelievable," "illegitimate," "disgusting, "scum."
Trump told his supporters that journalists routinely lie and make up sources. (We don't.)
At one point he said "I'm not running against crooked Hillary Clinton. I'm running against the crooked media. That's what I'm running against."
This was, to put it simply, a cynical shoot-the-messenger strategy. And now we have to reckon with the consequences.
Nearly every mention of the media by Trump was met by loud "boos" at his rallies.
The candidate reveled in the chants of "CNN sucks," which were sometimes broadcast live on CNN. The chants were deafening at his Monday night rally in Scranton, Pennsylvania.
I would argue that the cheering — the response from the crowd — ultimately matters more than the hateful words from the candidate.
Trust-in-media levels were pitifully low, particularly among Republicans, even before Trump entered the race. One year later, he took credit when trust-in-media levels sank even lower.
The question on Wednesday is: What should journalists and their employers do to reach the voters who have tuned journalism out?