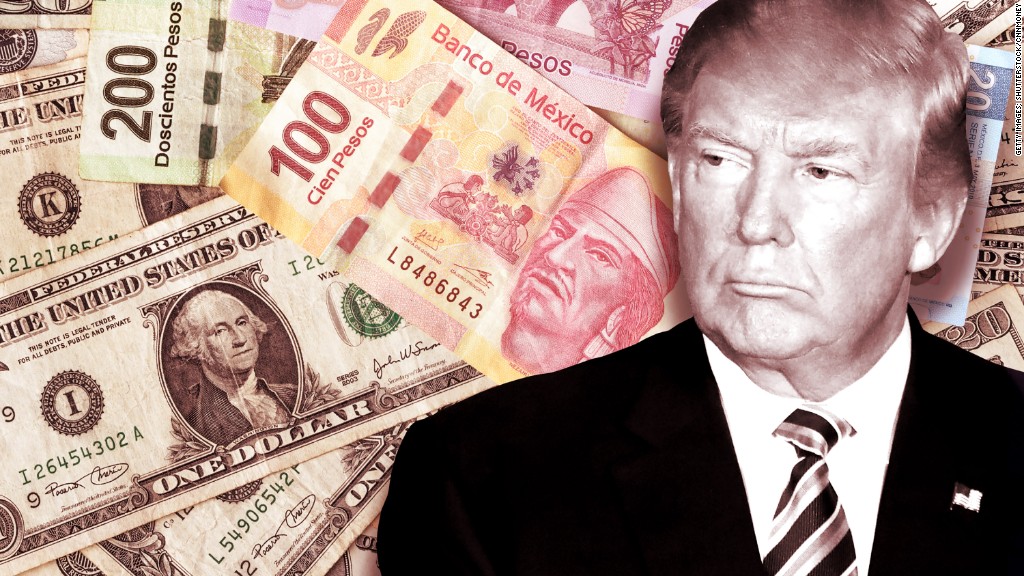 The Mexican peso is getting clobbered after Donald Trump's stunning victory in the U.S. presidential election.
The country's currency hit a new record low as votes were being tallied, suffering an 11% drop. By early Wednesday morning, the peso regained some ground but it was still down more than 9%.
Mexico's top finance officials vowed to take action during a joint press conference Wednesday morning in Mexico City but provided no specifics.
"We will take the necessary measures," to support the economy, Mexico's finance minister Jose Antonio Meade, said Wednesday morning. "Mexico is in a position of strength."
The peso declined further against the dollar after the press conference. Mexico's central bank governor, Agustin Carstens, had said last week he had a "contingency plan" in place if Trump won, but his detail-void attempt to reassure markets didn't work.
Economists expect the Bank of Mexico, also known as Banxico, to either hike interest rates or to buy large amounts of pesos to stop the currency from plunging further.
Related: Live election results and coverage
"The Mexican peso has been hit hardest, it's been the biggest casualty," Neil Shearing, chief emerging market economist at Capital Economics, said of the post-election market reaction.
On Wednesday morning, $1 was worth just more than 20 pesos -- a territory it had never traded at before.
Despite the lack of immediate action, Mexican officials aren't going to wait long, experts say.
"They will react immediately. They won't be sitting on the sidelines for two or three days," said Alberto Ramos, head of Latin America economic research at Goldman Sachs.
Stock markets in Japan and China fell overnight. Trump's anti-trade talk and his unpredictability has led to a great deal of apprehensiveness in the global markets.
Related: Global markets tank as election shocks investors
But the U.S. is Mexico's largest trade partner. And Trump has attacked Mexico from Day 1 of his campaign.
Trump has proposed slapping tariffs on goods made in Mexico, ending the free trade agreement NAFTA, taxing cash remittances from America to Mexico, and building a wall along the border, which he says Mexico would pay for.
About 30% of Mexico's economy consists of its exports, and almost all of those are sent across the border. Plus, the Mexican economy is already dealing with a litany of headwinds, such as low oil prices and government spending cuts.