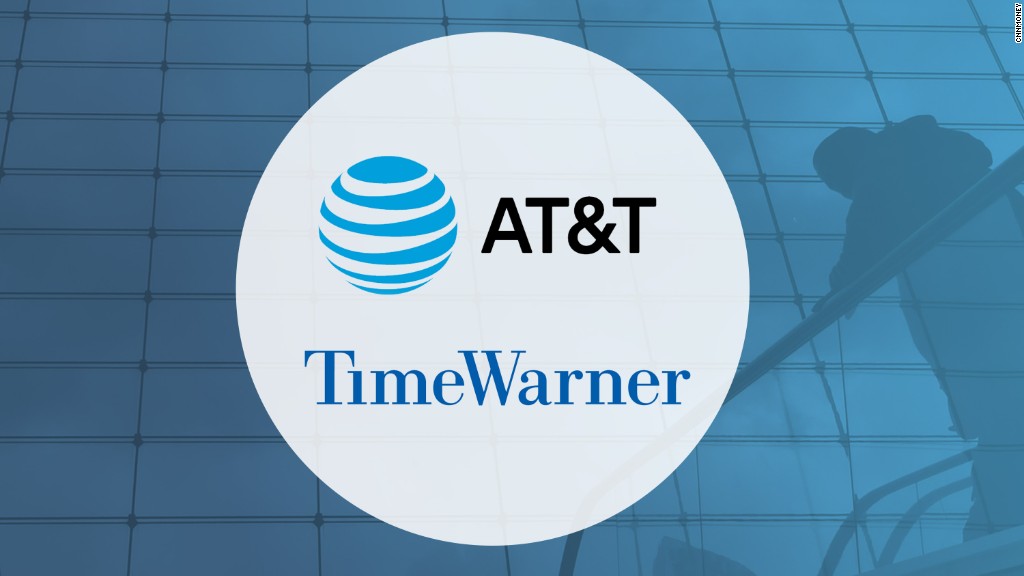 Donald Trump's election casts immediate doubt on AT&T's acquisition of Time Warner, the parent company of CNN.
Trump vowed in late October, the weekend the $85 billion deal was announced, that his administration would block the transaction.
"It's too much concentration of power in the hands of too few," he said.
Trump hasn't repeated the threat since then. It may have just been a stray comment made in the context of his anger about CNN's coverage of his campaign.
Still, it is enough for Wall Street analysts to raise alarms.
BTIG analyst Rich Greenfield said in a Wednesday blog post that "the Trump Presidency adds to the risk surrounding regulatory approval of AT&T (T) Time Warner (TWX)."
At an investors conference on Wednesday, AT&T's chief financial officer John Stephens struck a confident pose, saying, "From a company perspective, we really look forward to working with President-elect Trump and his transition team."
Related: Justice files antitrust suit against DirecTV over Dodgers broadcasts
Stephens added, "Our Time Warner transaction is all about innovation and economic development, consumer choice, and investment in infrastructure with regard to providing a great 5G mobile broadband experience. So we look forward with optimism to working with the leadership and providing benefits to consumers and to our shareholders."
Time Warner declined to comment.
Both stocks dropped on Wednesday morning following Trump's Tuesday night triumph, but by the end of the day had returned to their previous day prices.
The Time Warner-AT&T deal was announced on October 22. Trump called the combination of the two companies "an example of the power structure I'm fighting."
Related: Time Warner posts strong results as AT&T deal looms
He also criticized Comcast's 2011 acquisition of NBCUniversal and said, "We'll look at breaking that deal up, and other deals like that."
Trump said "deals like this destroy democracy."
Trump's pledge placed him far to the left of President Obama, whose administration approved the Comcast deal with numerous conditions.
The AT&T-Time Warner deal will also have to be approved by federal antitrust regulators.
Presidents generally let the regulators make antitrust determinations without weighing in publicly, so Trump's pledge broke with precedent.
At the time many media insiders waved off the threat, citing the likelihood of a Hillary Clinton presidency and Trump's reputation for blustery rhetoric.
His comments were made in the heat of a campaign on a day when Trump bashed the media for giving too much attention to the women who accused him of unwanted advances and sexual assault.
Normally Republican administrations are more amenable to mergers and acquisitions than Democratic administrations.
But this moment in time is not normal.