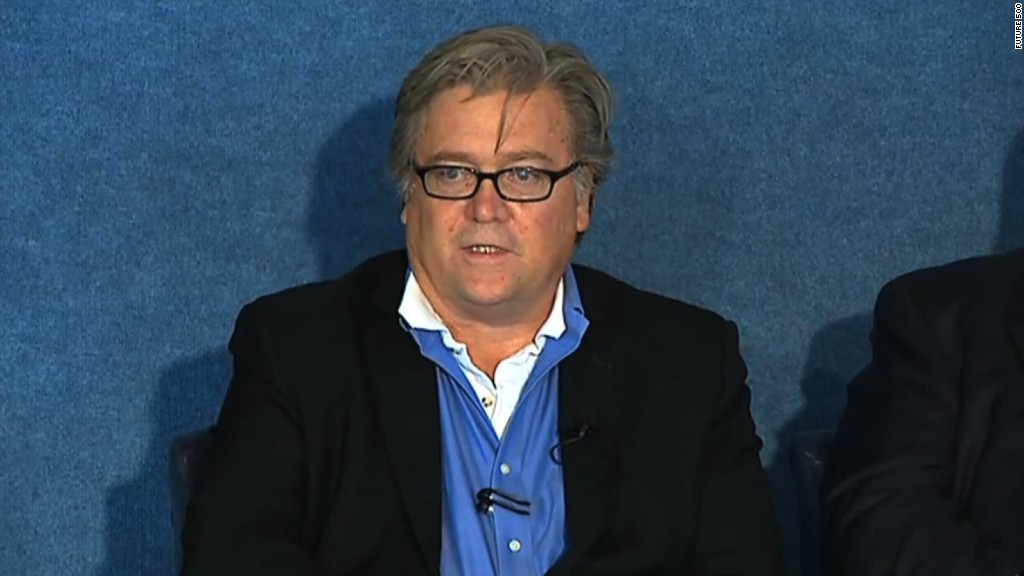 Breitbart News Network, the right-wing populist news organization that played an integral role in Donald Trump's presidential campaign, will expand its operation in the United States and open new bureaus in Europe, its editor-in-chief said Wednesday.
The expansion, first reported by Reuters, had been in the works for a long time, sources at the organization had told CNNMoney. But in the wake of Trump's historic victory, and in the wake of Brexit, their ambitions have taken on new significance.
Breitbart, which already has staff in London and Jerusalem, will launch new websites in Germany and France, countries where right-wing, anti-immigrant parties -- Alternative for Germany and National Front, respectively -- have made major political strides in recent years.
The organization also plans to hire additional reporters throughout the United States, including beefing up its operations in Texas and California.
Led by Steve Bannon, the website's chairman and the CEO of Trump's presidential campaign, Breitbart has long seen itself as the media vanguard in a global populist movement. He is currently on a leave from Breitbart while working on the Trump campaign.
"The core principles that drive Breitbart seem to be gaining popularity," Alex Marlow, the site's editor-in-chief, told CNNMoney in October. "There is a movement."
The Breitbart News Network is largely funded by Robert Mercer, a New York City hedge fund billionaire who has spent tens of millions of dollars to combat the Republican establishment.
But perhaps no one was so integral to Breitbart's growth as Trump himself.
After hiring Bannon in August, the Republican presidential nominee fully embraced the nationalist, anti-liberal Breitbart worldview, which contributed to the groundswell of support among rural white voters in Tuesday's election.
"There are thousands of ways in which this campaign is a merger between Donald Trump and Breitbart," Ben Shapiro, a former editor-at-large at Breitbart who has become a vociferous critic of the site, told CNNMoney at the time. "Breitbart's whole goal was to burn everything down... and Trump has gone full Breitbart."