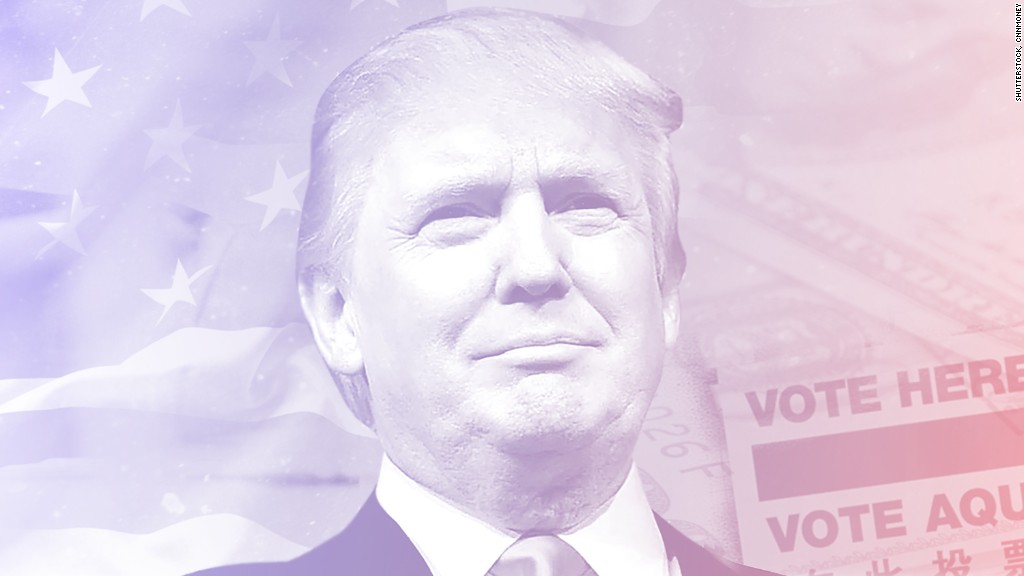 Top business leaders are reacting to Donald Trump's resounding win over Hillary Clinton.
Mark Zuckerberg, Facebook CEO
We are all blessed to have the ability to make the world better, and we have the responsibility to do it. Let's go work even harder.
Peter Thiel, tech titan and Trump supporter
Congratulations to President-elect Donald Trump. He has an awesomely difficult task, since it is long past time for us to face up to our country's problems. We're going to need all hands on deck.
Tim Cook, Apple CEO
We have a very diverse team of employees, including supporters of each of the candidates. Regardless of which candidate each of us supported as individuals, the only way to move forward is to move forward together.
Jeff Bezos, Amazon CEO
I for one give him my most open mind and wish him great success in his service to the country.
Mark Cuban, billionaire investor and Clinton backer
We all need to give President-Elect Trump a chance. Support the good. Lobby against what we disagree on. No one is bigger than us all," he tweeted at 3 a.m. Wednesday morning. He added: "One Nation. Under God. Indivisible. With Liberty and Justice for All.
Microsoft
As a company, we also look forward to working with the new administration and Congress on issues of common concern. As we think about the future, we know we don't have all the answers, but four issues rise near the top as we think about the country and information technology.
Jack Ma, Alibaba founder
I don't fear, I think a healthy and positive China-U.S. relationship is so critical, especially this century. Number one and number two economy in the world if they work together, they solve lots of problems, poverty, disease, environment. But if they don't work with each other, it's going to be a disaster.
Richard Branson, Virgin founder and chair
This election has undoubtedly caused lasting damage, both to America's collective psyche and to the political will of its leaders to collaborate. But there is much to be done: to protect democratic processes, to stand up to intolerance, and to support each other in these challenging times.
Howard Schultz, Starbucks CEO
As Americans, we must honor the democratic process. We have a president-elect in Donald Trump, and it is our responsibility as citizens to give him the opportunity to govern well and bring our country together.
Whether you are pleased or disappointed by the outcome, we each still have a choice. Today and every day, we have a choice in how we treat one another in our homes, in our neighborhoods, and of course in our stores.
Jamie Dimon, CEO of JPMorgan Chase
We have just been through one of the most contentious elections in memory, which can make it even harder to put our differences aside. But that makes it more important than ever to bind the wounds of our nation and to bring together Americans from all walks of life. Recognizing that our diversity is a core strength of our nation, we must all come together as fellow patriots to solve our most serious challenges.
Ford Motor Company
We congratulate President-elect Trump and new governors, members of Congress and elected officials across all levels of the U.S. government. It is our hope government leaders will focus on bringing the country together and pursuing policies to drive economic growth and job creation.
Mark Benioff, CEO of Salesforce
Congratulations President Trump. This is what makes America great -- our democracy. Now is the time for us to come together as one country.
Chris Sacca, Silicon Valley tech investor
My 5-year-old daughter watched Hillary Clinton, heard her encouragement, and then asked if she could code before school.
Shervin Pishevar, Silicon Valley tech investor
We are in extremely dangerous times. Hatred emboldened by absolute power that if unchecked will shake the very firmaments of America.
Akbar Al Baker, Qatar Airways CEO
I have always said that the rhetoric that surrounded Mr. Trump's campaign with respect to our region is only political in nature, and I am certain that the road ahead will clearly demonstrate that Qatar and the United States have enjoyed a long standing partnership and are close allies.
Sir Martin Sorrell, CEO of world's largest advertising agency WPP
It's effectively a second Brexit ... Increased levels of uncertainty will mean more hesitation to make important decisions in the short term, both by people and governments. But it may accelerate implementation of helpful reforms in the medium term to reduce uncertainty and stimulate investment as a result.
Lord Michael Ashcroft, member of British House of Lords and businessman
I am quietly confident that President Trump will be a far better leader than many people believe...
Sallie Krawcheck, investor
Damn, that's one hard glass ceiling.
Stewart Butterfield, cofounder of Slack and Flickr
We are drinking the expensive stuff.
Jeff Weiner, CEO of LinkedIn
I'm not certain what a Trump administration will mean for the country. If Brexit and this process have taught me anything, it's how unpredictable seemingly predictable outcomes have become. What I am certain about is my value system, both as an individual and member of our team.
Richard Trumka, AFL-CIO president
The AFL-CIO accepts the outcome of this election, and offers our congratulations to President-elect Trump. More than anything, this election is an indictment of politics as usual.
Oscar Munoz, United Airlines CEO
I am confident the United family will display that same spirit of civility, cooperation and inclusion as we continue to work together on our shared purpose of running and building a great airline for our employees, customers and investors.
Lloyd Blankfein, CEO of Goldman Sachs
The election results in the U.S. show democracy at work. It also means change, which isn't necessarily a bad thing. Change is often the agent of progress in ways we can't always readily see in the early days.