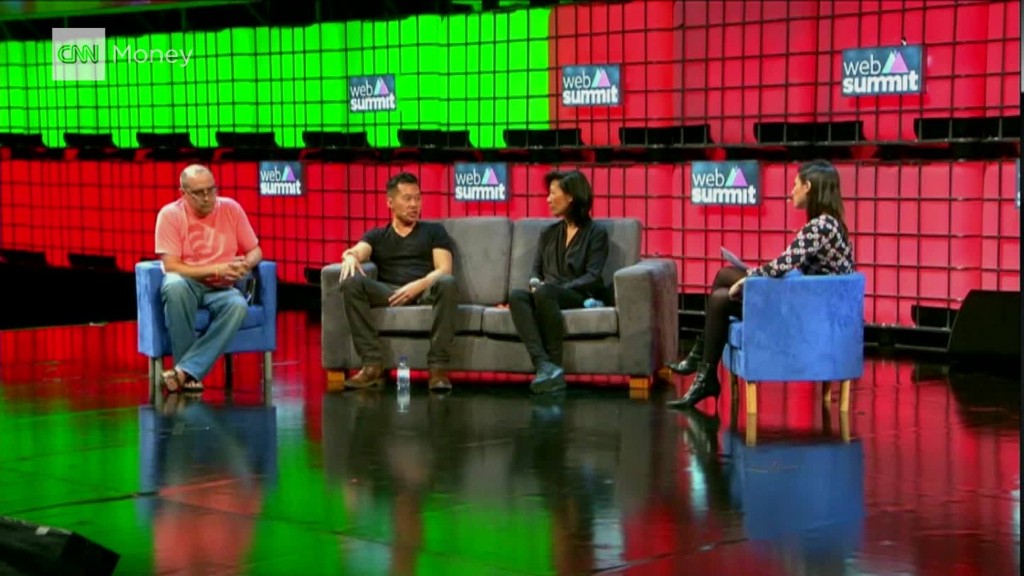 Silicon Valley is built on big bets about the future. Now it must grapple with a big political bet gone wrong.
A collective shock spread through the tech industry on Tuesday night as founders, executives and investors realized that something they'd thought to be nearly impossible had happened: Donald Trump won the presidential election.
"You know those times where we watch other countries and are like 'oh man you guys are crazy'. Shit that's us now," Aaron Levie, CEO of Box and an active Hillary Clinton supporter, tweeted on Tuesday.
Dara Khosrowshahi, the CEO of Expedia, echoed that sentiment in a tweet: "As tech leaders we have to admit that we are hugely disconnected with our nation."
Related: Tech money fuels ballot measures in San Francisco
This was supposed to be the year that the tech industry triumphantly flexed its political muscles in an unprecedented show of force to stop a candidate it perceived as uniquely unfit for office and bad for business.
Top execs from Amazon (AMZN), Salesforce (CRM), Netflix (NFLX) and numerous other tech companies openly criticized Trump during his campaign. They compared him to Hitler and designed a card game to make fun of him. Many actively raised money for his opponent.
The industry must now figure out how it can operate in a country run by a man who has threatened to boycott Apple, gone after Amazon for antitrust violations, called out Facebook's founder for his immigration policies and peddled a conspiracy theory that Google (GOOGL)'s search engine suppressed negative headlines about Clinton.
Apple (AAPL), Google, Facebook and Amazon stock all ended the day in the red with Amazon down 2%. Trump has specifically claimed that "Amazon is getting away with murder tax-wise," and could try to take action to change that.
Representatives for Apple, Google and Amazon did not immediately respond to a request for comment. Facebook declined to comment.
Trade groups representing several of these tech companies are reportedly planning to meet on Thursday to determine how to proceed with Trump.
Reated: Tech founders want California to secede
The one notable exception to the tech stock decline was Twitter, which jumped 4% thanks to Trump's love of the platform.
"It's all about how Twitter drove him to prominence, and fostered his image," said Michael Pachter, an analyst with Wedbush, about the reason for Twitter's sudden surge.
Worse still for Silicon Valley: key figures in the industry who loudly criticized Trump during the campaign may need to brace themselves for the prospect of a president who is known to hold a grudge.
"There isn't any worry about retaliation, rather a pervasive concern that there may not be an opportunity to collaborate to discuss and fix the country's real problems," says Chris Sacca, an early investor in Twitter (TWTR) and Uber and an outspoken Trump critic.
He added: "We are hopeful he will immediately reach out to the tech and startup sectors and start building relationships so we can all work together."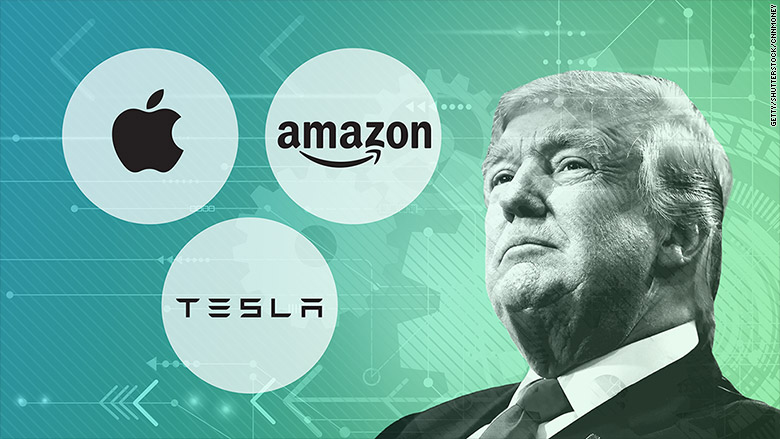 Yet, other tech founders are now in despair and openly talking up plans to help California secede from Trump's America. "It's the most patriotic thing I can do," Shervin Pishevar, an early Uber investor and cofounder of Hyperloop, told CNNMoney.
Hours after the election results came in, Tusk Holdings, a group that advises tech companies on regulatory issues, sent a memo breaking down what Trump's victory could mean for these businesses.
The firm expects Trump's administration to be more lenient in approving big mergers (despite his comments to block AT&T's deal to buy Time Warner). That could be good news for Silicon Valley deal making.
However, Tusk Holdings also expects that Trump and the Republican Congress may be less likely to provide tax incentives for clean energy and more likely to favor car manufacturers over tech companies when it comes to self-driving cars.
This would mark a shift for the tech industry, which spent years cultivating relationships with the Obama administration. Under Obama, the government took steps to advance much of the industry's wish list, including self-driving cars, commercial drones and net neutrality.
"Needless to say," according to the Tusk Holdings memo, "there is going to be a lot of uncertainty."