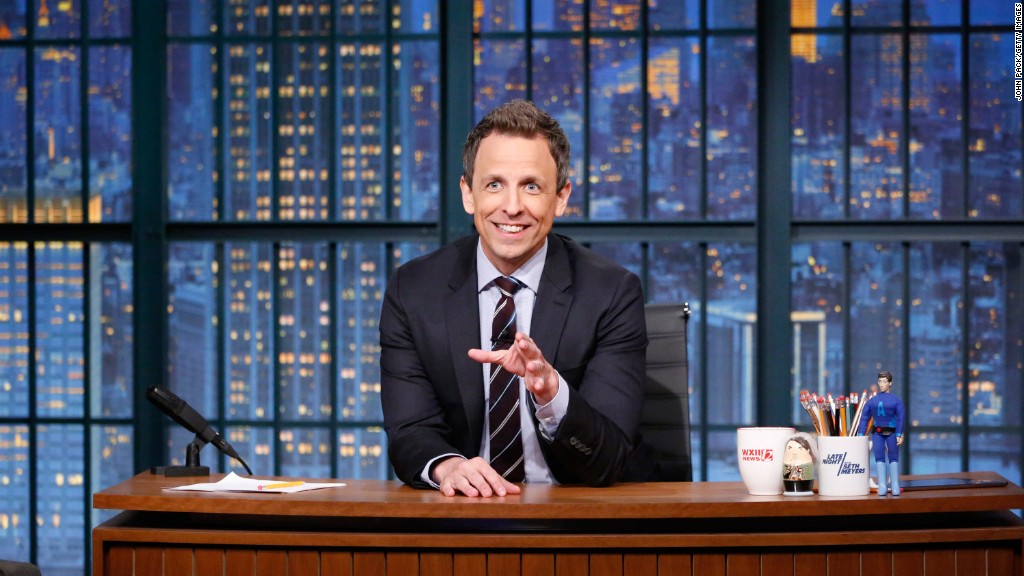 Late night TV was mostly preempted on Election Night, but on Wednesday the hosts of late night returned with plenty to say about the stunning election of Donald Trump.
Stephen Colbert, who aired his third live "Late Show" of the week, opened his show not really knowing how to feel about Trump being the new president.
"I'm Stephen Colbert... I think? I'm not sure what to believe anymore," the CBS host said. "This is what it feels like when America is made great again. I was really hoping it would feel better because this suuuuuucks."
Seth Meyers, host of NBC's "Late Night" and one of Trump's biggest critics, opened his broadcast with a long impassioned monologue about the newly elected president.
"We've been talking about Donald Trump on this show for 18 months, and one of the things I've tried to make clear over those 18 months is how I've been wrong about him at every turn," Meyers said opening his show on Wednesday night.
Meyers added that the good news is that "based on this pattern of me being wrong on every one of my Donald Trump predictions," Trump will probably be a great president.
At the end of his speech, Meyers made Trump a promise for the next four years.
"Donald Trump made a lot of promises as to what he's going to do in the next four years, and now we get to see if he can fulfill them," he said. "And so, I'd just like to make one promise to him: We here at 'Late Night' will be watching you."
TBS' "Full Frontal with Samantha Bee" opened with Bee asking how everyone was doing before trying to figure how everything went "spectacularly wrong."
Related: Colbert and 'Daily Show' find nothing funny in election results
"What we did was the democratic equivalent of installing an above ground pool," Bee said. "Even if we're lucky and it doesn't seep into our foundations the neighbors will never look at us the same way again."
Bee's TBS late night counterpart, Conan O'Brien, opened his monologue by also asking if his audience was okay and saying that democracy is still the best form of government no matter the outcome.
"We have free and fair elections and I think that's a wonderful thing," O'Brien said. "Now, today Americans have the right to feel happy, angry, pessimistic, optimistic but everybody should feel grateful that we get to vote, and if we don't get our way we have the chance to try again."
TBS, like CNN, is owned by Time Warner.