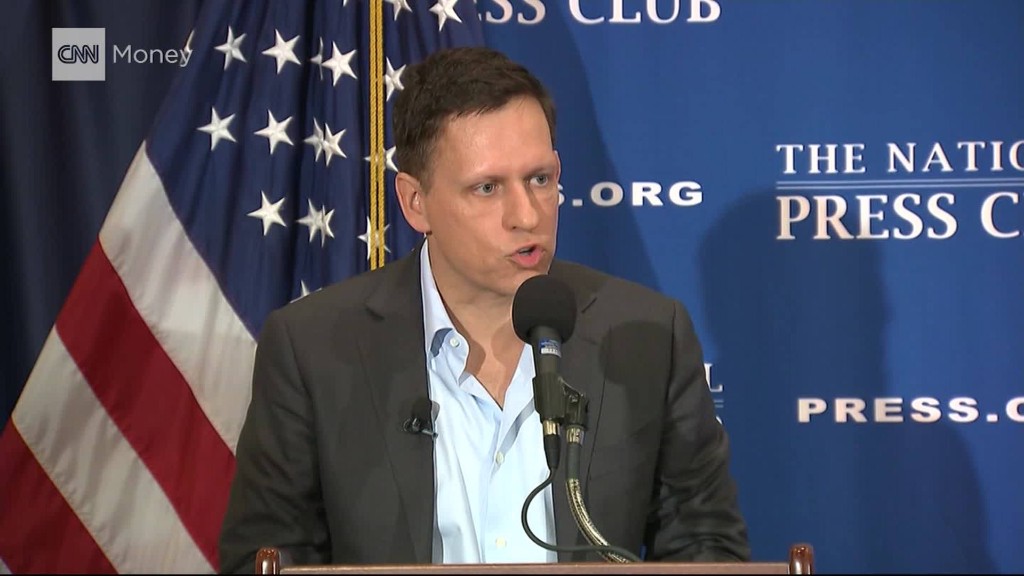 Peter Thiel is taking an official role working with Donald Trump.
Thiel, the billionaire investor who clashed with Silicon Valley by endorsing Trump early, will join the president-elect's transition team.
Trump announced Friday that Thiel would be one of more than a dozen members of the Presidential Transition Team Executive Committee, led by Vice President-elect Mike Pence.
"The mission of our team will be clear: put together the most highly qualified group of successful leaders who will be able to implement our change agenda in Washington," Trump said in a statement.
Jeremiah Hall, a spokesman for Thiel, declined to comment beyond Trump's statement.
Rumors kicked off this week that Thiel was in consideration to lead the transition team, replacing New Jersey Governor Chris Christie. There was also an earlier rumor that Trump might nominate Thiel to the Supreme Court, but it was quickly shot down by both camps.
Related: Peter Thiel defends his support of Donald Trump
Thiel, a PayPal cofounder and Facebook board member, shocked many in the tech industry by supporting Trump during the campaign and speaking at the Republican National Convention.
Shock turned to outrage when Thiel pledged to donate $1.25 million to elect Trump in the final weeks of the campaign when the candidate was under fire for multiple allegations of sexual assault.
"Most Americans don't live by the [Washington] Beltway or San Francisco Bay. Most have not been a part of that prosperity," Thiel said at an event last month defending his endorsement. "What Trump represents isn't crazy and it's not going away."
Thiel is famous in Silicon Valley for holding extreme, counterintuitive views. He is a rabid libertarian who has invested money to make people immortal, develop floating cities away from the reach of governments, and convince young people not to go to college, among other endeavors.
This time, it paid off.
Thiel's fortunes appear to be on the rise while much of the tech industry could be hit hard by a Trump presidency.