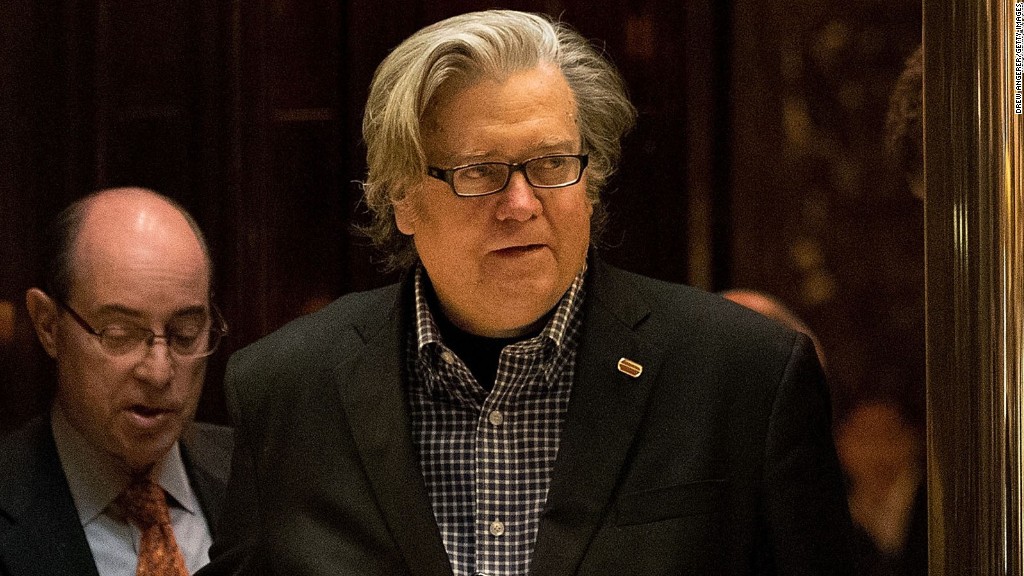 After years operating on the far-right fringe of American politics, Steve Bannon will now be one of the most influential members of Donald Trump's White House.
Bannon was the executive chairman of Breitbart News before Trump hired him in August to run the campaign. The site has a history of publishing incendiary and divisive stories, many of which are outright anti-Semitic, misogynist and racist.
Now Trump has appointed Bannon as chief strategist and senior counselor, an "equal partner" with Reince Priebus, the Republican Party chairman who will be chief of staff. It is the latest and clearest signal that Breitbart has risen from right-wing outlier to conservative juggernaut.
The site was a virulent pro-Trump voice throughout the campaign. According to ComScore, which tracks web traffic, Breitbart reached more than 17 million readers in an average month with stories that propped up the Republican nominee and excoriated his enemies.
Breitbart also has close ties with the so-called alt-right movement, an ideology animated by white nationalism and misogyny. In July, Bannon described Breitbart as "the platform for the alt-right."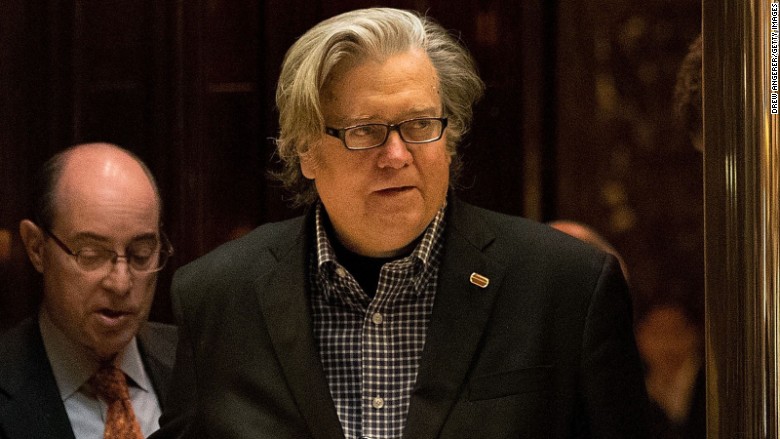 A search through Breitbart's archives turns up a litany of inflammatory headlines. One story published in May described the conservative pundit Bill Kristol, a vocal Trump critic, as a "renegade Jew." Breitbart has also been aggressive in highlighting instances of black crime. After a Virginia reporter and cameraman were shot to death on live television last year by a black co-worker, Breitbart described it as a "race murder."
Related: Steve Bannon: The 'street fighter' who's now running Trump's campaign
Bannon's elevation to one of the most influential posts in Trump's White House drew both outrage and consternation on Sunday.
The Southern Poverty Law Center, which monitors hate groups, said that Bannon "was the main driver behind Breitbart becoming a white ethno-nationalist propaganda mill." Jonathan Greenblatt, the CEO of the Anti-Defamation League, strongly denounced the appointment of Bannon.
"It is a sad day when a man who presided over the premier website of the 'alt-right' -- a loose-knit group of white nationalists and unabashed anti-Semites and racists -- is slated to be a senior staff member in the 'people's house,'" Greenblatt said.
There was also vocal pushback from the left and the right against treating Bannon as a run-of-the-mill political appointment.
"Just to be clear news media, the next president named a racist, anti-semite as the co-equal of the chief of staff," John Weaver, a top adviser to Ohio Governor John Kasich's failed presidential bid, tweeted on Sunday.
The liberal commentator Charlie Pierce said that the appointment of Bannon "is exactly the same as hiring David Duke," the notorious white supremacist and former Ku Klux Klan leader who endorsed Trump. (Trump denounced Duke in March after several days stumbling over the question.)
Related: Here are the groups that oppose Steve Bannon in the White House
Democrats also tried to sound the alarm on the growing influence of Breitbart over Trump's campaign. Hillary Clinton gave a speech in August decrying the alt-right as an "emerging racist ideology."
Breitbart demonstrated fierce loyalty to the Trump campaign, once even backing the GOP nominee in a public brouhaha involving one of its own staff members. In March, Michelle Fields, then a reporter for Breitbart, was forcefully grabbed by Corey Lewandowski, Trump's campaign manager at the time. Breitbart staffers were ordered to stop defending Fields, prompting her and others to resign in protest. (Lewandowski was later hired as a commentator for CNN. He resigned from the network on Friday.)
Breitbart may well be rewarded for its glowing coverage of the president-elect. In Bannon, the organization has a direct line to the White House. Breitbart reporters will probably be given coveted access to Trump, who will lean on them to give cover to his administration. A story published by Breitbart on Sunday cast doubt on reports of hate crimes since Trump's win last week.
The Trump transition team and Breitbart did not immediately respond to requests for comment.
Alexander Marlow, Breitbart's editor-in-chief, said in an interview with The New York Times that, regardless of Bannon's role in the White House, the site's "loyalty is not going to be to Donald Trump; our loyalty is to our readers and to our values."
Related: Meet the 30-year-old running Breitbart News
But Trump's stunning victory over Clinton has given Breitbart plenty of reason to gloat in the face of mainstream media outlets that forecast a Clinton victory. All along, Breitbart insisted it was a necessary bulwark against journalists whom it accused of being in the tank for Clinton.
In August, Marlow told CNNMoney that Breitbart was not a propaganda arm of the Trump campaign.
"But I do believe that CNN is working as hard to elect Hillary Clinton as any conservative outlet is working to elect Donald Trump at this current time," he said.
Marlow described Breitbart as "free speech central," and said the site's "appeal is much broader than the way the media portrays it."
"They try to put us in a box," he said.