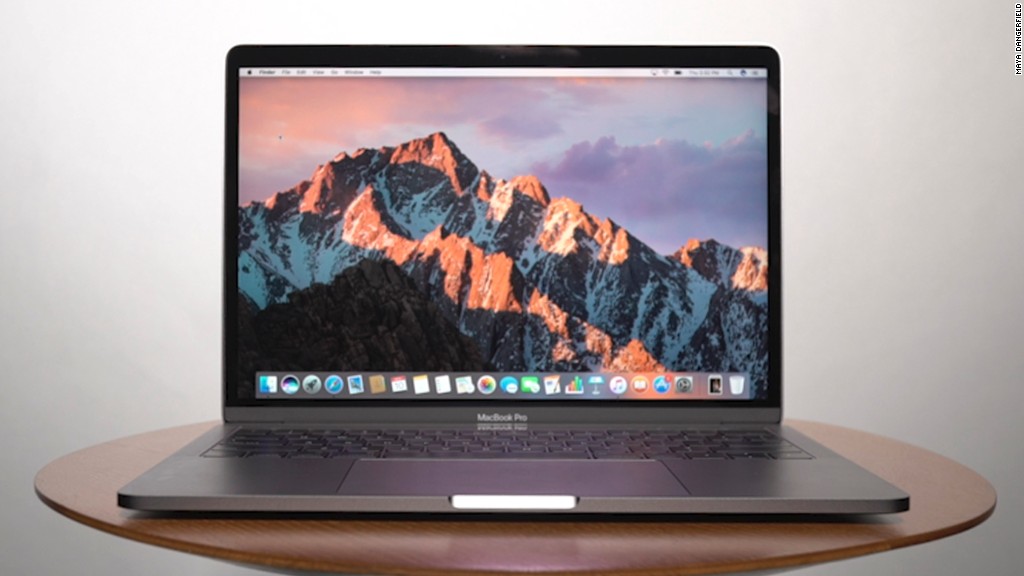 There's a lot to praise about the new MacBook Pro laptop.
To start, it's lighter, thinner and Apple's most powerful portable computer to date. And that's already translated to sales: Pre-orders have been far greater than any other professional-grade Apple laptop to date, the company told CNNMoney.
It's also the first update to the line in four years. People have clearly been waiting for the upgrade.
While the product comes with a series of additions -- not to mention a few controversial port removals -- the main new feature worth discussing is the Touch Bar.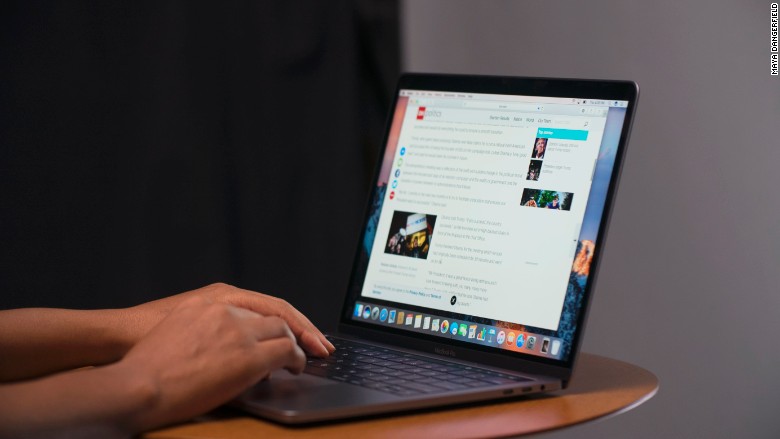 In lieu of the function keys typically housed above a standard keyboard, there's now a long vertical touch display. This means you can control a range of things just by using your fingertips. We're talking about everything from scrolling through emoji options and text color to easily calling up photos you want to edit to tweaking brightness and sound.
Related: See Apple's new MacBook Pro in :90
There's even a spot dedicated to TouchID, where you can log into the laptop or use Apple Pay to make an online purchase.
The updated line isn't cheap, though: a 13-inch MacBook Pro with the TouchBar costs $1,799, while the 15-inch version with the Touch Bar runs $2,399. You can also buy the 13-inch MacBook Pro without the Touch Bar for much less ($1,499).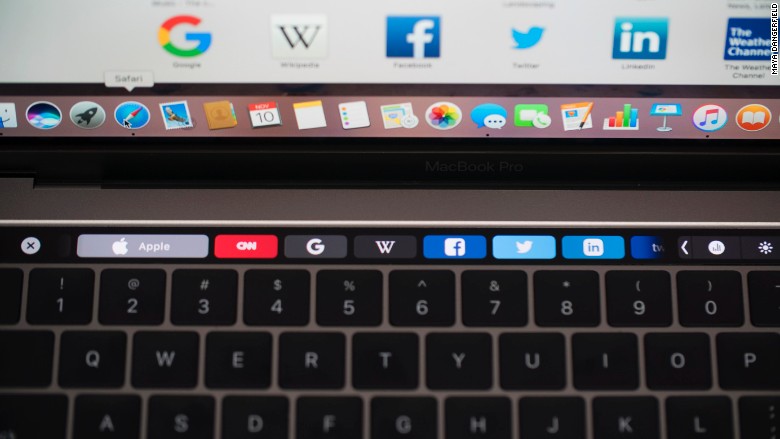 When the MacBook Pro was announced last month, it was unclear if the new bells and whistles were worth the extra money. Is it a gimmick or an actual step forward?
While the feature is useful, one thing is clear: It's part of a greater evolution toward a more touch-centric space. "Gimmick" isn't the right word, but neither is "revolutionary." It is, however, a solid step in the right direction and unquestionably fun to play around with.
Here's a closer look at what to expect:
Touch Bar
To start, it's important to explore why Apple has taken this approach: After all, why not just go all in on a touchscreen display like Microsoft's (MSFT) Surface Book?
Apple (AAPL) said it was adamant about keeping the screen touch-free. Considering people use the keyboard as the primary place to do work, it wants the display to remain a space dedicated to the eyes.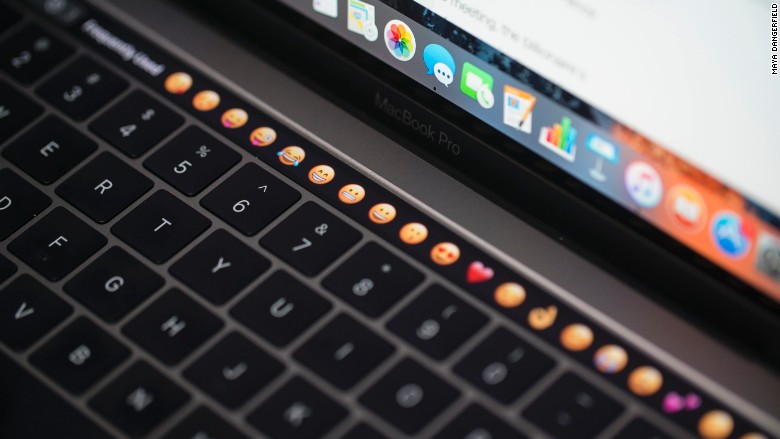 Apple refers to the Touch Bar as a musical instrument of sorts, allowing you to slide and add effects to enhance performance. The feature, which illuminates when you touch it, is all about maximizing functionality. There's a lot packed into just a sliver, but it never feels crowded.
When accessing it outside of a Mac app, it serves up what you might typically find on the keyboard, such as volume and brightness tools, the escape key and access to Siri.
Related: How Pixar saved Steve Jobs and Apple
But the real sweet spot happens when you go into the Mac apps. It's deeply integrated into apps like system controls, Photos, Siri and Safari. For example, you can scroll through all the tabs you have open on the Safari browser by sliding a finger on the Touch Bar.
If you compose a message in the Mail app, the Touch Bar will highlight emoji auto-completion: By typing "birthday," it will suggest confetti or a balloon.
The Touch Bar is also compatible with other third-party programs, like Skype and Microsoft Office, password manager 1Password and Photoshop (coming soon).
TouchID
TouchID, which already serves as the security gateway to the iPhone, is now available on the MacBook Pro. It's easy to program your finger -- any of your five digits will do -- through the dedicated button, located to the right of the Touch Bar. You can program up to three different fingerprints, catering to families who share one device.
TouchID also supports Apple Pay, which means online shopping is now dangerously easy. When visiting a retailer's site that supports Apple Pay -- Lululemon, Etsy and Adidas are a few early partners -- you can tap to buy whatever is in your cart.
Beyond the bells and whistles
Beyond the Touch Bar and TouchID, the device comes with an incredibly crisp retina display. The casing of the body is a stunner too -- and now available in space gray, in addition to silver.
The larger version weighs in at just four pounds; the smaller version is naturally less (three pounds). Performance is fluid, thanks to double the processing power of previous models. You can go in and out of programs in what seems like a heartbeat.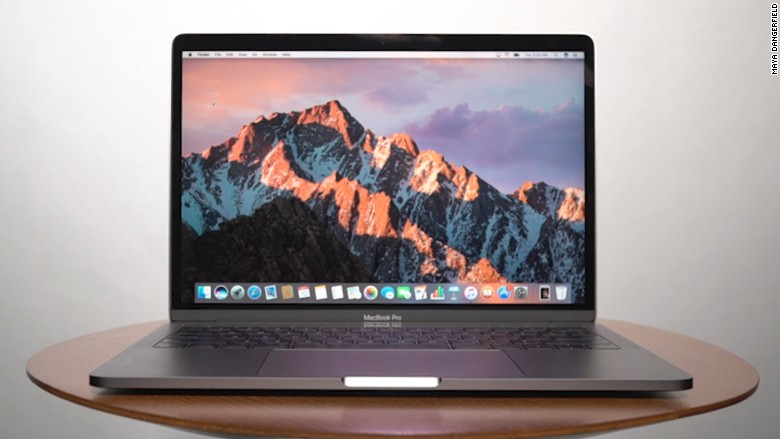 Related: Apple delays its AirPods launch
Both the 13-inch and 15-inch models pack four fast-speed Thunderbolt 3.0 ports (USB-C) and headphone jacks, despite Apple's controversial decision to remove it on the iPhone 7. There's also more space around the trackpad to provide a bigger canvas for working.
But the devices forgo an SD card slot, as well as USB and HDMI ports. This means even the latest iPhone can't plug into the MacBook Pro without an adapter -- a move that's already sparked consumer complaints.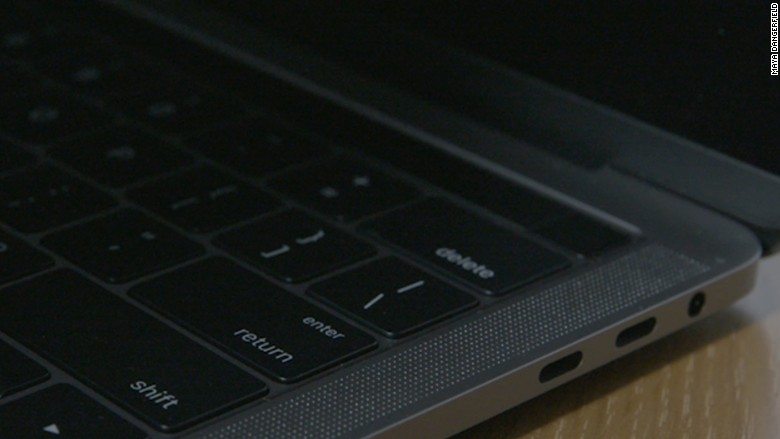 Apple argues USB-C ports are the future, but it makes living in the now awfully difficult. Following the backlash, Apple dropped the price on dongles to make adapting to the requirement a little less costly.
The takeaway
Overall, the latest version of the MacBook Pro is all about the Touch Bar. Is the novel concept reason enough to purchase the new MacBook Pro? No. But it's a sweet bonus to arguably the best performing laptop on the market.
If you're debating whether the extra $300 for the Touch Bar and TouchID is worth it, it depends what kind of user you are. Sure, both features are handy, but they're more of a bonus than a necessity. The pricier model will also give you a faster processor and two more Thunderbolt ports (a plus if you need to connect to more displays).
Then again, if these qualifications aren't appealing and you're not doing a ton of intensive work, such as video or photo editing, you're probably better off with a cheaper MacBook Air.
Either way, the Touch Bar alone offers a glimpse at Apple's interpretation of the future of computing -- a small but exciting step forward.
The new MacBook Pro computers start shipping later this week.