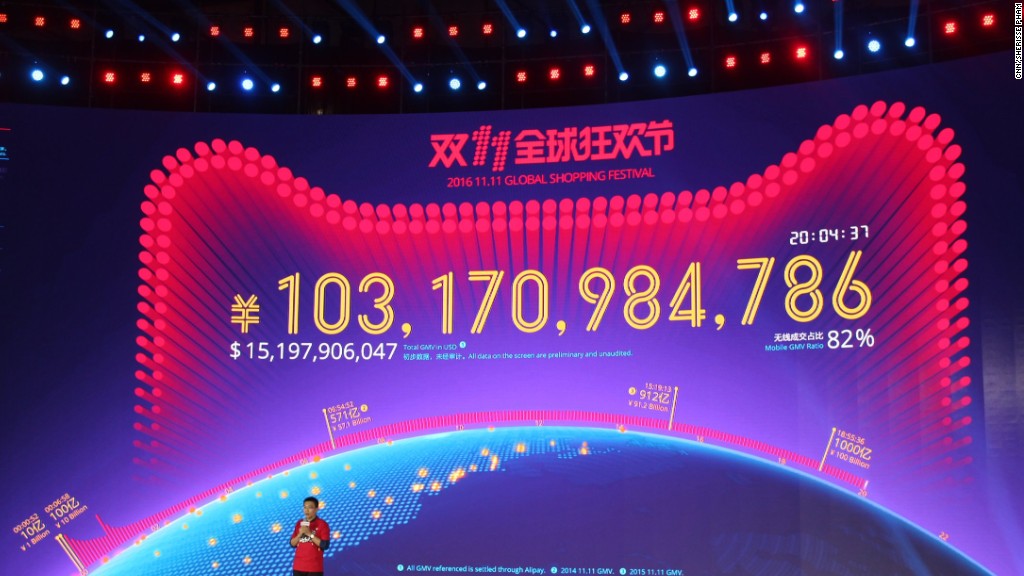 China's Singles Day lasts just 24 hours, but the shopping bonanza's environmental impact persists for years, campaigners say.
Couriers and delivery firms will handle more than one billion packages from Singles Day, up 35% from last year, according to State Post Bureau estimates reported by state-run news agency Xinhua. Alibaba's logistics arm Cainiao alone will deliver 657 million packages.
Shipping those orders requires boxes, packing tape, and bubble wrap or other plastic packaging. Roughly two million trees, or the equivalent in straw or waste paper, are needed to manufacture one billion cardboard boxes, according to a study on the environmental impact of China's online shopping boom.
Related: The jaw-dropping numbers behind China's Singles Day
In China, most of that packaging is destined for the trash can. Greenpeace estimates only 20% of packages are recycled or reused. Packing tape contains plastic that is non-biodegradable and takes about 100 years to break down. And cardboard boxes with tape stuck to them can't be recycled.
In the U.S., about 63% of paper and cardboard boxes are recycled, according to the Environmental Protection Agency.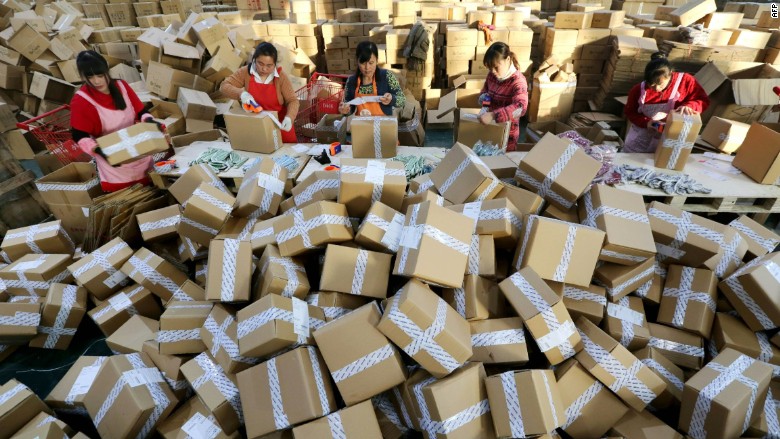 There is plenty of debate about the pros and cons of online shopping. A study earlier this year from the biggest mall landlord in the U.S. found that going to the mall was better for the environment. But a 2013 paper from MIT concluded the opposite -- that online shopping tends to have a better impact than traditional shopping.
Greenpeace says Singles Day in China is a "disaster for the planet."
People need to curb their shopping habits and resist the momentary thrill of scoring a good deal, the group said.
"(Singles Day) encourages people to shop irrationally, and such irrational consumption is costing the environment," said Ada Kong, spokesperson for Greenpeace in Beijing.
Kong called on Alibaba (BABA) to do more to reduce waste, noting that the company's founder Jack Ma has talked about climate change and environmental protection in the past.
"Alibaba should provide incentives for all the courier providers to collect used cardboard and to reuse (it)," she said.
Cainiao has launched a pilot program to reuse boxes, and to pack with bio-degradeable padding and recycled paper, Alibaba spokesperson Rico Ngai said.
Related: The cost of pollution in China
China has notoriously bad air and water pollution, a direct result of the country's breakneck industrialization and decades of unbridled manufacturing growth. The World Bank estimates the total cost of air and water pollution is equivalent to 6% of Chinese GDP each year, or roughly $720 billion in 2016.
That includes the impact on health, along with damage to natural resources, such as ruined crops from acid rain.
Ironically, severe air pollution has been linked to spikes in online shopping in China, according to a study from the University of Georgia. Researcher Mengyao Li found people stay indoors on heavily polluted days, and a lot of them pass the time by shopping online.
Alibaba created the Singles Day shopping spree back in 2009 and other companies have since joined the bandwagon. Alibaba alone raked in nearly $17.8 billion in sales this year, more than Black Friday and Cyber Monday combined.