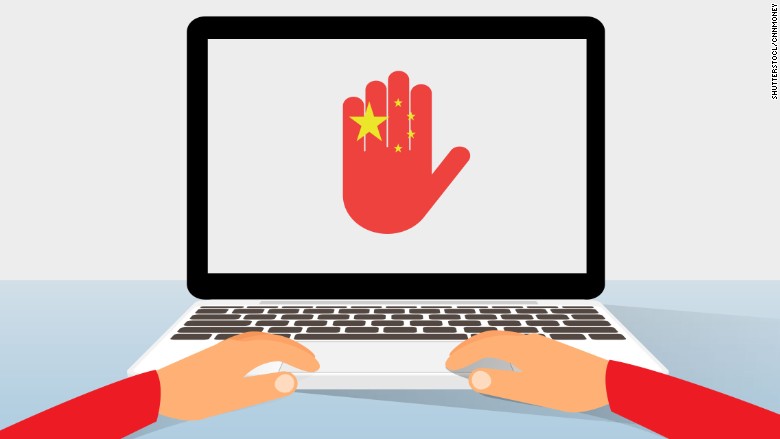 As China hosts execs from global tech companies at its World Internet Conference, human rights advocates are warning that online censorship in the country is only getting worse.
Representatives of U.S. firms like Microsoft (MSFT) and IBM (IBM) will rub shoulders with their counterparts from Chinese tech giants like Alibaba (BABA) and Tencent (TCEHY) at the event, which begins Wednesday in the sleepy river town of Wuzhen in eastern China.
Chinese leaders have typically used the conference to push their doctrine of "internet sovereignty," under which countries would impose their own online borders and regulations.
China's goal "poses a real threat to the global and open nature of the internet," said Patrick Poon, a researcher at Amnesty International.
Amnesty has documented a marked uptick in censorship and restriction of freedom of expression in China over the past year, Poon told CNNMoney, including the detention of at least 20 people in connection with a letter posted online criticizing Chinese President Xi Jinping.
Livestreaming, online TV shows and state media have all come under pressure, and there has been an increase in censorship of social media, Poon said.
Related: China cracks down on growing live streaming industry
In the past year or so, Chinese censors have also cracked down on tools that allow people to subvert or bypass the so-called Great Firewall, the country's colossal internet filtering and censorship apparatus.
Xi was the keynote speaker at last year's conference, declaring that "no country should interfere in other countries internal affairs or support activities ... that undermine other countries' national security."
His government has carried out a number of moves in the past year to further that goal, including the introduction of a new cybersecurity law tightening censors' already iron grip on the country's internet.
Related: China's 'draconian' new cybersecurity law slammed by rights groups and businesses
The new law imposes strict new requirements on companies in China -- including foreign firms like Apple (AAPL) and Amazon (AMZN) -- over how they monitor, manage and store content on their platforms. It drew criticism from international business and human rights groups.
Amnesty International has called on the tech industry to speak out and "send a clear message to the Chinese government that they were not prepared to be complicit in the widespread abuse of the rights to freedom of expression and privacy."
But China's huge market appears to be too big a prize for many leading Western tech companies.
Apple (AAPL) CEO Tim Cook has regularly met with top Chinese officials during visits to Beijing. And Facebook (FB) founder Mark Zuckerberg has made no secret of his interest in the world's most populous nation.
Google (GOOG) took a rare stand by largely pulling out of China in 2010 -- due in part to censorship issues.
China's internet conference this year includes multiple panels on topics like cyberterrorism and internet governance, according to the official program.
The government's use of the grand title "World Internet Conference" despite China's restrictions has spawned a mocking nickname from local web users who've labeled it the "local area internet conference."