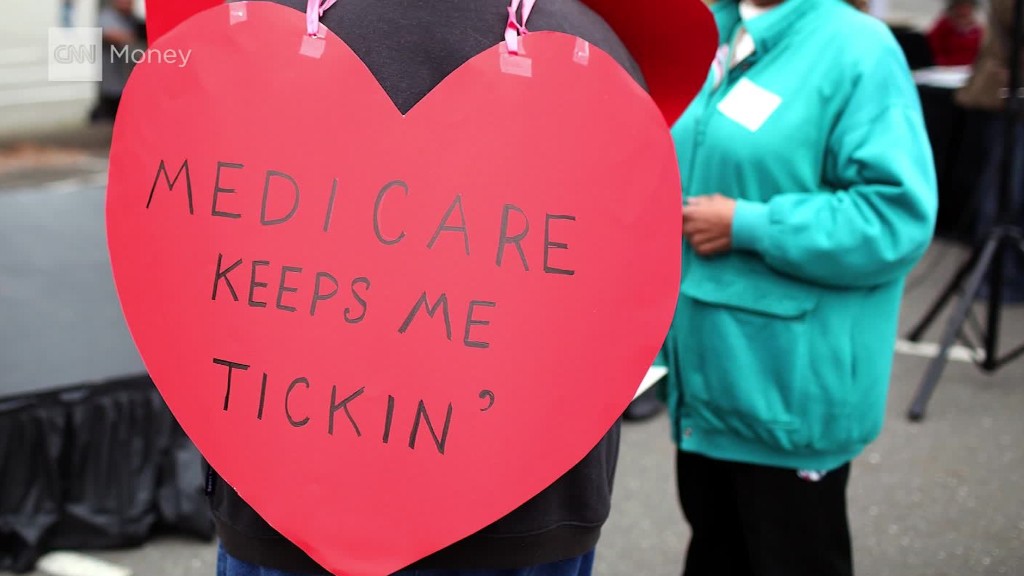 Donald Trump has promised to be a loyal friend of Big Oil.
Not only does the president-elect want to remove the shackles on oil by rolling back regulations, but he wants to unleash America's natural resources by expanding drilling on federal land.
"America's incredible energy potential remains untapped," Trump said in a May speech, adding that the problem is "totally self-inflected."
Problem is, the world is inundated with oil, currently. So, the actual impact of Trump's energy agenda is less clear cut. In many ways, Trump presents a double-edged sword for oil: His policies may seek to help the oil industry itself. But tapping oil is not the problem that oil companies face. It's low prices.
In fact, Trump's efforts to boost production may hurt oil companies by exacerbating the epic supply glut that caused prices to crash in the first place.
Matt Smith, director of commodity research at ClipperData, said new U.S. output brought on by a Trump-led deregulatory shift threatens to "put a cap on prices."
"It would just contribute to this vicious cycle that we're in," said Smith.
Here's a recap of the major themes the incoming Trump administration will have on oil: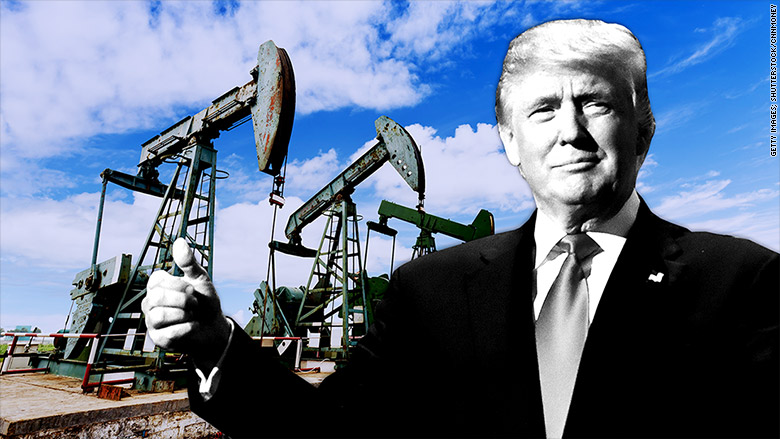 Related: Energy stocks get massive Trump boost
Cutting red tape: Trump has made it no secret that he wants to deregulate the fossil fuel industry. That could include repealing EPA regulations on methane emitted during oil drilling and other rules that make it less enticing to drill in the U.S.
Big Oil would cheer such moves, but the oil markets may not. Encouraging more drilling could worsen the oversupply problem that sent oil prices spiraling lower to just $45 a barrel today from about $110 two years ago.
Drill, baby, drill: Trump wants to lift restrictions that curb how much oil can be pumped on federal lands, in the Gulf of Mexico and in the Arctic. That could help further curb U.S. reliance on foreign oil -- a major goal of Trump -- but hurt prices by encouraging unneeded supply.
If you build it... The proposed Keystone XL and Dakota Access oil pipelines have sparked major controversy, but Trump's likely to green light both. The oil industry would love the enhanced access brought on by these pipelines, but again that wouldn't solve the North American supply glut.
The Putin factor: Trump's admiration of Vladimir Putin is well known. RBC predicted the president-elect will revoke sanctions that were placed on Russia after its military actions in Crimea and Ukraine. Doing so could boost Russia's already-robust oil production since some of those sanctions prohibit technology and services that support the Russian energy industry.
Strong dollar, weak oil: The U.S. dollar has flexed its muscles since Trump's election, hitting a 13-year high on Wednesday. If that trend continues, it could be bad news for oil prices because crude trades in U.S. dollars. Goldman Sachs warns that a stronger dollar reduces the "competitiveness for U.S. shale oil production."
Related: Trump win sparks seismic shift in markets
Of course, analysts warn that Trump's energy policies remain "vague" -- and so the consequences for markets could shift as his priorities do.
And while some Trump goals would seemingly hurt prices, others could boost crude.
Bye-bye Iran deal? The Iranian nuclear deal has allowed Iran to flood the markets with lots of crude -- at exactly the wrong time. Trump has repeatedly bashed the deal, calling it "disastrous" and promising to dismantle it. While European countries may not agree with Trump reinstating sanctions, analysts said many European companies would likely follow along to avoid running afoul of U.S. sanctions.
This would be a big boost for oil prices. RBC said reinstating sanctions would "curb the enthusiasm" of foreign companies investing in Iran's energy industry and limit the country's ability to ramp up output in the future.
Focus on demand, not just supply: RBC predicted Trump could have "outsized effects" by weakening EPA fuel efficiency standards and other regulations that have curbed American demand for gasoline (and thus oil). Detroit is making cars more and more efficient regardless of regulation, but RBC said this trend could be eased by a Trump administration and be a "rather bullish potential catalyst in the quarters and years to come."
Rob Barnett, senior energy policy analyst at Bloomberg Intelligence, is less sold on the Trump's ability to make a meaningful impact in the short term because fuel economy standards are long-term in nature.
Yellow light for green energy: Trump has said he's into "all types of energy," but his support for fossil fuels marks a dramatic shift from President Obama's push for clean energy like solar and wind. Joe McMonigle, senior energy analyst at Potomac Research Group, warned that Trump's win is a "negative" for the federal subsidies and other support for wind and renewable energy in general. That's why the Guggenheim Solar ETF (TAN) is down 6% since the election.
Geopolitical jitters: The shale oil boom has removed some of the "geopolitical premium" that used to be built into the price of crude oil. That could change, analysts said, if Trump takes the more aggressive approach he's promised towards fighting ISIS in the Middle East.
At the end of the day, Trump's priorities may translate to an increase in both supply and demand for oil, according to Thomas Pugh, commodities economist at Capital Economics.
"The net effect of a Trump presidency," Pugh wrote, "could be relatively limited."