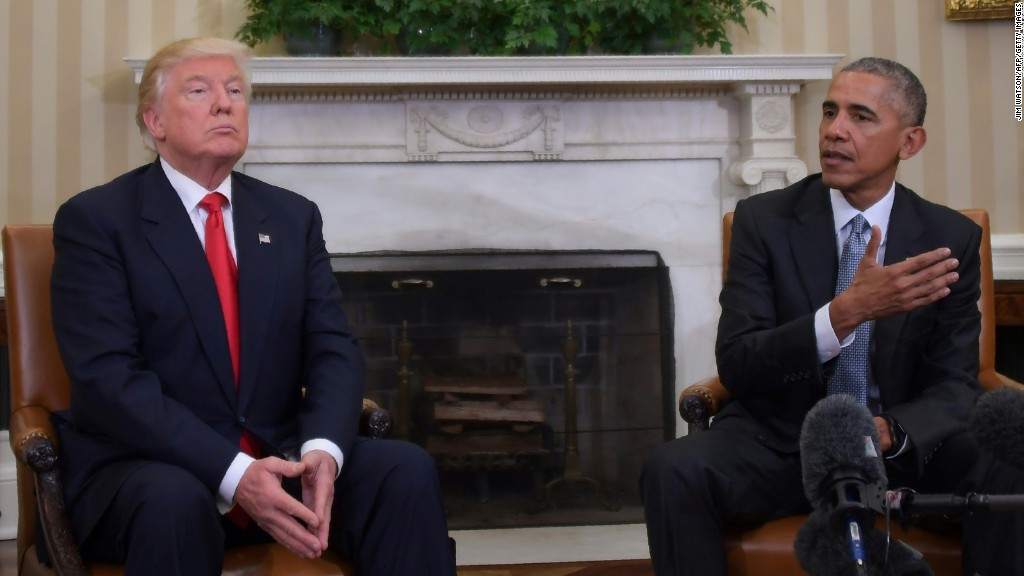 Americans are still signing up for Obamacare, despite President-elect Trump's promise to repeal it soon after he takes office.
More than one million people selected plans for 2017 on the federal exchange in the first 12 days of open enrollment, which began November 1, according to the Department of Health & Human Services. That is 53,000 more than in the comparable period a year ago.
Administration officials are using enrollment data to promote the importance of Obamacare to Americans, trying to counter Republicans' assertions that it is pricey and broken.
"The American people are demonstrating how much they continue to want and need the coverage the marketplace offers," said Health Secretary Sylvia Burwell.
Related: How Trump may cover Americans with pre-existing conditions
The pace picked up after Trump was elected last week. More than 300,000 people selected plans in the three days after the election.
President Obama is also pushing enrollment in his signature health reform law.
"It turns out that for most people you can get a good quality policy for as little as $75 a month. That's less than your cell phone bill," he said in a video released by the White House this morning. "So go to Healthcare.gov you'll be able to shop for a plan that works for you ... Make sure that you've got the financial security and the peace of mind that comes with health insurance."
The figures include about 250,000 new consumers and more than 750,000 current enrollees renewing their coverage. Those who sign up for policies are not officially enrolled until they pay their first month's premium.
Related: Americans are freaking out about losing Obamacare
The report covers the 39 states that use the federal exchange, healthcare.gov, for enrollment. The 11 states and District of Columbia, which run their own exchanges, report their enrollment figures separately. Last week, Minnesota reported that nearly 22,000 had enrolled in its state exchange, while Connecticut reported nearly 4,000 people signed up.
Some 11.4 million people are expected to enroll in 2017, according to Obama administration projections. Open enrollment runs through Jan. 31.
Next year's enrollment was seen as critical to bringing insurers back into the program and securing Obamacare's future, which was battered this year by skyrocketing premiums and insurer defections. However, it matters less now since Trump intends to eliminate the program.
Trump has vowed to dismantle Obamacare as one of his first acts after inauguration on January 20.
Related: Obamacare under President Trump: What happens next?
However, he can't eliminate Obamacare on Day One with the stroke of a pen. Killing the massive program that provides insurance to 20 million Americans would take time to work its way through Congress. Plus, there are many popular provisions that Trump has indicated he would retain in some form, such as covering those with pre-existing conditions.