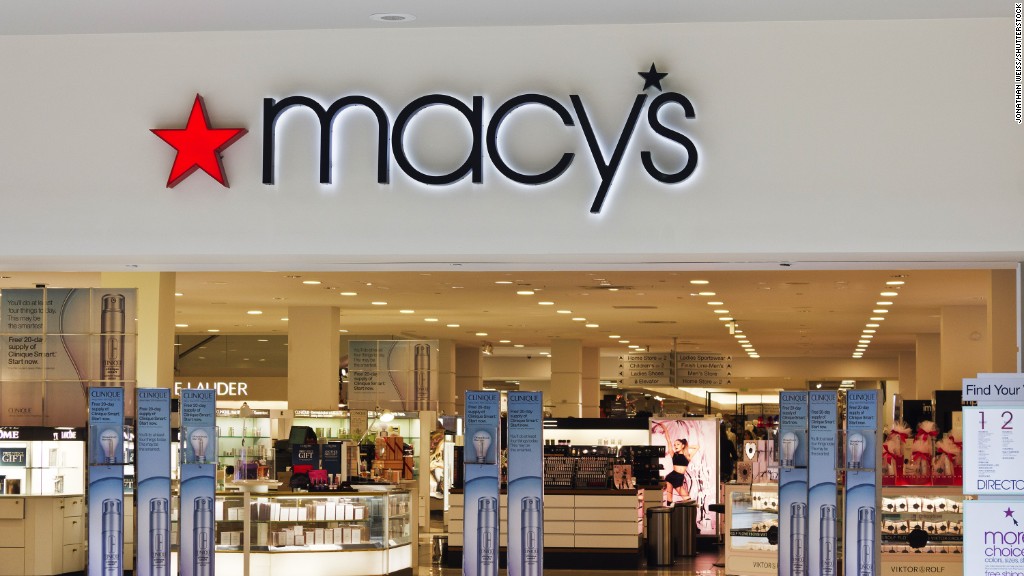 "As you know in fashion, one day you're in. And the next day, you're out."
That's Heidi Klum's trademark line on "Project Runway." It's also how Wall Street -- and consumers -- feel about struggling apparel retailers Gap and Abercrombie & Fitch.
Both mall stalwarts are decidedly out. Shares of Gap (GPS), which also owns Banana Republic and Old Navy, and Abercrombie & Fitch (ANF) each plunged more than 15% Friday following disappointing sales and earnings.
Abercrombie is in particularly bad shape.
The company said comparable sales at flagship A&F locations plunged 14% in the quarter. Sales at the smaller Hollister brand were flat. Comparable sales, also referred to as same-store sales, measure the performance of stores open at least a year.
The problems at Abercrombie are even more troubling because the company has taken great pains to repair its image after the controversial former CEO Mike Jeffries left. Jeffries made remarks about not wanting fat, ugly and uncool people at his stores.
The retailer enjoyed a brief turnaround after Jeffries left. But new executive chairman Arthur Martinez, who led Sears (SHLD) before that once iconic company went into its own tailspin, has been unable to sustain the momentum.
Related: Ghostly images of a dead mall tell an American story
Martinez said in a press release Friday that traffic at A&F stores was weak in the quarter, particularly at key tourist locations. So the strong U.S. dollar may be hurting A&F somewhat since it means fewer international customers are coming to shop in America.
But that is not the company's only problem. It simply just doesn't have the clothes that the "cool kids" Jeffires used to cater to want to wear. Those customers are increasingly shopping at fast fashion retailers like H&M, Forever 21 and Zara.
Along those lines, Martinez said Friday that A&F will still need to make "significant changes in product, customer experience and marketing."
That's not a good sign. The stock is now down 45% this year.
Gap is struggling too, but not as badly as A&F. Despite Friday's big drop, Gap stock is still up 10% this year. Still, the latest stumble is a problem for the company.
Related: American Apparel goes bankrupt again
CEO Art Peck noted that the company was facing "challenging traffic trends" during the quarter.
No kidding. Same-store sales plunged 8% at both Gap and Banana Republic -- although part of that was due to a fire at one of the company's distribution centers in Fishkill, New York in late August.
The only bright spot for the company is Old Navy. Same-store sales rose 3% in the quarter.
That's an encouraging sign, especially since Stefan Larsson, who used to run Old Navy and was widely credited with the brand's success, left the company last year to become the CEO of Ralph Lauren (RL).
But unless Gap and Banana Republic can get back on track, it may be difficult for the whole company to regain momentum.
Mizuho Securities analyst Betty Chen said in a report Thursday that the inability of Gap to turn around its namesake brand and Banana Republic will keep a lid on the stock.
She expressed confidence that Gap could rejuvenate these brands. But they may need to take a page from Old Navy, which she credits as having "a cohesive product assortment and marketing message that resonates with consumers."
Related: Target hits the mark and wows with holiday outlook
Still, Gap and A&F both have a lot of work to do. It's clear that the consumer isn't dead -- despite worries about the economy and election jitters.
Target (TGT), Kohl's (KSS) and Nordstrom (JWN) are among the many big retailers that have recently reported decent earnings and outlooks.
People are still buying lots of clothes for their kids too. (I can relate. They NEVER stop growing.) Shares of Children's Place (PLCE) are at an all-time high after the company posted strong results on Wednesday.
And consumers may also be more interested in bargain shopping. Ross Stores (ROST), which owns the Ross Dress for Less brand, reported robust sales on Friday. The stock rose 4% to an all-time high.
In the words of Heidi Klum's fellow "Project Runway" host Tim Gunn, some retailers have found a way to make it work. Gap and A&F have not.