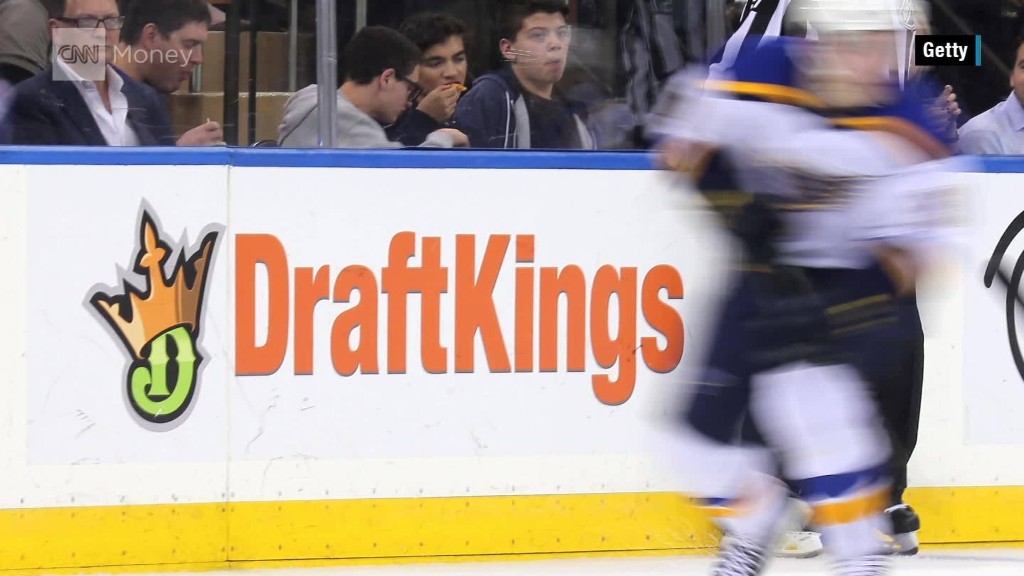 FanDuel and DraftKings are joining forces.
The two daily fantasy sports sites officially announced plans to merge Friday.
Financial terms of the merger between the two privately-held companies were not disclosed.
In 2015, before they because subject to regulatory crackdowns in various states, each company had raised about $300 million. Investors including Major League Baseball, the NBA, major media companies including CNN owner Time Warner (TWX), as well as owners of NFL and NBA teams. Each site were valued at more than $1 billion.
Related: DraftKings, FanDuel agree to end college sports contests
But as several state attorneys general charged that they were violating various state laws prohibiting gambling, the two companies had to scramble to continue to operate in some of their most lucrative markets, including New York, Texas and Illinois.
After those skirmishes, the value of both sites declined substantially. One of the DraftKings investors, media conglomerate Twenty-First Century Fox (FOX), said in a filing in February that it had reduced the value of its $160 million investment by 60% on its books.
The merger comes on the heels of a $12 million settlement that both companies made with the state of New York. On October 25, New York Attorney General Eric Schneiderman released a statement saying that both companies would each have to pay $6 million for false advertising.
The companies said that they'll be better equipped to tackle the many regulatory issues that they've faced together.
"By combining and streamlining resources, FanDuel and DraftKings can work more efficiently with state government officials to develop a standard regulatory framework for the industry," they said in a statement.
Related: ESPN fantasy football app crashes at start of NFL season
The two sites will continue to operate separately under their individual brands through the 2017 NFL season, while the merger goes through the approval process.
The companies pledged to keep their "commission fees and structure competitive," adding, "We know that there are other platforms players could go to if we tried to raise commissions."
The company will be run by DraftKings CEO Jason Robins, while FanDuel CEO Nigel Eccles will become Chairman of the Board.