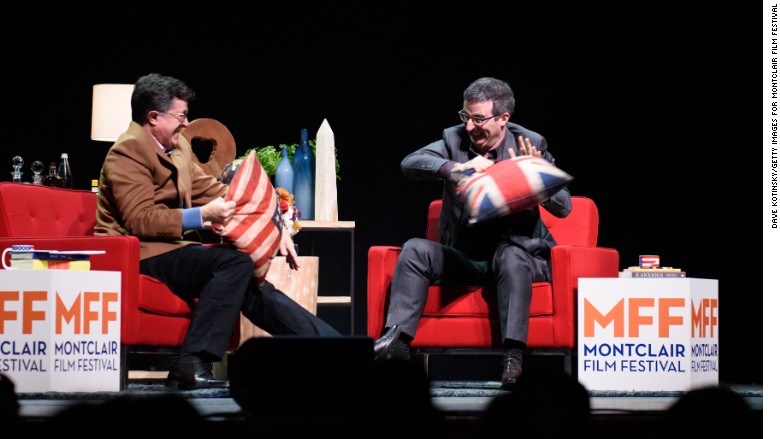 Late-night comedian John Oliver had great fun -- often soberly -- at Donald Trump's expense during the campaign.
On Saturday night, Oliver appeared with another "Daily Show" alum, Stephen Colbert, at a Newark fundraiser for a film festival in Colbert's hometown of Montclair, New Jersey.
The subject of Trump came up, of course.
Oliver, the host of "Last Week Tonight" on HBO, is a British citizen and holds a U.S. green card.
Colbert asked Oliver if he would move to the U.K., given the outcome of the U.S. presidential vote. No, Oliver said.
But he joked that President-elect Trump's immigration service might have something to say about that.
"You're talking to someone who has [bleeped] all over the future president nonstop for the previous two years," Oliver said. "I'm sure he can take a joke. Wait, no we know that's not true."
Oliver said he hoped his wife, who is American, would serve as a "legal parachute" from deportation.
Colbert asked if he was a dual citizen and voted on November 8. Oliver said no.
"I have taxation without representation," Oliver joked.
The conversation between Oliver and Colbert, which lasted more than 90 minutes, focused in large part on the election results. Both men said they were worried about the future.
They said the Trump presidency is likely to offer a lot of comic material, but that it wasn't fun to write such jokes.
"Next person who says to me, 'You must be happy on a certain level' is going to get their eye carved out," said Colbert, who hosts "The Late Show" on CBS.
Related: John Oliver on Trump: 'How the [expletive] did we get here?'
Both decried the "fake news" that became common in the campaign. Colbert said he was particularly upset with that name, given the fake news reports both men once did on the "Daily Show."
"What we did was fake news. We got on TV and said 'This is all going to be fake. We're making fun of news,'" he said. "The fact that they call this fake news upsets me because this is just lying."
Colbert said he's particularly scared because he's worried that the normal checks and balances of government won't apply to Trump. Other politicians in a position to apply limits to Trump's polices are "cowards," Colbert said. "Everybody tried to stop Trump. And they didn't. That's what scares me."