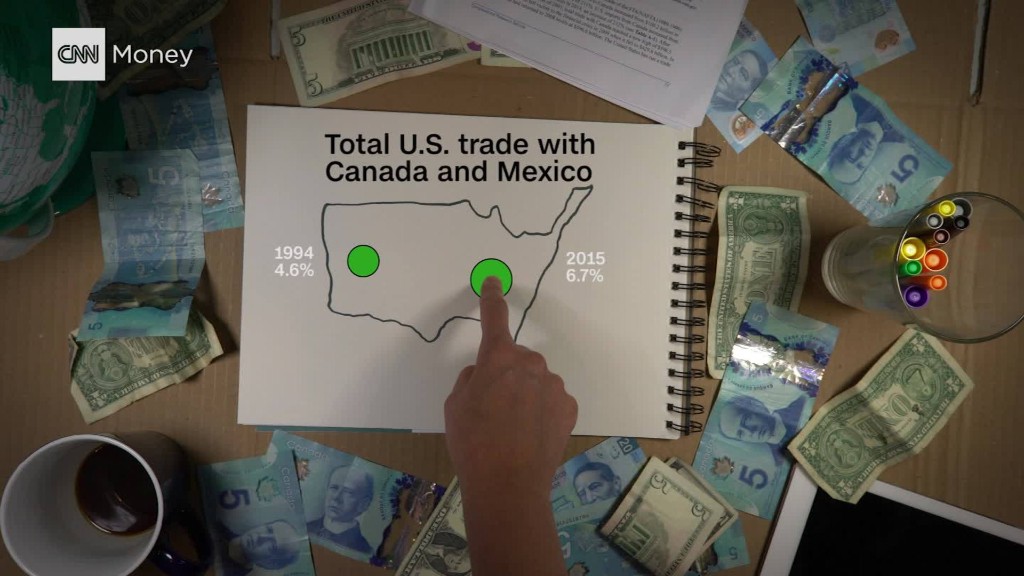 Wall Street is in heaven these days. Donald Trump's surprise election has led to a rally, carrying the Dow above 19,000 for the first time ever.
The Trump rally has been sparked by hopes that the president-elect will follow through on promises to slash taxes, roll back regulation and ramp up infrastructure spending. Many are betting a focus on these strategies will finally unleash the American economy after years of sluggish growth.
But lost in the post-election euphoria is the fact that this rally has been almost exclusively built on Trump's pro-business campaign promises -- not the ones that frighten many investors.
Trump has also promised to tear up NAFTA, slap big tariffs on China, break up big banks and audit the Federal Reserve -- all events that make the markets very nervous. That's not even counting Trump's unpredictable nature, which suggests years of precisely the uncertainty that investors hate.
"The market seems to be grabbing on to all the prospective good things and ignoring the negative issues lurking out there," said Mark Luschini, chief investment strategist at Janney Capital.
Luschini said he's most concerned about Trump's promises to "terminate" NAFTA and the risk that imposing big tariffs on goods from China and Mexico will ricochet back to the American economy.
"Trade is the big one. I'm worried about retaliatory practices by trade partners that could harm multinational revenues," he said.
Peter Boockvar, chief market analyst at The Lindsey Group, shares those worries. "We just have to hope Trump doesn't follow through with his trade stuff."
Here's a sampling of the Trump campaign rhetoric that investors seem to be forgetting, or at least hoping won't turn into actual action:
Related: Stunning! Dow hits 19,000 as Trump rally continues
Killing NAFTA: Trump's promise this week to withdraw the U.S. from the Trans-Pacific Partnership (TPP) is a fresh reminder of the anti-trade stance he ran on. Once TPP is officially dead, Trump has pledged to renegotiate or "terminate" NAFTA, the North American Free Trade Agreement that he has called the "worst trade deal in history."
Trump has the power to unilaterally withdraw from this trade deal with Mexico and Canada without the approval of Congress. Economists have warned that doing so would likely cost many U.S. jobs, millions of which depend on free trade with Mexico.
Tariffs could spark trade war: Trump didn't just pledge to end NAFTA, he wants to slap big tariffs on China and Mexico. Again, Trump does have the authority to do this without Congress.
But what would happen if Trump installed 35% tariffs on Mexico and 45% on China, as he's said? Many fear it would spark a tit-for-tat response from trading partners that devolves into a trade war. That is a scary outcome for the market, especially given that about half of S&P 500 revenues are from overseas.
Break up the big banks? Don't let the rally for stocks -- including big banks -- fool you, Trump is no friend to Wall Street. In fact, Trump has advocated for breaking up America's big banks. The GOP platform at this summer's convention called for bringing back the Glass-Steagall Act, the Great Depression-era law that bans banks from serving both Wall Street and Main Street. A return of Glass-Steagall would force mega banks like JPMorgan Chase (JPM) and Citigroup (C) to shrink themselves.
Trump's chief strategist, ex-Goldman Sachs banker Steve Bannon, would love this. Bannon told Buzzfeed in 2014 that the Wall Street meltdown was driven by bankers' "greed" and took issue with the fact that bank execs didn't face criminal charges.
Attacking the Federal Reserve: During the campaign, Trump broke from tradition by taking repeated shots at Fed chair Janet Yellen. He claimed Yellen was keeping rates low to help President Obama and "being more political than Secretary Clinton." Trump also backs a GOP push called "Audit the Fed" that would allow the General Accountability Office to review the central bank's monetary policy decisions.
Any legislation that threatens the Fed's independence makes investors uneasy. The worry is the Fed would take orders from politicians, instead of basing interest rate decisions on the goal of a strong job market along with steady inflation. Yellen recently warned that this independence is "critically important" and noted that countries where central banks are "subject to political pressure" have suffered "terrible outcomes."
Deporting 11 million undocumented immigrants: Trump has promised to take a much tougher stance on immigration and even pledged to deport up to 11 million illegal immigrants. But many warn that mass deportations would be extremely divisive and costly for both the government and businesses that rely on these workers. Research at the Wharton School estimates that the plan to deport undocumented workers would result in four million lost jobs by 2030. Luschini, the Janney strategist, worries that Trump's immigration policies could hurt consumer spending, spark mass protests and fuel "undercurrents about inequality."
Even Trump's more moderate immigration ideas could hurt some companies. Specifically, Trump has threatened to crack down on the practice of hiring foreign workers through H-1B visas and Jeff Sessions, his proposed Attorney General, is a vocal critic of this program. Silicon Valley has long relied on the H-1B program to find talented workers that help fuel innovation.
-- CNNMoney's Patrick Gillespie and Heather Long contributed to this report.