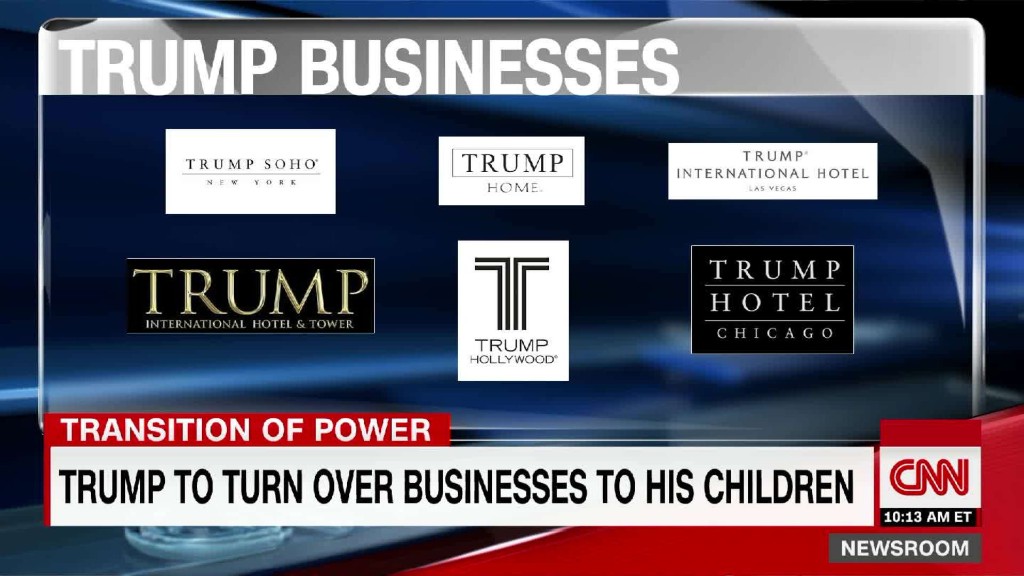 How's this for irony? Donald Trump made his name and fortune from real estate. You can argue that he will soon be the nation's first Landlord-in-Chief. But real estate stocks have tumbled since Trump was elected president.
The Real Estate Select Sector SPDR (XLRE), an ETF that owns big real estate firms like mall operator Simon (SPG) and apartment complex companies Equity Residential (EQR) and AvalonBay (AVB), has fallen 3% since Trump defeated Hillary Clinton.
The declines stand in sharp contrast to the rest of the market, which has enjoyed a Trump rally, led by financial and healthcare stocks, construction companies and retailers.
So why are real estate investment trusts, or REITs as they are commonly known, struggling?
REITs pay big dividends. And with bond yields surging since the election, partly due to expectations that Trump will need to rack up debt to make his $1 trillion infrastructure spending plans a reality, high yielding stocks like REITs are no longer attractive.
Investors are betting REITs and other big dividend payers will be less attractive in an environment where bond rates are going up. That's why other big dividend payers, most notably utilities and consumer staples companies, have also lagged the market lately.
But is the market getting this wrong?
Related: Trump's family plan to cut business conflicts falls short
Yes, many investors have flocked to REITs solely for their dividends. But the market may be underestimating the possibility that Trump will look to take care of his own, so to speak.
Of course, Trump will need to be extra careful to avoid the appearance of any conflicts of interest. It doesn't help that his daughter Ivanka is married to real estate developer Jared Kushner. And both are on his transition team.
Trump has already faced criticism about what he plans to do with his massive real estate holdings. Some think Trump should sell his investments outright, but he is planning to place them in a trust to be controlled by his adult children.
These issues aside, REITs should benefit from Trump stimulus.
Karin Ford, senior real estate analyst for MUFG Securities Americas, met with several REIT executives at an industry conference in Phoenix just after the election. In a report to clients, she noted that real estate leaders were upbeat.
"REIT managements believe that a Trump presidency will be positive for fundamentals. They expect commercial real estate to benefit from rising business confidence, lower tax rates, and fiscal stimulus," Ford wrote.
Ford noted that executives at Camden Property Trust (CPT) were hopeful that Trump's plans will lead to more job growth, which should lead to higher demand for apartments.
Related: Trump's Washington hotel could become ethical headache
And executives at Alexandria Real Estate (ARE), a REIT that owns research labs used by drug and biotech companies, told Ford that their tenants should thrive under Trump since they believe that "drug pricing restrictions are not high on his agenda."
Managers at another healthcare REIT, Healthcare Trust of America (HTA), also told Ford they weren't worried about Trump unwinding the Affordable Care Act, or Obamacare.
"We even heard cautious optimism from a few healthcare REITs, the managements of which believe that changes to Obamacare may not be that harmful to their business," she wrote.
Ford noted that the Healthcare Trust of America executives said "lower-cost, outpatient trends are here to stay and that accelerating economic activity could boost medical office rent growth."
But what about other potential headwinds for REITs? Won't inflation hurt the sector? Not necessarily.
Related: Trump says selling his real estate holdings will be a tough task
Mitch Wasterlain, founder of CAPFUNDR, an investment firm focusing on real estate funds, said in a report after the election that inflation could lead to more pricing power for real estate companies. They'll be able to demand higher rents.
"Historically, real estate has done well in high interest rate, inflationary environments," Wasterlain wrote.
But the worst may be over given that REITs have been beaten up so much in the past few months due to fears that stimulus by either Trump or Clinton would drive up interest rates.
The Real Estate Select SPDR ETF has tumbled more than 10% since it was separated from S&P's financial sector and became its own sector in September.
"With the pullback in REITs, valuations are now attractive, as fundamentals remain solid and balance sheets are as strong as they have ever been," said William Lynch, director of investments at Hinsdale Associates, in a report.
So real estate may still wind up being a good investment during Trump's tenure.
Now Trump just needs to figure out what he'll do with all his real estate holdings to avoid any conflicts of interest.