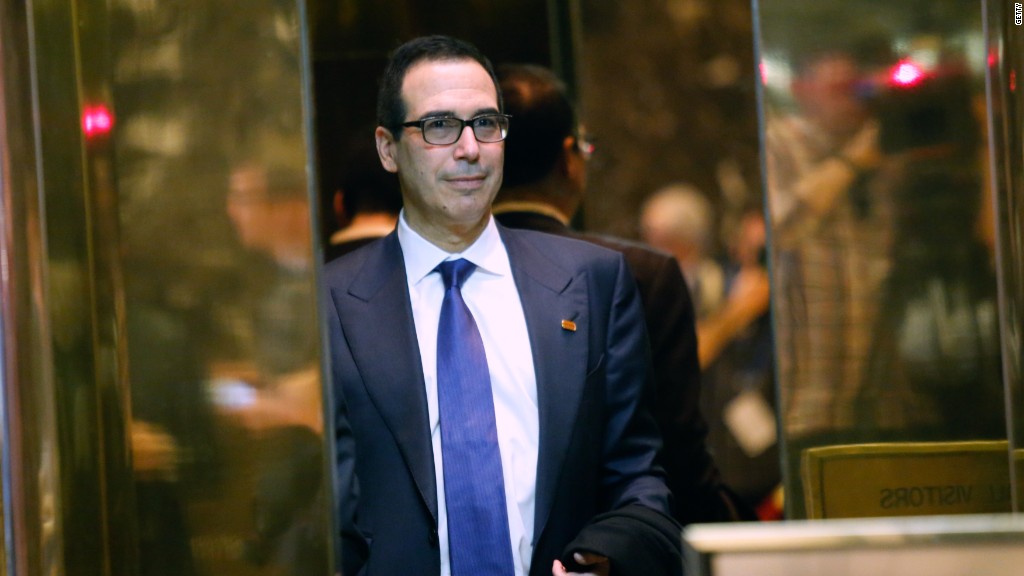 Steven Mnuchin is one of Donald Trump's top picks to be Treasury secretary, but if he's chosen he'll face some tough questions about how he ran his own bank.
Sources tell CNN that Mnuchin is one of two leading candidates for Treasury secretary, among the most important and powerful members of the cabinet. Besides serving as the nation's banker, paying its bills, collecting taxes and managing its debt, the secretary is also one of the leading regulators of banks and Wall Street.
When Mnuchin bought California subprime mortgage lender IndyMac, it was one of the financial crisis' high-profile bank failures. He could face some heat over the fact that he made billions thanks to the generous terms of the deal with the FDIC. He may also face questions about some of the practices at the bank, which later admitted to regulators that it failed to follow protocol when it foreclosed on homeowners struggling with risky mortgages.
Related: Trump market euphoria forgets scary campaign promises
IndyMac was one of the nation's a leading subprime home loan lenders before it failed in July 2008. Mnuchin was not involved in making the risky loans that caused the bank to collapse. But his March 2009 purchase of IndyMac, which he renamed OneWest, made him and his fellow investors very, very wealthy. Mnuchin was lead investor of the group.
All together they put up $1.55 billion, according to the FDIC -- pennies on the dollar for the assets being acquired. Mnuchin eventually sold it for more than twice that amount in 2015. The fact that the FDIC agreed to cover the overwhelming majority of IndyMac's losses on bad loans when Mnunchin bought it helped make the bank very profitable during his ownership.
Also during his tenure, OneWest was charged by federal regulators with filing false documents during foreclosures. Employees also failed to make sure they had the correct loan documentation before the bank seized a home. The scandal, which became known as robo-signing, reached many other major backs as well. OneWest eventually admitted its wrongdoing in a consent decree with regulators.
As the housing market stabilized and rebounded, the bank grew to one of the largest in southern California, partly through the purchase of other smaller, failed banks. In 2015, CIT Group bought the bank for $3.4 billion in cash and stock. CIT itself received a government bailout worth $2.3 billion in 2008, and avoided repaying taxpayers when it filed for bankruptcy a year later.
Related: Businessman Wilbur Ross is a leading candidate for commerce
In addition, two fair housing groups in California recently filed new complaints with Department of Housing and Urban Development just this month accusing the bank, now known as CIT Bank, of discriminating against minority home buyers and neighborhoods.
One group charges that in 2014 and 2015, OneWest offered just two mortgage loans to African American borrowers in the area reviewed by the groups. The complaint also claims that the bank "has sited and maintained branches in a way that avoids neighborhoods of color and minority census tracts." Finally, it charges that foreclosed homes owned by the bank in minority neighborhoods were in a much greater state of disrepair compared to the foreclosures it owned in white neighborhoods.
CIT told CNNMoney that it "is committed to fair lending and works hard to meet the credit needs of all communities and neighborhoods we serve." Mnuchin could not be reached for comment.
--CNNMoney's Danielle Wiener-Bronner contributed to this story.