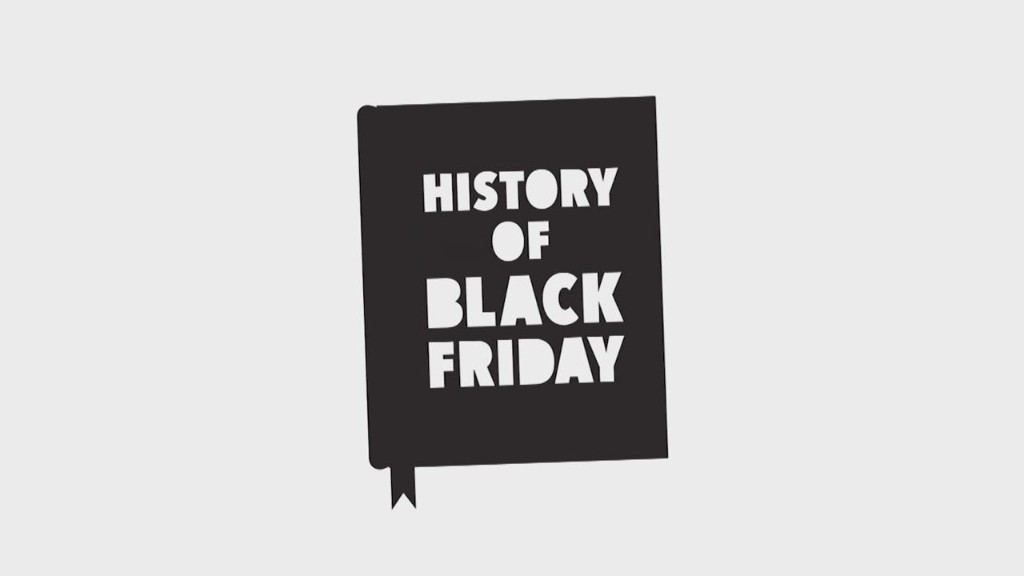 The Black Friday weekend is here, and bargain-seeking shoppers are out in force.
The annual retail mega event began in many stores on Thanksgiving evening and will continue through the weekend.
Target (TGT), which put its Black Friday deals online Wednesday, said it sold 3,200 televisions a minute during the first hour that doors were open. The retailer was offering a 50-inch Hisense 4K TV for $249.99.
The deals didn't last long at some stores. A Target in McAllen, Texas, quickly sold out of the Amazon Fire TV stick, on sale for $29.99. And at a nearby Walmart (WMT), the Nintendo 3DS, which was on sale for $99, was also reported out of stock.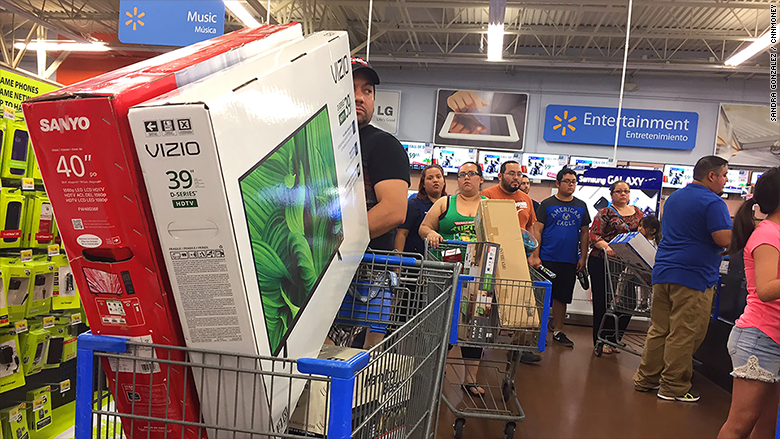 At Macy's (M) flagship store in Manhattan, 16,000 people were waiting outside an hour before it opened its doors on Thanksgiving, CEO Terry Lundgren told CNN's Brooke Baldwin. He added that fragrances, technology like the Apple (AAPL) Watch, and clothing are hot items this year.
"It's finally getting a little cold," he said. "It's been like a year since we've sold cold-weather apparel."
One thing shoppers won't find at Macy's: The Donald Trump line of menswear. Macy's dropped it last year, and Lundgren said Friday there are no plans to bring it back.
"You really cannot have the product of a political-oriented person in your store because 48% of the people aren't going to like that, right?" he said on CNN.
Macy's website was also popular on Black Friday. Some online shoppers were faced with a "temporary shopping jam!" notice during the day when trying to access the site.
Many shoppers are choosing to skip the crowds and shop online.
Shoppers spent $1.9 billion online on Thanksgiving Day and another $3.3 billion on Friday, according to data from Adobe, which tracks data about online purchases across the 100 biggest retailers. Mobile shopping has also picked up steam, with a record $1.2 billion coming from customers on their phones on Friday.
Target reported more than 60% of its online sales came from mobile customers, while Amazon reported mobile orders on Turkey Day exceeded Thanksgiving and Cyber Monday last year.
Despite the move toward online shopping, stores and malls were crowded with shoppers looking to snag bargains. A fight broke out in a mall in Modesto, California, but it was unclear what provoked it.
Black Friday is one of the biggest shopping days of the year, but it has expanded in recent years.
Several stores this year hyped additional savings online, some of which have been available since early this month. Amazon (AMZN) launched a Black Friday Deals Store on Nov. 8. Stores like JCPenney and Kohl's began promoting Black Friday sales prices online earlier this week.
Related: Black Friday 2016: What time do the stores open?
The top-selling items, Adobe says, include a slew of electronics and toys, like Samsung 4K TVs, iPads, and drones. The biggest discounts were for tablets, TVs and toys.
Some of the best-selling deals on Amazon on Friday are the Instant Pot 7-in-1 Multi-functional Cooker, Hasbro's Pie Face Game and Sennheiser HD 598 Headphones.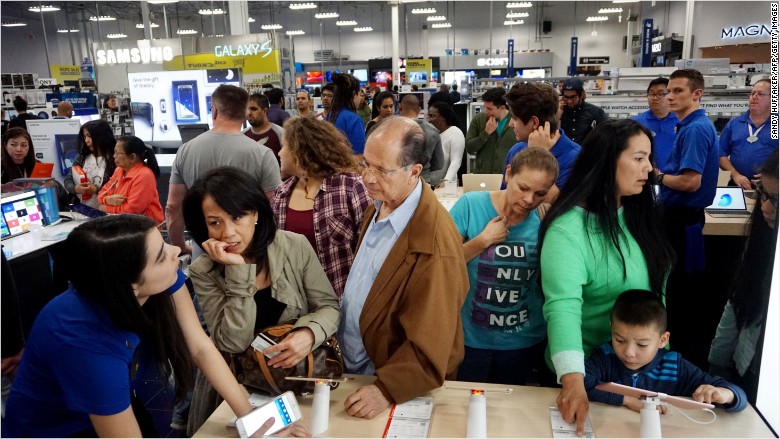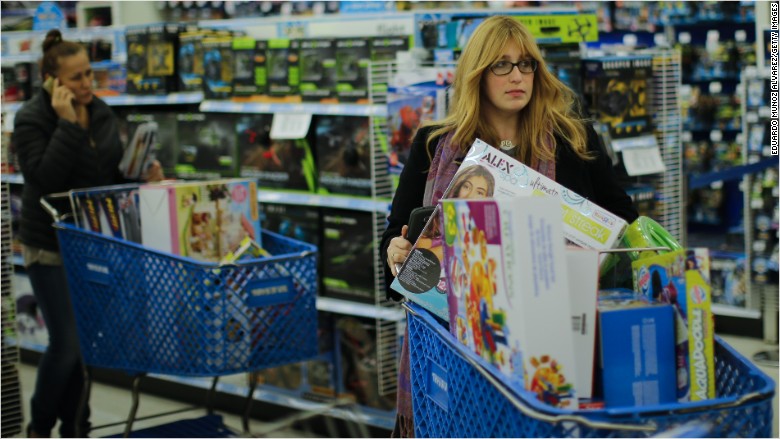 While many stores opened on Thanksgiving this year, others held off on an early start. Mall of America suspended operations on the holiday. Only stores with exterior entrances were able to open on Thanksgiving Day.
--CNNMoney's Alison Kosik, Aaron Cooper and Sandra Gonzalez contributed to this report.