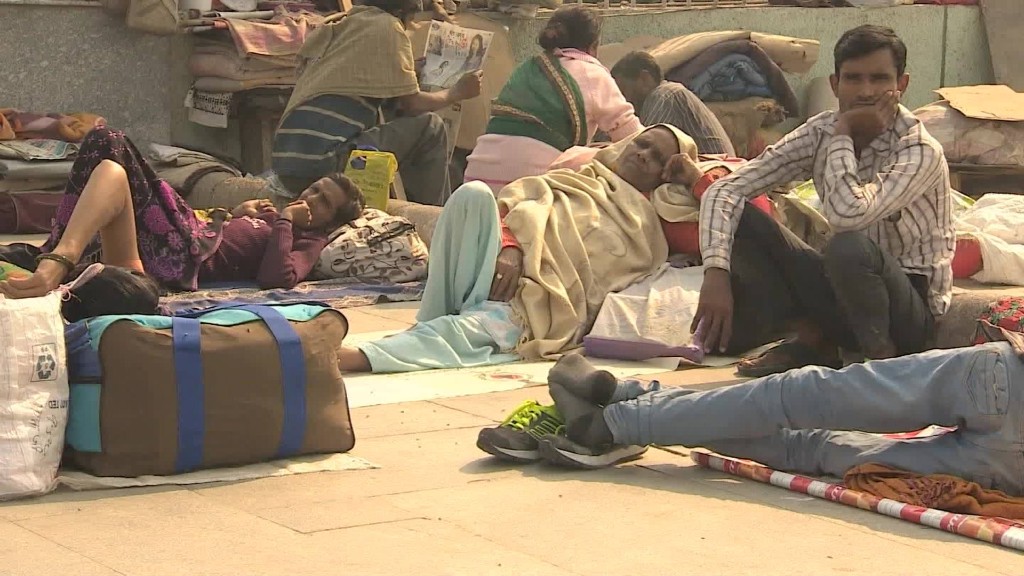 India's chaotic move to replace most of its cash could slam the brakes on its red hot economy.
The country overtook China as the world's fastest growing major economy this year, but may fall behind again as the withdrawal of big rupee notes hurts business activity.
Analysts estimate India's shock decision to scrap its 500 rupee and 1,000 rupee notes -- accounting for about 86% of cash in circulation -- will shave at least one percentage point (and possibly much more) off India's current GDP growth rate of 7.1%.
"A 3% dip in the growth rate [for the current financial year] wouldn't surprise me," Pronab Sen, India's former chief statistician, told CNNMoney. Sen is country director for India at the International Growth Centre in London.
If that happens, India would almost certainly lose its crown to bigger rival China.
Related: How fast are India and China really growing?
"The impact on GDP growth is clearly going to be negative in the short run," said Thomas Rookmaaker of Fitch Ratings.
How big a hit the economy will suffer "depends to a large extent on how long the cash crunch is going to take," Rookmaaker added.
No end in sight
It doesn't show signs of ending anytime soon. According to the Reserve Bank of India (RBI), over 5 trillion rupees ($74 billion) in old cash has been sucked out of the economy since Prime Minister Narendra Modi's abrupt announcement on Nov. 8.
So far, only 1 trillion rupees ($15 billion) have been replaced by new 500 and 2,000 notes -- equivalent to just 7% of the value of the defunct cash. The new notes are too small for ATMs, and refitting the machines will take weeks.
The Indian government has given people 50 days -- until Dec. 30 -- to exchange old notes. But daily and weekly limits apply.
Related: 5 key questions about India's cash crunch
In a country where close to 90% of transactions take place in cash, the shock will reverberate a while longer.
"Unavailability of notes and restrictions on withdrawals have made it difficult to carry out transactions, even for those who have legitimate wealth," Pranjul Bhandari, chief India economist for HSBC, said in a recent note.
Sectors such as retail, construction and real estate rely heavily on cash and contribute about 30% of GDP, according to the Institute of International Finance. It estimates that the hit to those areas of the economy could pull growth down by more than 2% over the next two quarters.
Rupee sinks to record low
The economic fallout helped push the rupee to a record low of 68.86 to the U.S. dollar on Thursday, despite reports that the RBI was selling dollars to stop the slide.
Modi is hoping the rupee note switch will reduce tax evasion and money laundering. It still appears to have solid support among Indian voters. And analysts say the long term impact, if coupled with further policy changes, could be good for the economy.
"The [negative] impact might well be mitigated once the supply of the new notes has improved," said Shilan Shah, India economist at Capital Economics.
"I think the impact over the longer term is probably going to be quite positive, given that it's a fairly strong reflection of the government's anti-corruption drive," he added.
Correction: An earlier version of this story misstated the potential negative impact to gross domestic product growth from the rupee ban.