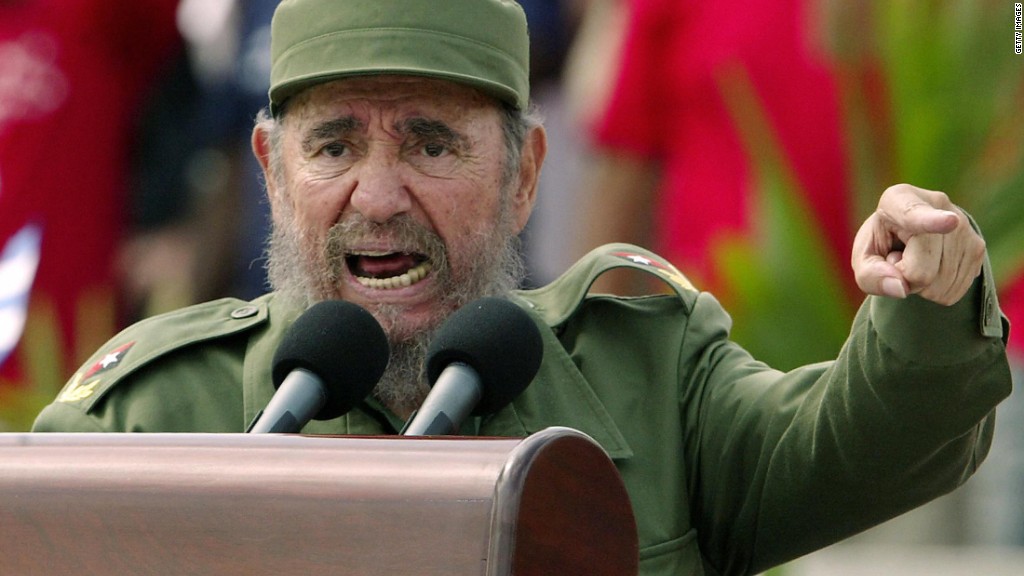 The death of Cuban leader Fidel Castro has investors starting to salivate about the possibility of big U.S. companies soon being able to do a lot more business in Cuba.
Shares of the Herzfeld Caribbean Basin Fund (CUBA), a fund that invests in companies with sizable operations in nations in the Caribbean region, surged more than 10% Monday.
Cuba, of course, is a Caribbean nation. And all you need to do is check out the ticker symbol for the fund to get a sense of why it was red hot: CUBA.
Investors may be feverishly calling their brokers to get in on the Cuba action. But are they getting ahead of themselves?
Yes, the CUBA fund has investments in several U.S. stocks that could (emphasis on could) benefit from more normalized relations with Cuba.
For example, the CUBA fund's top holding is MasTec (MTZ), a construction services business based in South Florida that was founded by an anti-Castro Cuban immigrant, the late Jorge Mas Canosa. The business is now led by his sons.
Cruise line operators Royal Caribbean (RCL), Norwegian (NCLH) and Carnival (CCL) are all among the fund's top 10 holdings as well. So Is Copa Holdings (CPA), a Latin American airline based in Panama.
Investors should be cautious though. It may seem on the surface as if American businesses might finally be able to cash in. But that may not necessarily be the case.
Related: What you need to know about flying to Cuba
The CUBA fund more than doubled in a little more than a week back in December 2014 when President Obama first announced plans to normalize relations with Cuba.
But that agreement may now be up in the air following the election of Donald Trump.
Trump tweeted on Monday that all bets could be off if Cuba does not actually make any significant changes to how it treats its people.
Cuban-American Senators Ted Cruz and Marco Rubio -- both former Republican presidential rivals to Trump -- have also said they want Trump to keep pressure on Raul Castro, the younger brother of Fidel who is now Cuba's president.
But Thomas Herzfeld, chairman of Thomas J. Herzfeld Advisors, the adviser for the CUBA fund, said he thinks that Trump won't necessarily undo the work of Obama.
"If the Cuban government made some real changes regarding political freedom and democracy, there is no doubt that Trump would embrace full commerce with Cuba," he said.
Related: Cuban baseball smugglers used threats and 'kidnapping'
Still, investors need to realize that much work would have to be done to modernize Cuba.
It's not as if companies will be able to turn on a switch and all of a sudden reap big benefits.
It will take time before Cuba can become a major tourist destination and have a large enough middle class that can make Cuba an attractive market for blue chip, brand-name consumer companies.
Finally. it's worth noting that the CUBA fund is what's known as a closed-end fund. That means it does not issue new shares to meet demand from investors.
So the rush into the CUBA fund may be due more to the scarce supply of shares -- and not true optimism about the companies the fund has invested in. Along those lines, none of the fund's top holdings actually rose on Monday.
Savvy investors seem to realize major U.S. companies won't become powerhouses in Havana and the rest of Cuba overnight.