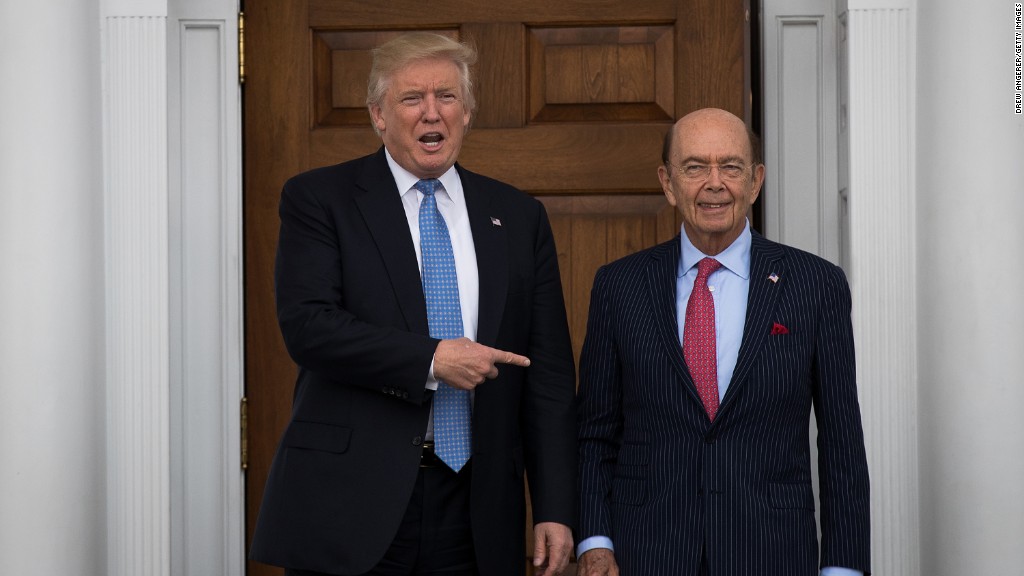 The self-proclaimed King of Debt has chosen someone that Wall Street has dubbed the King of Bankruptcy to be his Commerce Secretary.
Wilbur Ross, the billionaire investor who is known for buying up distressed and failing companies, is President-elect Donald Trump's choice for the job.
That news, combined with the nomination of former Goldman Sachs (GS) banker and Hollywood executive Steven Mnuchin as Treasury Secretary, shows that Trump wants businessmen -- and not career politicians -- in key financial posts.
But Ross, who sold his WL Ross & Co. firm to Invesco (IVZ) in 2006 for $375 million, has his own history with the federal government.
In fact, Ross has profited thanks to some help from the government agency FDIC, which insures bank deposits and takes over insolvent banks.
In 2009, the FDIC agreed to sell BankUnited, a failed bank in Florida to an investor group that included WL Ross & Co and investment firms Carlyle Group (CG) and Blackstone (BX).
Related: Trump taps Wilbur Ross to head Commerce Department
It was the first time that the FDIC allowed private equity firms like WL Ross to be involved in a deal for a failed bank. Ross and the other BankUnited (BKU) investors then took the company public in 2011. Ross sold his remaining stake in 2014.
Ross, who made a name for himself buying up distressed assets in the steel and coal businesses, has been focusing more on banks since the financial crisis of 2008.
Ross has a stake in the Bank of Cyprus and is currently its vice chairman. He has invested in several other troubled European lenders, such as Bank of Ireland and Greece's Eurobank Ergasias.
Ross also announced plans last month to sell his stake in Virgin Money, the lender founded by British mogul Sir Richard Branson.
The Commerce Department's main job is to try and promote economic growth and job creation and doesn't work as closely with Wall Street as the Treasury Department.
What's more, WL Ross & Co. was just fined $2.3 million by the SEC in August for charges that the firm failed to disclose certain fees to its investors.
Ross probably won't face much resistance in his Senate confirmation hearing given the Republican control of the Senate.
But it will be interesting to see if his reputation as a so-called vulture investor that preys on troubled companies will be viewed as a negative.