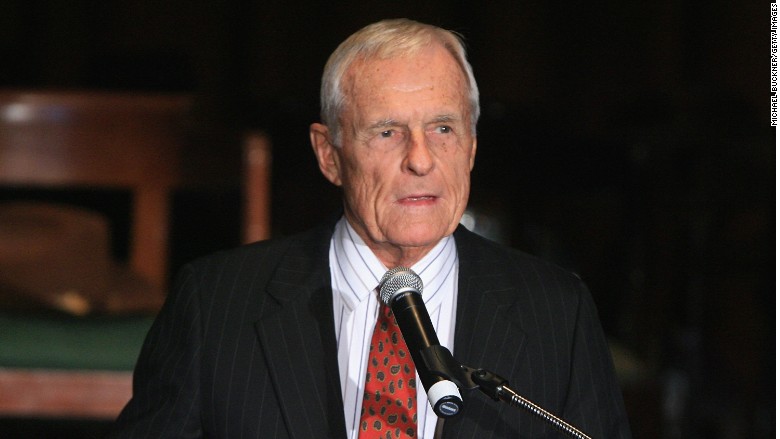 Grant Tinker, a TV industry titan who helped resurrect an ailing NBC in the 1980s and built MTM into a production powerhouse with shows like "Hill Street Blues" and "The Mary Tyler Moore Show," has died. He was 90.
Tinker died early Tuesday at his home in Los Angeles, according to the family.
At MTM, which derived its initials from Tinker's ex-wife Mary Tyler Moore, the executive developed a reputation as a champion of quality programming revered by the creative community. He was recruited to oversee NBC in 1981, overseeing a team -- including entertainment chief Brandon Tartikoff and his eventual successor, Warren Littlefield -- that created the "Must-See TV" franchise and turned the network from a third-place also-ran into a top-rated juggernaut.
In a statement, NBC Entertainment chairman Bob Greenblatt said Tinker was "not only an iconic television producer with the highest standards, but also a towering figure in the history of the NBC network," and that his "level of class set him apart from everyone else in our business, and all of us at this company owe him a debt of gratitude. In fact, TV watchers everywhere do."
When the network was struggling, Tinker famously told his executives, "First be best. Then be first." NBC followed that advice by sticking with little-watched shows like "Cheers" and "Hill Street Blues," which, after the introduction of "The Cosby Show" in 1984, went on to become major hits.
Outwardly self-effacing, Tinker was fond of reminding people who lauded him that he couldn't write, direct or act, but rather merely served as a "facilitator" for those who do.
"I wouldn't presume to try to do their jobs, and a lot of network people do," Tinker said.
Steven Bochco, the co-creator of "Hill Street Blues" -- a show that helped redefine the primetime drama -- once said of Tinker that his "real unique gift is in creating an environment where people feel safe, nurtured, protected to do what they do best." Those creative ranks included Tinker's sons Mark and John, both accomplished TV producers.
Tinker spent his life in broadcasting, starting at NBC as a management trainee not long after graduating from Dartmouth. He worked at various studios and advertising agencies before founding MTM with Moore (who he married in 1963, and divorced 18 years later) in 1970.
The company was responsible for a number of hits, including "St. Elsewhere," "The Bob Newhart Show," "WKRP in Cincinnati," "Mary Tyler Moore" and the spinoffs "Rhoda," "Phyllis" and "Lou Grant."
After leaving NBC, Tinker formed a production company with Gannett, the owner of USA Today. Named GTG, its most notable legacy was launching the TV show "Baywatch," which ran only one season on NBC but later became a global hit in syndication.
In his later years, Tinker expressed concern about the consolidation of the TV industry, and the ownership of the networks by major studios.
"Shows are bought and scheduled for the wrong reasons," Tinker said in a 2003 interview. "They're business reasons, as opposed to 'Boy, I love that show, and I think it could work.'"
Tinker was honored for his career with a Peabody Award and induction into the Television Academy Hall of Fame. He wrote a 1994 autobiography titled "Tinker in Television: From General Sarnoff to General Electric."
Married three times, he is survived by his wife Brooke Knapp, four children -- all from his first marriage to Ruth Byerly -- and 10 grandchildren.
Correction: This article originally stated that Grant Tinker was 91. In fact, he was 90.