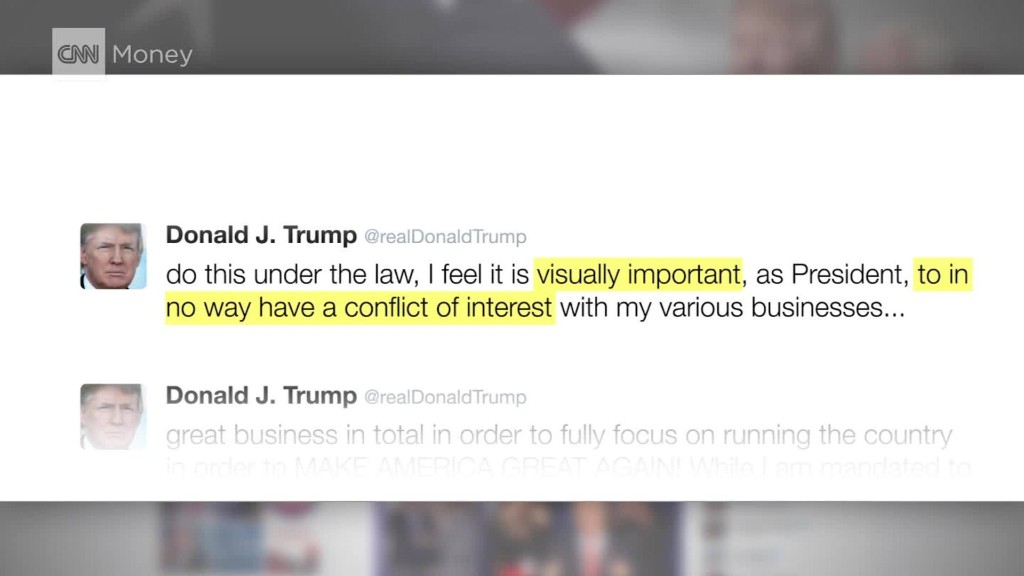 The Office of Government Ethics normally uses its Twitter account to send bland updates about rules and regulations, barely noticed and sometimes weeks apart.
So it was a little unusual on Wednesday when the office issued a burst of enthusiastic tweets to cheer on President-elect Donald Trump.
The tweetstorm came after Trump promised, also on Twitter, to step away from the operations of his business to avoid the appearance of a conflict of interest.
The government ethics office characterized it as a "total divestiture decision," even though Trump said nothing about selling anything he owns.
The ethics office examines the financial disclosures of executive branch officials and works with them to avoid conflicts between their business holdings and their public responsibility.
The tweets, nine in all, were unabashedly congratulatory, using words like "Bravo!" and "Brilliant!" to describe Trump's announcement.
"@realDonaldTrump - we told your counsel we'd sing your praises if you divested," the agency tweeted. "we meant it."
As president, Trump is exempt from federal laws that prevent other officials of the executive branch from holding assets that clash with their official duties. Ethics advisers to previous presidents say Trump's holdings, spread across more than two dozen countries, present unprecedented conflicts.
Related: How President-elect Trump could eliminate conflicts of interest
The tweetstorm indicated that the government ethics office agrees with those concerns.
"As we discussed with your counsel, divestiture is the way to resolve these conflicts," one tweet read.
The tangent appears to be legitimate. The agency said in a statement to CNNMoney that it was "excited this morning to read the President-elect's twitter feed indicating that he wants to be free of conflicts of interest."
"OGE applauds that goal," the statement said. "Divestiture resolves conflicts of interest in a way that transferring control does not."
Transferring control is exactly what Trump has previously promised to do -- to his adult children, who are also advisers to his presidential transition and who have been in on meetings with world leaders since he was elected.
The ethics office said it doesn't know the details of Trump's plan and was "responding only to the public statement" Trump made on Twitter -- a revelation that raised more questions than answers.
Trump tweeted that legal papers are being drawn up to "take me completely out of business operations" but left the details for a promised press conference on December 15.
When CNNMoney asked an Office of Government Ethics spokesman why the tweets mentioned divestiture, he declined to comment beyond the statement.
"OGE's tweets were not based on any information about the President-elect's plans beyond what was shared on his Twitter feed," the statement said. "OGE is non-partisan and does not endorse any individual."