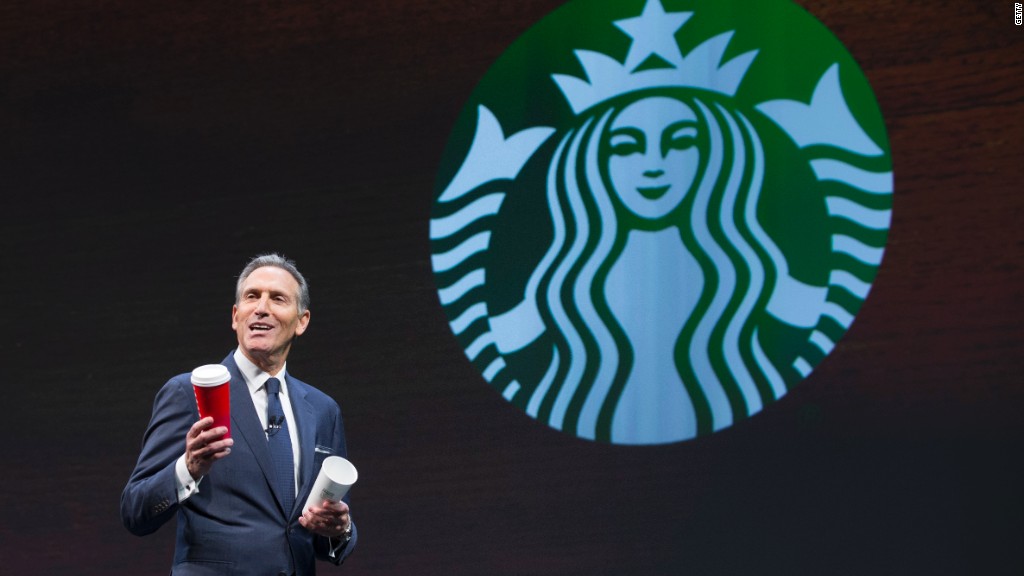 Howard Schultz, the visionary leader of Starbucks, will be stepping down next year as CEO of the iconic coffee giant.
Schultz's surprise decision to step aside as the leader of Starbucks (SBUX) sent the stock sinking 3% in after-hours trading on Thursday.
Starbucks said Schultz isn't going away completely. Effective April 3, he will become executive chairman, where he will focus on innovation, the company's premium offerings and on social impact. Current chief operating officer Kevin Johnson, a tech industry veteran, will replace Schultz as CEO.
"This is a good thing. I'm not leaving the company," Schultz told CNN's Poppy Harlow by phone on Thursday.
The 63-year-old said he had been planning the move for at least a year. Asked if he's going to Washington, Schultz laughed and said, "No, I'm not going to Washington."
Instead, Schultz emphasized a desire to focus on the company's social impact initiatives.
"Given the state of things in the country, there is a need to help those left behind," Schultz told CNN.
Schultz said he also wants to focus on Starbucks' premium offerings, such as the Roasteries that allow customers to watch freshly-roasted beans arrive.
Related: Starbucks says whole world nervous about election
Separately, in a conference call, Schultz said Johnson brings "unparalleled understanding of market dynamics" and he deserves a "tremendous amount of credit" for the company's recent record results.
During the call, Johnson called Schultz "among the world's most iconic leaders and entrepreneurs."
Johnson seemed to choke up and his voice broke when he said it had been a "privilege to work side-by-side with Howard."
Schultz joined Starbucks in 1982 as director of retail operations and he helped turn the company into a retail powerhouse and an iconic American brand. He stepped down as CEO in April 2000 to concentrate on executing the company's global strategy.
But Starbucks struggled without him at the helm and seemed to have lost its way. Schultz returned as CEO in 2008 and helped guide the coffee giant through the Great Recession and get it back on track. Today, Starbucks is valued at $84 billion and it has more than 24,000 retail stores in 70 countries.
Schultz has also been outspoken on a variety of social issues. He has supported raising the minimum wage, he offered his employees free college and pushed Starbucks to open a store in Ferguson following the city's violent protests.
Asked if he's concerned Starbucks could suffer again in his absence as CEO, Schultz said the "differences between then and now couldn't be greater."
Schultz said the Starbucks management team didn't have the "capability and experience" to navigate the Great Recession. By contrast, he praised Johnson's skills and even said his deputy is "better prepared than I am" to be CEO at this point.