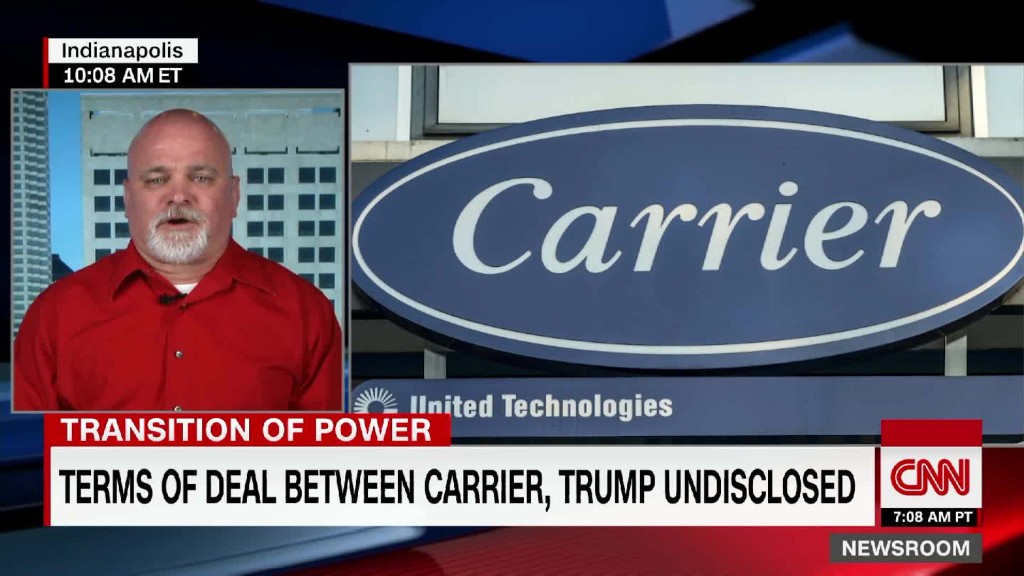 President-elect Donald Trump has struck an agreement to save more than 1,000 factory jobs at a Carrier plant in Indianapolis that were destined for Mexico.
But fighting the trend of U.S. companies moving to Mexico won't be easy.
More than 250,000 jobs will be lost due to plant closing announcements this year, according to Challenger, Gray and Christmas.
Saving the Carrier jobs is "only a drop in the bucket," said John Challenger, the firm's CEO.
In fact there are thousands of more jobs that will be lost from plant closings in Indiana alone in the coming months.
One plant that is still scheduled to move to Mexico is owned by United Technologies (UTX), the same parent company that owns Carrier. The electronic controls factory has 700 workers in Huntington, Indiana.
A bearing plant in Indianapolis owned by Rexnord is also planning to ship its jobs to Mexico. Union officials say about 350 jobs will be lost in that move.
"We cannot compete with a $3 an hour wage," said Chuck Jones, president of the Indianapolis unit of the United Steelworkers Union, which represents the workers at both Rexnord and Carrier. "I believe it's only going to get worse."
Related: China warns Trump - Good luck bringing jobs back to the U.S.
In tiny Sellersburg, Indiana, with population of about 6,000, a plant with 84 workers making food and beverage equipment is being shutdown by Manitowoc Foodservice (MFS). The company in August described the move as "right-sizing its global manufacturing capacity." That means it's shifting the work to its plants in Tijuana and Monterrey, Mexico.
In Bloomington, Indiana, a GE Appliance plant with 329 jobs, shutdown this summer when the company decided to stop making the model of refrigerators it had been building due to weak demand and ongoing losses. The shutdown announcement came about a week after a Chinese company, Qingdao Haier Co., completed a $5.6 billion purchase of the appliance unit from GE (GE).
A railroad car supplier in Gary, Indiana, Stanrail, which had just over 100 workers, is also in the process of shutting down. A company executive said the plant's work would be shifted to the companies' plants that have excess capacity in Ontario, Canada, and Mississippi.
Related: Trump's Carrier deal draws hugely divided reactions
Most of the plant closings are not tied to work being shifted outside the United States.
A Paoli furniture plant in Orleans, Indiana is due to shutdown starting in January costing 367 jobs. But a company official said that the work would be taken up by plants in New York, Iowa and North Carolina. A Seelyville plant where 150 workers make Cheez-It and Keebler snacks for Kellogg (K) is due to close next year, but the company said that work from that plant will be absorbed at other U.S. facilities.
Then there are companies that just fail and go out of business. CPX Inc. halted operations, closing two plastic molding plants in September without any advance notice to its 200 workers due to what it called "unforeseen economic circumstances." Evergreen Recreational Vehicles also had to close up its Middlebury, Indiana plant in June, laying off 270 workers, when it was unable to come up with financing needed to continue operations.