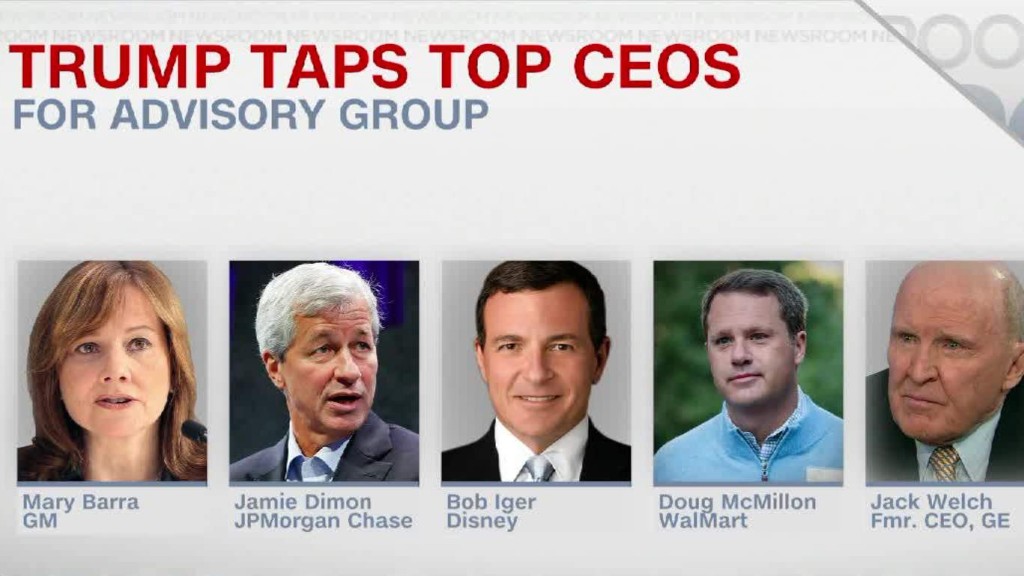 President-elect Donald Trump will soon unveil a group made up of leading minds in business to provide their insights and opinions about jobs and the economy.
The all-star team of corporate execs will be led by billionaire Blackstone founder Stephen Schwarzman, according to a document provided to CNNMoney by Blackstone.
The group, dubbed the Strategic and Policy Forum, also includes JPMorgan Chase (JPM) CEO Jamie Dimon, longtime Walt Disney (DIS) boss Bob Iger and former GE leader Jack Welch.
Dimon had been floated as a possible treasury secretary, but Trump ultimately selected former Goldman Sachs (GS)banker Steve Mnuchin.
Two of the 16 members are women: General Motors (GM) CEO Mary Barra and Ginni Rometty, the head of IBM (IBM).
The group will have a direct line to Trump and be tasked with giving the president-elect nonpartisan views on how government policy impacts the economy and jobs. The forum is expected to hold its first meeting during the first week of February at the White House.
Related: Trump: Companies to be punished for leaving U.S.
The news comes at a pivotal time for Trump's relationship with Corporate America.
Earlier this week, Trump reached a deal with Carrier that will keep jobs from leaving the U.S. in exchange for incentives. The president-elect threatened to punish other companies that try to move jobs overseas.
"Companies are not going to leave the U.S. anymore without consequences," Trump said Thursday at the Indiana plant where the company makes furnaces.
But critics, including conservatives like the Wall Street Journal editorial page and liberal icon Bernie Sanders, warned the Carrier deal sets a bad precedent.
Trump's group also includes BlackRock (BLK) CEO Larry Fink, WalMart (WMT) CEO Doug McMillon, former Boeing (BA) CEO Jim McNerney, Ernst & Young boss Mark Weinberger and Boston Consulting Group Rich Lesser.
There are also several members with government experience, including former SEC commissioner Paul Atkins and ex-Federal Reserve official Kevin Warsh.
Also in the group: Toby Cosgrove, CEO of Cleveland Clinic; Adebayo "Bayo" Ogunlesi, chairman of Global Infrastructure Partners; and Daniel Yergin, the Pulitzer Prize-winning vice chairman of IHS Markit.
President Obama similarly put together a jobs council in 2009 during the Great Recession that provided advice on restoring the U.S. to economic growth.
Trump is poised to take office during decidedly better economic times. New numbers released on Friday show the U.S. unemployment rate dropped to a nine-year low of 4.6% in November.