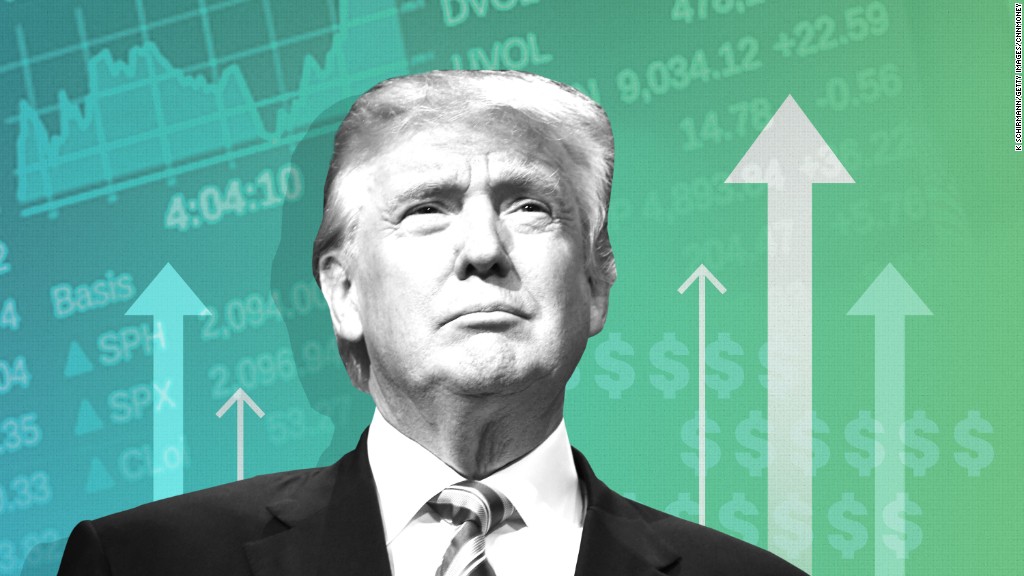 Remember how everyone thought gold prices would shoot to the moon if Donald Trump won the U.S. presidential election?
Gold is supposed to thrive in times of political uncertainty and Trump was perceived to be uncertainty to the nth degree.
So much for that.
Gold fell 1% Monday to its lowest levels since February and is now down nearly 10% since Trump defeated Hillary Clinton, yet another reaction in the financial markets that has confounded experts.
Gold mining stocks have taken a tumble along with the metal. Newmont (NEM), which is in the S&P 500, has fallen about 7% while the VanEck Vectors Gold Miners ETF (GDX) is down 12%.
Investors have taken money out of gold mutual funds for the past three weeks as well, according to data from EPFR Global.
Why has the narrative quickly shifted from Trump being bullish for gold to extremely bearish?
Investors are now focusing less on the notion that Trump will cause increased volatility and more on the expectation that Trump, supported by a Republican-led Congress, will spend aggressively on fiscal stimulus that could boost U.S. economic growth.
While it's true that higher interest rates and inflation could come along with a stronger economy -- and that too should eventually lead to a rise in gold -- investors seem to be betting that, in the short term, fears of market instability have subsided.
Brent Schutte, chief investment strategist with Northwestern Mutual Wealth Management Company, points out that the latest batch of economic data since the election has also shown that the U.S. economy seems to be on stable ground.
Related: No fear in global markets as Brexit, Trump and Italy fail to rattle investors
So it may not be the case that investors are reevaluating Trump as much as they are reevaluating the state of things in the U.S. in general.
"Investors were too pessimistic," Schutte said. "The U.S. economy is doing better than expected. The election of Trump may have opened up investors' eyes too. But the economic data is what's negative for gold."
JJ Kinahan, chief market strategist for TD Ameritrade, also thinks investors are more confident about the U.S. and global economy -- despite lingering concerns about Trump's unpredictability (can someone get him to stop tweeting?) and worries about Italy.
Kinahan said the broader market bullishness is bad news for gold since it is "somewhere investors turn during uncertain times" and that "it appears confidence in the market continues at a high level."
Related: Before the election, some thought gold would surge 10% if Trump won
He added that if the Federal Reserve raises rates as expected next week, then that would be trouble for gold. It would likely lead to a stronger dollar. The combination of higher rates and a stronger greenback are "enemies of the metal," Kinahan said.
So will gold continue to sink in 2017? That will largely depend on what happens to the broader markets.
If investors continue to plow into stocks on the hopes that Trump-led stimulus in the U.S. will boost the economy and that populist governments in Europe won't lead to more chaos on the continent, then gold may lose even more of its luster.
But if the recent election outcomes and market reactions to them have taught us anything, it's that nothing is certain in politics, the global economy and the markets.