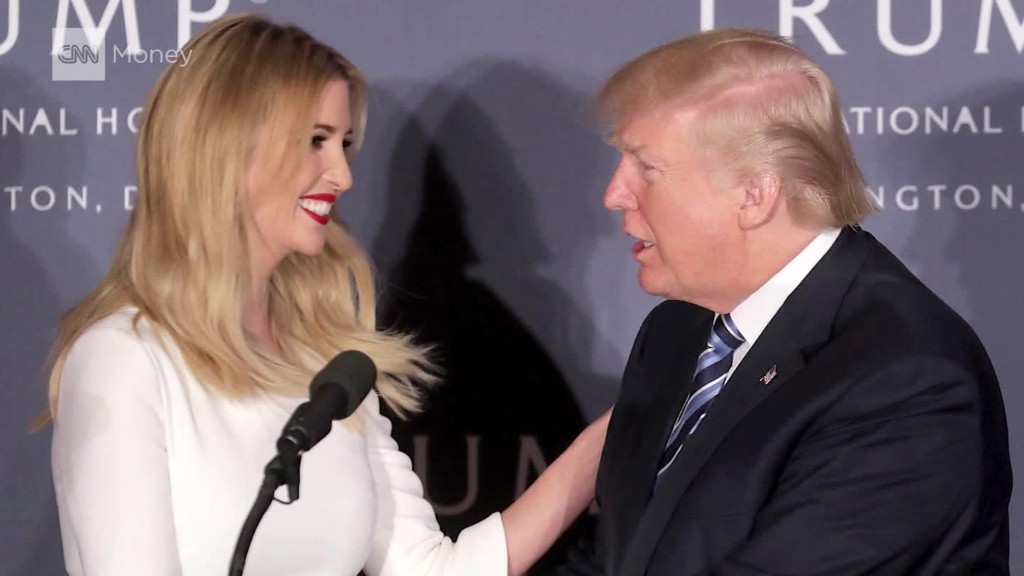 A Japanese firm with state backing is talking with Ivanka Trump about licensing her branded clothing, raising questions about what she was doing at a recent meeting between her father and Japan's prime minister.
Ivanka Trump's clothing company has been in talks with apparel maker Sanei International for the past two years, Kohei Yamada, a spokesperson for Sanei's parent company, confirmed Monday.
The negotiations were first reported by the New York Times on Sunday.
President-elect Donald Trump met with Shinzo Abe in New York last month, an event that was closed to the news media. Photos released by the Japanese government showed Ivanka Trump among a small group of attendees.
It's unclear why she was there, but the situation highlights the potential for a conflict of interest between Trump's powerful new role and his family's businesses.
Sanei International's parent company is TSI Holdings. The biggest shareholder in TSI is the Development Bank of Japan, which is owned by the Japanese government.
Ivanka Trump's clothing company declined to comment. In a blog post last month, the company promised to stay out of politics.
"Our company's mission is not political -- it never was and it never will be," the company said. It said Ivanka Trump herself now has "an increased opportunity to advocate for women and be a positive force for change."
Related: How Trump could eliminate conflicts of interest
Trump's eldest daughter was a fixture on the campaign trail and appears to be playing some sort of role in his transition to the White House.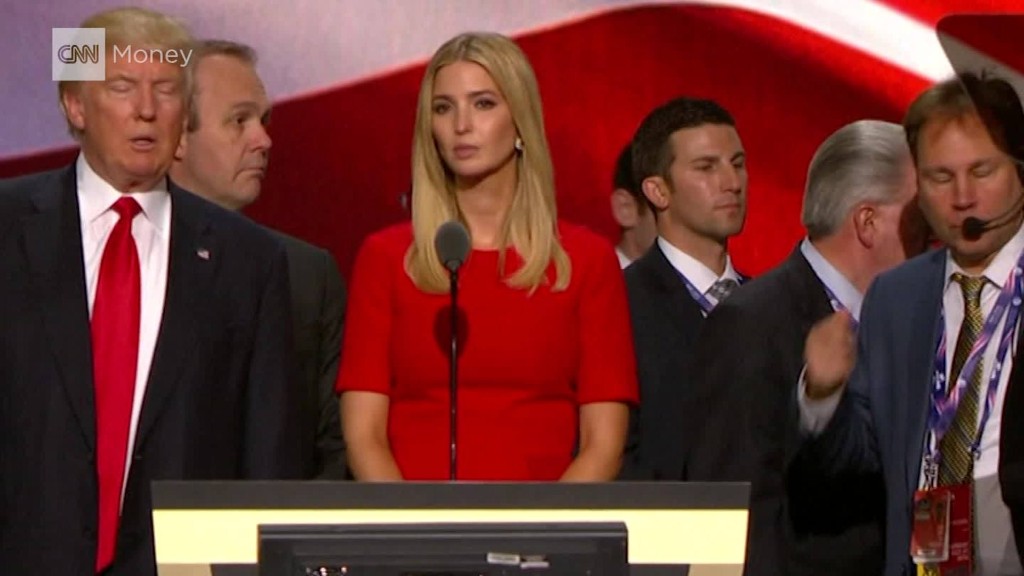 Her company has used her public appearances to push items from her fashion line.
The company promoted a $10,800 diamond bracelet that she wore during an appearance on "60 Minutes" shortly after her father won the election last month.
After her speech at the Republican National Convention in July, Ivanka Trump marketed her dress on Twitter. The tweet included a link that redirected to Macy's (M), which carries her clothing line. It was an affiliate link, which meant Ivanka Trump may have received commission from sales.
Related: Nordstrom defends sale of Ivanka Trump brand
Most of Ivanka Trump's clothing line is currently made in China and Vietnam through a licensing deal with New York-based G-III Apparel Group (GIII).
According to G-III's latest annual report, sales for her fashion line were up $29.4 million for the year ending January 31, 2016.
Related: Trump vows to remove himself from business
President-elect Trump has promised to remove himself from his businesses, and will announce details about how he plans to avoid conflicts of interest at a press conference next week. His adult children, whom he has said he will put in charge of his company, will take part in the news conference.
A recent poll by CNN found that 6 in 10 Americans believe Trump is not doing enough to address conflicts of interest.
-- Yoko Wakatsuki in Tokyo and Jill Disis in New York contributed to this article.