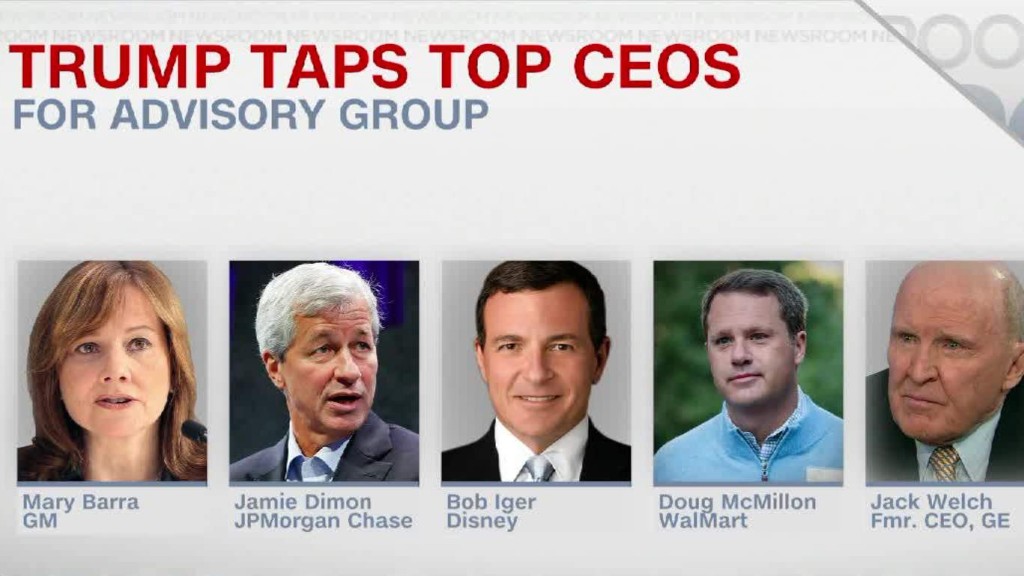 The euphoric stock market reaction to President-elect Trump's win was a relief following reports of dire economic consequences of a Trump victory.
But history shows that a post-election rally doesn't necessarily foreshadow a booming economy. Even Herbert Hoover had a 13% market surge following his election in 1928 before the country plunged into the Great Depression.
The S&P 500 is up 4% since Election Day, a pretty impressive move for just one month.
Some experts are pointing out that the market is viewing Trump in a positive light because his policies look inward and are more protectionist. That's what the market thought about Hoover, too.
Several conservatives have even made the comparisons to Hoover.
In an op-ed for the Wall Street Journal last year, deputy editor George Melloan wrote that Hoover was a "soul mate" to Trump and that slapping big tariffs on Corporate America would be a disaster.
Related: Trump's 35% tariff is easier said than done
And Stephen Moore and Larry Kudlow worried in a piece for the conservative National Review last year that Trump could be a "21st-Century Protectionist Herbert Hoover." They argued that the U.S. needs to view China and Mexico as partners, not foes.
Here's the good news though. Trump has softened his stance somewhat since he was elected. And a lot would have to go wrong for the U.S. economy to lead to another financial panic.
Many investors have also changed their tune on Trump and now view him positively since they believe that Trump's infrastructure spending plans and tax cut proposals should boost economic growth. That seems to be why much of the market is rallying.
There is also, ironically enough, a growing recognition that the U.S. economy and corporate earnings are actually in pretty decent shape -- despite Trump's numerous protests to the contrary on the campaign trail. So he is being dealt a good hand so to speak.
Still, some market strategists remain concerned about how bullish Wall Street has suddenly become in the past month.
This is not to suggest that the market is about to crash. But the lack of any concerns about Trump could lead to the market being disappointed if his first few months in office don't go as smoothly as anticipated.
Bob Smith, president & chief investment officer of Sage Advisory Services, an asset management firm, said that investors have to be careful about chasing momentum.
He is not expecting stocks to tank, but thinks investors may be ignoring the risk that higher inflation which could come with Trump stimulus will start to eat into investor returns -- especially since stocks are now starting to look pricey.
Michael Arone, chief investment strategist for State Street Global Advisors, adds that investors may be ignoring the risk of a stronger dollar that could accompany Trump policies as well as rising rates from the Fed.
A stronger dollar could hurt profits for many American blue chip stocks.
Finally, some experts are nervous that investors have been too quick to write off Trump's populist campaign rhetoric as empty talk that he used just to get elected. There are legitimate worries that he will move further from the middle to the Bannon-led alt-right.
"The real fear is that we have no idea how Trump is actually going to govern," said Bob Johnson, president and CEO of the American College of Financial Services. "It's unusual that that the market has responded this positively to so much uncertainty."
Johnson also pointed out that it's premature to judge any president by how well the market did shortly after an election.
Related: America's CEOs are thrilled with Trump
To that end, he not only brought up the parallels to Hoover. He also noted that stocks tanked in 2008 after Obama won -- and after bottoming in March 2009, they went on to enjoy a bull market that still persists.
For the current rally to last, Trump will probably need to take a more moderate stance on a variety of economic issues. Sage Advisory's Smith is hopeful that will be the case.
He said he's heartened by the fact that Trump has chosen moderates like Steven Mnuchin and Wilbur Ross for the key cabinet posts of Treasury and Commerce. They will be able to calm the markets if Trump lets his mouth or Twitter feed get the best of him.
"Trump will have to watch his mouth and let Mnuchin and Ross do the talking," Smith said. "The hope for the market is that Bannon's influence fades. If not, it's trouble in paradise."