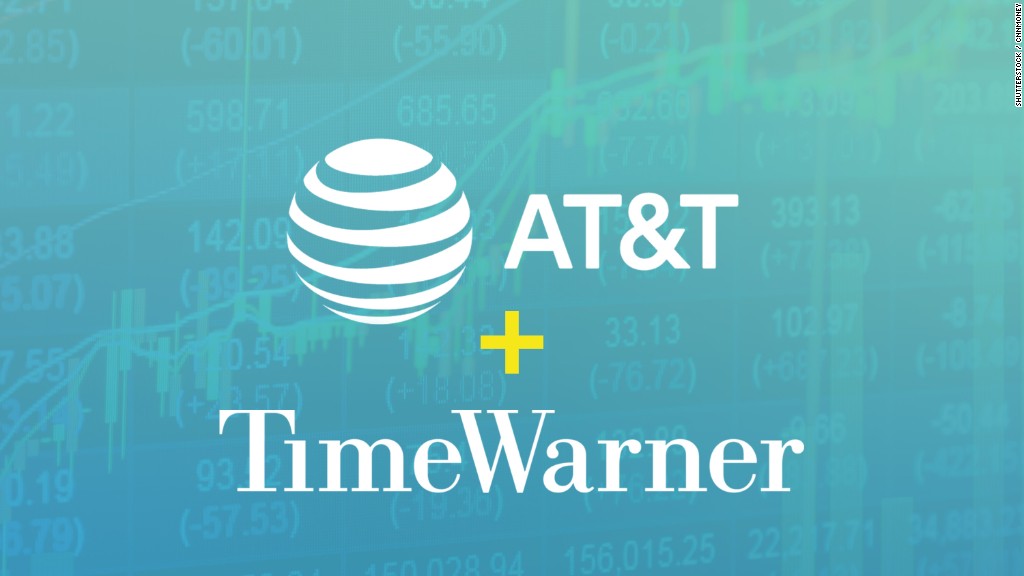 The top executives at Time Warner and AT&T went to Capitol Hill Wednesday to make their case for a proposed $85.4 billion merger between the companies.
In a written statement submitted to the Senate Judiciary Subcommittee on Antitrust, Competition Policy and Consumer Rights, AT&T CEO Randall Stephenson said the deal would result in myriad benefits for the consumer.
"Together, AT&T and Time Warner will disrupt the entrenched pay-TV models giving customers more options, creating more competition for cable TV providers, and accelerating deployment of 5G wireless broadband," Stephenson said.
Jeff Bewkes, the CEO of Time Warner, echoed that, saying the deal would be good for the companies and for consumers.
"We believe that combining Time Warner's ability to create great video content with AT&T's physical distribution in satellite, broadband, and mobile, will help us bring consumers more choices in how they enjoy their favorite TV shows, films, video games, and other content from Time Warner and a vast array of other creators -- and do so more quickly," Bewkes said. "By joining forces, we will accelerate the development and delivery of the next generation of video services that provide consumers with greater choice, convenience, value, and affordability."
Critics of the proposed merger have raised concerns that the deal would concentrate too much power and could actually raise prices for consumers. Sen. Al Franken (D-MN), a member of the subcommittee, said in October that he had "serious reservations" about the deal, which he said "could have a lasting effect on the quality and affordability of programming available to consumers across America."
"And I'm skeptical of any further consolidation in the media and telecommunications industries that could lead to higher prices, fewer choices, and even worse service for Americans," Franken said at the time.
Mark Cuban, the owner of the NBA's Dallas Mavericks and a public supporter of the merger, is also expected to testify, as is Gene Kimmelman, the president and CEO of Public Knowledge, who opposes the deal.
Daphna Ziman, the president of the TV network Cinémoi and another opponent of the deal, is slated to testify as well.
Stephenson and Bewkes faced skepticism from the lawmakers at the hearing on Wednesday, who challenged the assertion that the deal would be a boon for consumers.
Franken supplied some of the toughest questioning, expressing skepticism that the merger will not unfairly disadvantage other content providers. Bewkes said in October that charging companies like Comcast more for access to Time Warner's portfolio, which includes HBO, TNT and CNN, "would be like selling toothpaste and not putting it in Duane Reade."
Franken said the analogy didn't make any sense.
"It's like selling Game of Thrones and not letting Comcast subscribers watch it or very likely... making Comcast pay more for the privilege of having Game of Thrones or Veep or the rest of the lineup," the Minnesota senator said.
"You'd have every reason to do this if you could," he added.
Bewkes said a combined AT&T and Time Warner "would not have the incentive nor would it have the ability to do that."
"It would make no sense...to not sell HBO on the Comcast cable system, on the Verizon cable system," Bewkes said.
Earlier in the hearing, Stephenson emphasized that the merger would streamline consumer access to content.
"Our ambition is to ensure that the customer pays for the content only one time," Stephen said. "Pay for it one time, give the consumer the ability to watch it any time."
Kimmelman, invited to rebut that point by the subcommittee chairman, Sen. Mike Lee (R-UT), said the proposed deal was different than the merger between AT&T and DirecTV, which he said offered "clear efficiencies of putting together a bundle."
In contrast, Kimmelman said AT&T and Time Warner "could contract to do the same things they're talking about without the risks of the merger."
The fate of the merger appeared uncertain last month after Donald Trump pulled off a stunning upset over Hillary Clinton in the presidential election. Trump had criticized the deal on the campaign trail, describing it as "too much concentration of power in the hands of too few." Positioning himself as a working class champion, Trump said the merger was "an example of the power structure I am fighting."
Since the election, however, many analysts have come to believe that the incoming administration -- already filled with elite billionaires -- will actually support the merger.
"AT&T's proposed acquisition of Time Warner likely has a higher probability of getting approved given the impending power shift in Washington, D.C.," Eric Handler of MKM Partners said last month. "We now view the likelihood of AT&T/Time Warner getting approved as a 70/30 proposition based on a recent expert discussion we held."
Bewkes and Stephenson have also expressed optimism about the merger's prospects for approval. Appearing at the Business Insider Ignition conference in Manhattan on Tuesday, Stephenson said "the merits of the law suggest it's a deal that gets done."
"This is a vertical merger," he said. "We compete nowhere. I don't think you can find an example where such a merger has been denied... Generally, vertical mergers are viewed as consumer friendly."
Stephenson also suggested that Trump's opposition to the deal as a candidate may have stemmed from his ill-will toward CNN.
"Look, anytime the president of the United States comes out and says they're not in favor of what you're trying to do, you have to pay attention," he said. "But I don't know what part of the deal he's referring to. I've heard rumors he's not happy with CNN, so that might have come into it."
Stephenson said in his written statement on Wednesday that AT&T is "committed to continuing the editorial independence of CNN."
"That independence is what makes CNN so popular and valuable, and we will not do anything to change that," he said.