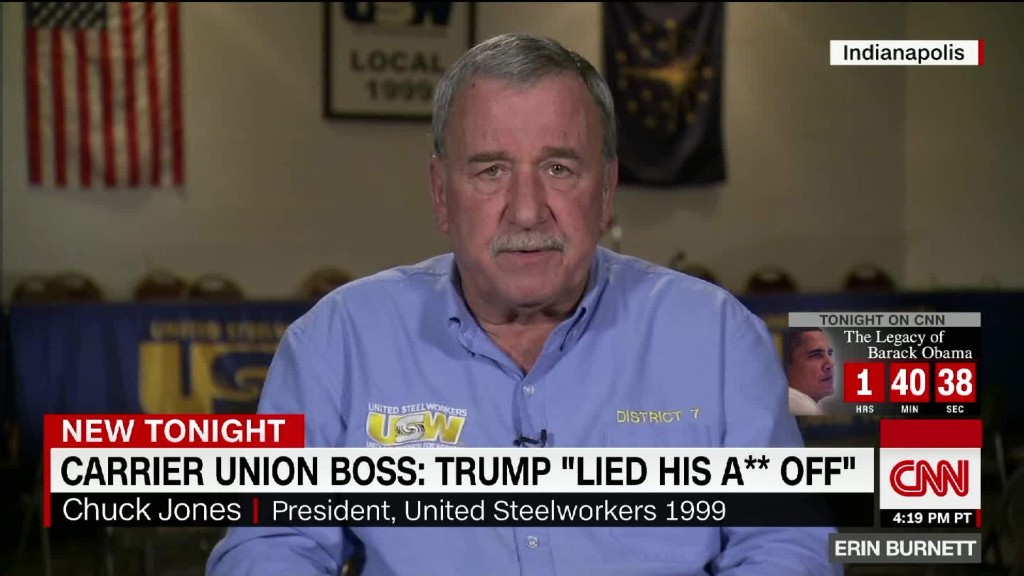 President-elect Donald Trump lashed out Wednesday at a union leader who has criticized Trump's Carrier job deal as a promise "half-way delivered."
Chuck Jones, president of United Steelworkers Local 1999, has been critical of Trump's claim to have saved 1,100 jobs at the Indianapolis plant since Tuesday.
But shortly after Jones appeared on CNN's "Erin Burnett Out Front" program Wednesday night, the president-elect appeared to blame union leaders like him for companies leaving the U.S.
"Chuck Jones, who is President of United Steelworkers 1999, has done a terrible job representing workers. No wonder companies flee country!" Trump wrote.
He followed up with another attack just over an hour later: "If United Steelworkers 1999 was any good, they would have kept those jobs in Indiana."
Vice President-elect Mike Pence, who is also the governor of Indiana, gave a very different description of the union back in March. He tweeted a photo of a meeting he had about Carrier with Jones and Local 1999 members, calling them "hardworking."
Jones has complained that Trump has fallen short of his campaign promise to keep Carrier from moving 1,400 jobs to Mexico.
"You made a promise to keep all these jobs. You half-way delivered," Jones told CNNMoney in an interview earlier Wednesday. "We expect you go back and keep all the jobs."
Jones added that Trump should also help the 350 workers at an Indianapolis plant owned by another company, Rexnord, which is also slated to move to Mexico. Workers there are also members of USW Local 1999.
Related: How Donald Trump got Carrier to stay
"Trump said no companies would be allowed to go to Mexico," Jones said. "There are more than 300 people over there at Rexnord. He needs to deliver for them as well."
Jones did not get to speak with Trump when the President-elect visited Carrier last week. But he said he was angry when Trump praised Carrier for "keeping 1,100 people" in jobs that won't move to Mexico. The real number is 800.
To get the higher number, Carrier and Trump are counting 300 administrative and engineering jobs at a different facility in Indianapolis that were never at risk of being shipped to Mexico.
Related: Trump says he'll punish companies for leaving U.S.
Carrier is still shifting about 600 jobs building fan coils to Mexico sometime next year. Under the deal with Trump, Carrier only agreed to keep the part of the plant that builds furnaces open, saving the 800 jobs in Indianapolis.
Carrier confirmed to CNNMoney on Friday that it never planned to move the 300 administrative and engineering positions.
"He's lying his a-- off," Jones said about Trump's claim of saving 1,100 jobs. "That's not just my feeling. The numbers prove he's lying his a-- off. It's a damn shame when you come in and make a false statements like that."
Later Wednesday Jones elaborated in an interview with Erin Burnett.
Jones said many of the workers whose jobs may now be saved are grateful to Trump, but that some workers who are still worried about losing their jobs are angry.
"We have a lot of our members, when word was coming out... they thought they would have a job. Then they found out Friday, that most likely they weren't," he said.
Burnett asked if Jones thought Trump should apologize, and he said, "I think he ought to make sure he gets all the facts straight before he starts talking about what he's done."
"I'm extremely grateful for what he did. There's 800 people who have jobs... It's not all one sided. I just wished it had been handled in more of a professional matter."
The Trump transition team did not respond to a request for comment about the jobs still moving to Mexico.
Related: 1,000 jobs saved by Trump. Thousands more to go
Jones said he hopes the company will offer workers the chance to leave voluntarily with the severance package that was previously negotiated -- one week of pay for every year of service.
Ideally, more senior workers at the plant would take the package and retire, which would save the jobs of younger workers. The plant has a large number of senior employees.
"For workers who have 40 years in and were getting close to retirement, that 40 weeks pay might look pretty good," Jones said. But severance talks have yet to start.