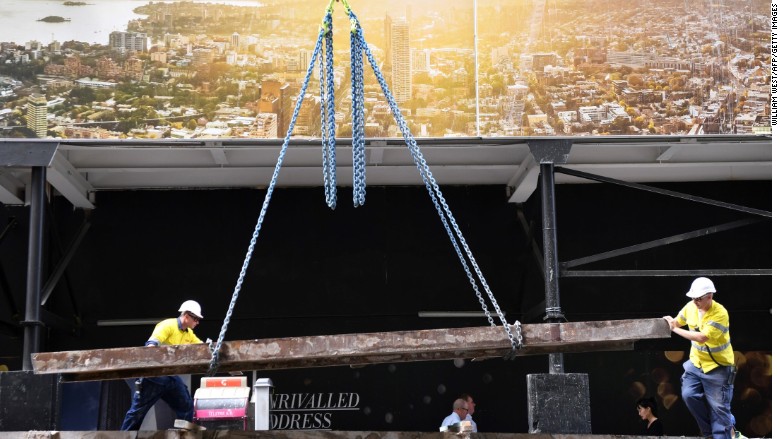 Australia's epic run without a recession is at risk after its economy shrank in the latest quarter.
The country's GDP contracted 0.5% in the three months through September, according to official data published Wednesday.
The unexpectedly poor result is Australia's first quarterly dip in more than five years. But its streak of a quarter century without a recession -- defined as two consecutive quarters of contraction -- remains intact for now.
Australian Treasurer Scott Morrison called the disappointing data a "wake-up call," but he but refused to speculate whether a recession might be around the corner.
Related: How Australia has gone 25 years without a recession
"You will find out in three months," Morrison told reporters Wednesday, adding that "there are a lot of things to be positive about."
Analysts said a drop in construction activity, low commodity prices and political uncertainty were responsible for the poor numbers.
The last time Australia had a recession was in the second half of 1991. No other advanced economy has managed to avoid one over the same period, according to International Monetary Fund data.
Related: Australia is fighting over how hipsters spend their money
Commonwealth Bank of Australia's Chief Economist Michael Blythe told CNNMoney that unusually bad weather had hampered construction, while a close and divisive election in July hurt confidence among consumers and businesses.
But he said he thought Australia was likely to avoid a recession thanks to a rise in commodity prices and increased infrastructure spending.
Stephen Koukoulas, managing director of Sydney-based consultancy Market Economics, agreed that Australia's economy has the resilience to bounce back.
"Most recessions are caused by a policy change, fiscal austerity or a global shock, and we don't have any of those right now," he told CNNMoney. "I think we'll see something of a rebound in the December quarter."