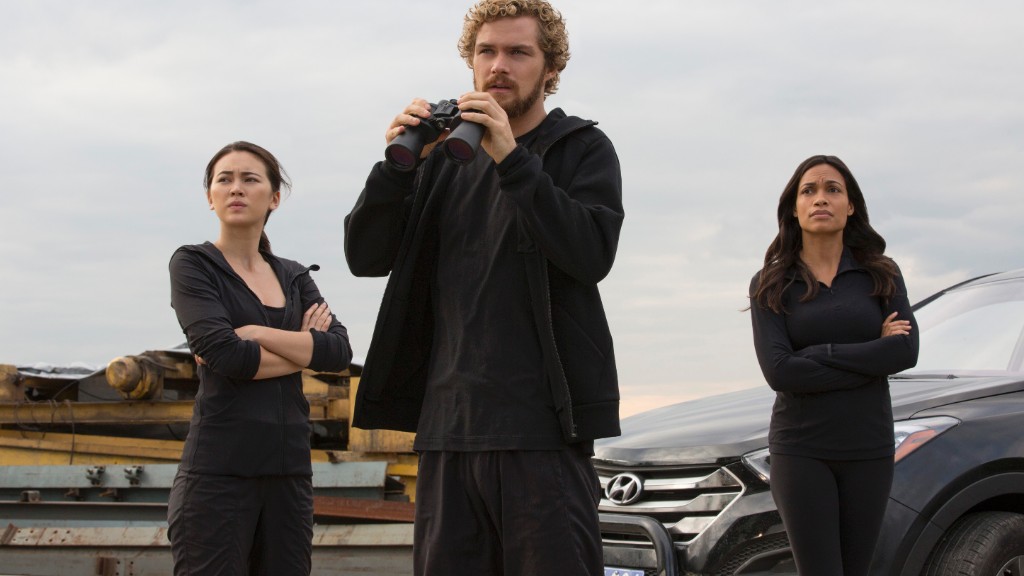 Hollywood cinematographer Manuel Billeter hovers over a TV monitor a few feet away from the set of Netflix's upcoming Iron Fist series, looking for small objects in the shot that might catch the camera's eye.
After a take, he sends someone over to repaint a metal flap hanging off the side of a wall. Seconds before, protagonist Daniel Rand (played by Finn Jones) jumped over the wall to hide from villains.
While the flap wouldn't need a touch up on most sets, the Iron Fist crew is filming with new high-dynamic range technology. Without the fix, it would have glistened on screen just like if you were standing in front of it in real life, potentially distracting from the action.
Netflix (NFLX) is one of the first entertainment companies to incorporate HDR both on set and in the cutting room.
The HDR format allows viewers at home to see shows with richer, brighter colors at a significantly larger contrast than what's possible in high definition or 4K. The lightest pixels in HDR are 40 times brighter than standard definition.
Related: This light bulb projects Netflix onto any surface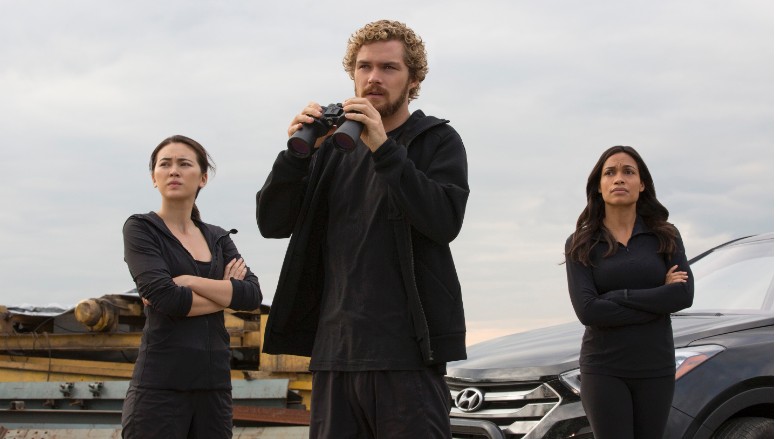 Throughout most of the fall, Netflix (NFLX) has been filming Iron Fist in New York City -- marking the fourth and final installment of its Marvel series (following Daredevil, Jessica Jones and Luke Cage). Together, the collection makes up "The Defenders," similar to "The Avengers" of film.
The latest series, due out in March 2017, follows a young man with a mythical fist capable of enormous strength.
Working with HDR
"I didn't know too much about HDR before working on Iron Fist, and it's been a learning curve," said Billeter, director of photography for Iron Fist.
"We've had to look at how Iron Fist will appear in the living rooms of consumers with HDR TV monitors," he said. "For those who don't own one, nothing changes. But the post-production process has been more intensive as we figure out a way to make it look the best in both worlds."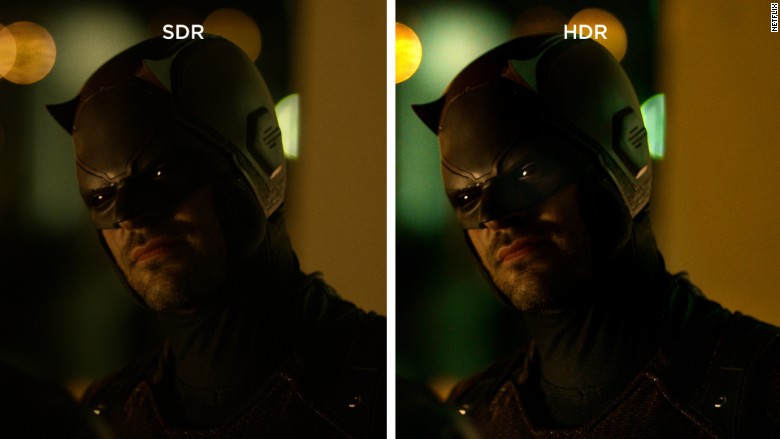 While few consumers currently use HDR-capable TVs, the technology is widely expected to hit the mainstream in the next few years.
With this in mind, Billeter has had to change the way he envisions scenes on set, considering everything from cityscapes peeking through windows to the clouds in the sky.
"HDR displays everything much brighter than regular standard resolution monitors, and sometimes objects in scenes need to be toned down because they are too harsh," Billeter added. "If you have a car light in a scene with HDR, it really feels like there is a car light in your living room. It's that bright."
For Iron Fist, shot mostly outside at night, these types of car and street lights were the biggest challenges.
"Lights have almost become like characters in HDR," he said. "Sometimes we have to paint things to bring down the highlights."
The move to embrace HDR follows Netflix's push into 4K several years ago when it was one of the early adopters of the technology.
Behind the scenes, the camera doesn't do anything different to capture scenes in HDR. The technical adjustments are added later during the post-production process. This means it's best suited -- for now -- for companies like Netflix that have longer lead times for production.
Related: Netflix now lets you watch your favorite shows offline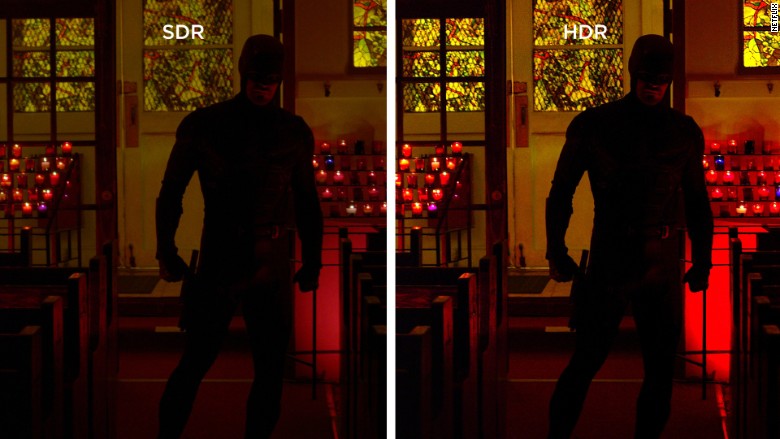 "When you don't have to worry about ratings, you can approach it in a slightly slower, more careful and affectionate way," said Iron Fist showrunner Scott Buck. "You get to tell a story that feels more like a novel, opposed to thinking about what to do today to keep it moving."
Because Netflix puts out its full series at once, ratings don't factor into the development process.
"Series live and die by ratings, but with Netflix, that's not the situation, so it creates a more relaxed atmosphere where everyone is on the same team," Buck said.
Remastering Daredevil
While Iron Fist is among the first Marvel series to be filmed with HDR in mind, Netflix has since reformatted both seasons of Daredevil with the technology, as well as Marco Polo and Chef's Table France. To do so, it worked closely with post-production facilities like Deluxe, which has already mastered close to 100 titles in HDR.
Tony D'Amore, a colorist at Deluxe's Encore, said each remastered episode preserves the intent of the original. Instead of bringing out the brightness HDR is known for, D'Amore focused on emphasizing details that weren't picked up in standard definition. For example, viewers can now see the specific color of glass in a scene or the details of brick buildings in the background.
Deluxe is also working with Iron Fist during the post-production stage to adjust colors the team didn't have time to tweak on set.
Teasing Iron Fist
While Netflix has been mum on plotlines for Iron Fist, Buck teased what to expect from the upcoming series.
"I thought his superpowers weren't that impressive when I first learned about the character -- all he could do was punch really hard," Buck said. "But I realized that... his greatest gift is his martial arts skills -- it's something he learned by training day and night throughout his childhood."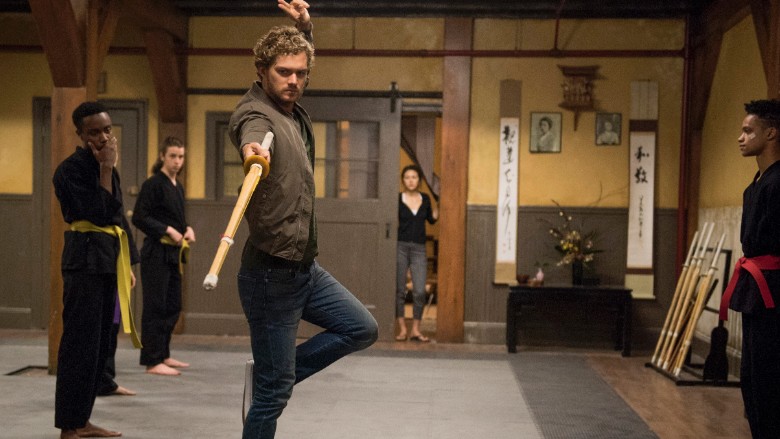 Buck said the mythical aspect of the fist is something that lingers but isn't fully explored in the first season.
"We try to approach Danny Rand as a person to see life through his eyes," Buck said. "As for the fist, it's dealt with in the most realistic way possible."
Rather than treat his strength as a magic power, the team sat down with scientists to discuss how someone could potentially have that type of super strength in the real world.
Building on this, Netlix's Allie Goss, vice president of original series, said Iron Fist will be a character-driven story first and a superhero one second.
"We don't want to downplay abilities, powers or the fact that these characters are derived out of comics and graphic novels -- that is what is so special about them," she said. "But we wanted to explore characters beyond being superheros because that feels so generic, especially considering how deep they tend to be."