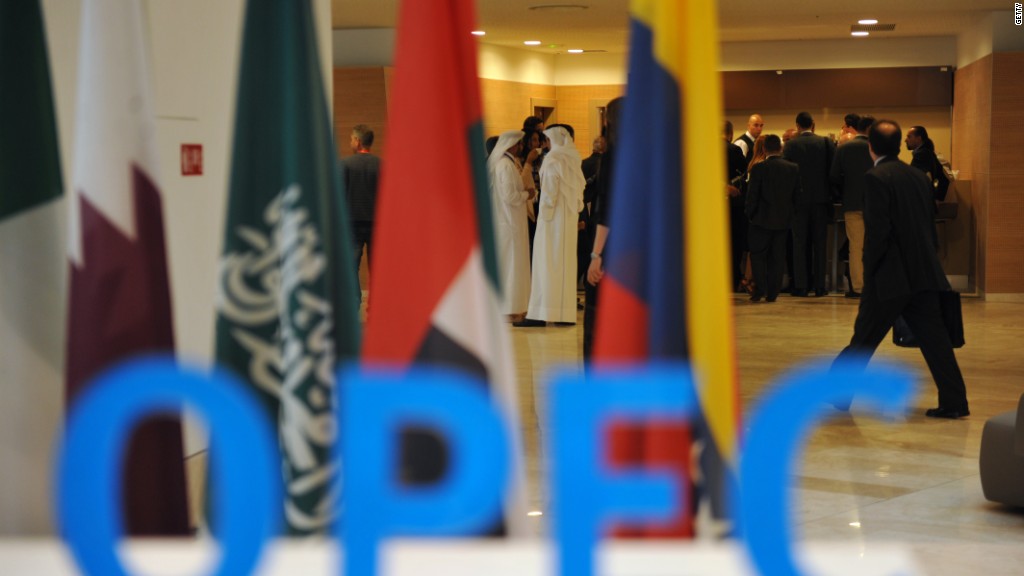 Shale pioneer and Trump backer Harold Hamm senses a "feeling of euphoria" that has swept over the oil industry over the past few weeks.
Not only did OPEC finally surrender to U.S. shale sending prices higher, but the underdog that Hamm bet on has won the White House and promised to unleash America's energy potential by rolling back regulation.
If anything, Hamm, the billionaire founder and CEO of Continental Resources (CLR), sounds concerned things will once again get out of hand in the notoriously boom-to-bust oil industry.
If U.S. frackers went "flat out," domestic oil production "can probably double" to nearly 20 million barrels per day, Hamm said on Thursday at the Platts Global Energy Outlook Forum in Lower Manhattan.
Hamm has previously talked up this idea of doubling output, even mentioning it in his 2016 GOP convention speech in Cleveland as a way to create millions of jobs.
But now, Hamm is backing away from that. He says such a move would be "foolish for us to do that," noting that it would add to the "oversupply the market."
Related: OPEC raises the white flag in battle with U.S.
Of course, the U.S. has already roughly doubled production in the past decade -- a surge that came with costs.
The shale revolution caused output to skyrocket from roughly 5 million barrels per day when President Obama took office to 9.6 million in April 2015. But that created an epic glut of oil that, along with OPEC continuing to pump at high levels, caused prices to crash to 13-year lows of $26 a barrel in February.
"We have a great abundance of crude oil here," Hamm said.
Despite his early support and close ties to Trump, who calls him a "friend," Hamm signaled he's not joining the Trump Cabinet as energy secretary. "It's not under speculation. I've got a full-time job at Continental," Hamm said, adding that he's "very honored" about the talk.
Still, Hamm chalked up the oil industry's newfound optimism largely to the election of Trump.
"I call it a Trump rally," Hamm said.
Oil prices skyrocketed 12% last week, the biggest rally since 2011, though those gains were mostly traced to OPEC's decision to cut output.
Hamm hailed OPEC's first output cut in eight years as a "very wise thing" that will "provide stability for the future." He believes OPEC is targeting an oil price range of $55 to $65 a barrel.
The oil tycoon also suggested the Saudi-led cartel's attempt to drown U.S. producers in cheap oil may have backfired.
"What surprises me is how much stronger we are than the Saudis. They're the ones that sought to take us out of business," he said.
Instead, cheap oil forced U.S. frackers to become vastly leaner and are much more profitable today. Hamm said Continental can now produce twice the amount of oil for the same money as just two years ago.
"They helped us," Hamm said of the Saudis.
Related: Trump is a double-edged sword for oil
Trump has promised to relax regulations on oil drilling in an effort to make the U.S. energy independent and reduce reliance on Middle East oil. Trump has even threatened to ban imports of oil from Saudi Arabia, the world's largest oil exporter.
Hamm anticipates a wave of energy regulations getting quickly scrapped by Trump.
He praised Trump's pick to lead the EPA Scott Pruitt as a "person of great integrity." Hamm has helped raise money for Pruitt, who is an EPA critic and climate-change denier. Pruitt is the attorney general in Oklahoma, Hamm's home state.
Asked for a "wish list" of rules to be removed by Trump in his first 100 days, Hamm said the industry would be "very, very disappointed if it took Donald Trump 100 days to get rid of all of these executive orders signed by Obama."
"He's fast on his feet and will get it done on his first day," he said.