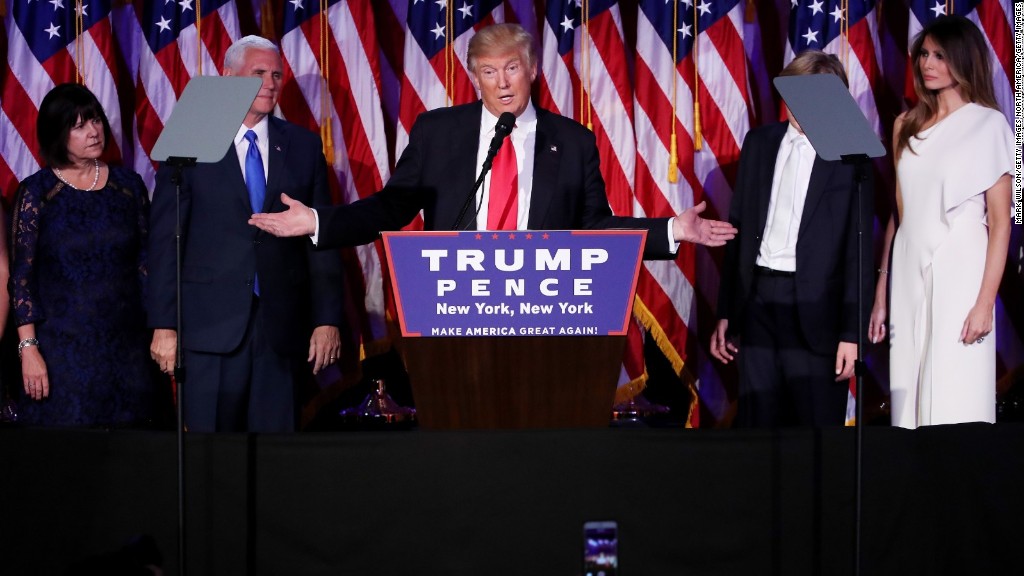 It turns out that being insulted by the soon-to-be Leader of The Free World may wind up being great for your stock price.
The stocks of 10 U.S. companies that Donald Trump has taken jabs at during the campaign and after are up, on average, 9% since Election Day. The S&P 500 is up 5% during the same time frame.
So who's on this Trump blacklist?
Air Force One maker Boeing (BA) and Carrier owner United Technologies (UTX) made the cut. Trump has bashed Boeing because he thinks the presidential plane is too expensive. And he's feuded with Carrier about its plans to move jobs to Mexico.
But UTX is up 5% since the election while Boeing has gained 10% -- largely on expectations Trump will be more hawkish when it comes to defense spending.
Ford (F) is another company that has incurred the wrath of Trump because of business it does in Mexico. But Ford stock has soared 13.5%, thanks to solid auto sales last month.
Trump has taken many jabs at media companies too -- including CNN owner Time Warner (TWX). And all of these stocks have shot up in the past month. Time Warner has gained nearly 8%.
MSNBC parent company Comcast (CMCSA) has surged nearly 11%. Rupert Murdoch's Fox (FOXA) is up 6%.
It's worth noting that while Trump has attacked many companies -- including these media firms -- on his Twitter (TWTR) feed, he has also often used that old fashioned 20th century innovation known as television to express his displeasure.
So Trump is clearly a ratings magnet for the media giants. And he's click bait as well. Shares of The New York Times (NYT), another frequent Trump target, have soared 25% since the election.
Dropping a line of Trump-branded clothing hasn't hurt Macy's (M) since the election either. Trump has taken many potshots at Macy's over the past year after the iconic retailer decided to cut ties with him.
Related: Macy's has no plans to bring back Trump apparel
But the stock is up nearly 14% in the past month, largely due to a decent outlook for the holidays and continued hopes that the company will sell off more properties. (No irony there given that Trump made his billions on real estate deals!)
Two tech stocks that Trump has been critical of haven't fared as well as these others though.
Apple, who Trump derided earlier this year for producing iPhones in China, is up just 1%.
Trump also expressed his dissatisfaction with Apple (AAPL) when the company refused to help the FBI unlock the iPhone used by one of the shooters in last year's terrorist attack at a college in San Bernardino, Calif. He even called for a boycott of Apple products.
But Trump, in an interview with The New York Times (what an incestuous web this is!), said that he spoke to Apple CEO Tim Cook after the election and urged him to move more of its iPhone production to the United States.
And then there's Amazon -- the only stock in this Trump portfolio that actually has fallen since Election Day. It's down nearly 3%.
Trump has attacked Amazon (AMZN) CEO Jeff Bezos, who personally owns The Washington Post, for the newspaper's critical coverage of him.
The President-elect falsely accused Bezos of using the WaPo as a tax shelter for Amazon, which Trump also erroneously called a "no-profit" company. (Amazon actually is profitable and Bezos' ownership of WaPo is completely separate from Amazon.)
Trump also referred to Amazon as a monopoly, which isn't true either. The company may be a market leader but it has tons of online competition from Walmart (WMT), Target (TGT), Best Buy (BBY) and other traditional retailers.
Related: Is Amazon going after Trump with its new ad?
Bezos responded by jokingly threatening to launch Trump into orbit on a rocket owned by Bezos' Blue Origin space exploration company -- which has no ties to either Amazon or the WaPo, by the way.
Still, Amazon is the exception and not the rule. If this trend of a company's stock going up despite rebukes from the incoming president continues, CEOs may want to cross their fingers and pray for a Twitter takedown from Trump.
Heck, maybe someone should make an ETF of these companies and use the old DJT ticker that his casino company once had. Or maybe the TRMP ticker for the successor company after the first one went bankrupt?
I'm kidding of course! But it still does go to show that Trump's pro-growth economic policies may matter more to Corporate America than any insults and threats he lobs their way.